Full steam ahead
Over 130 years of innovation, entrepreneurial spirit, and strategic planning have contributed to Spirax Sarco becoming a leading manufacturer of high-quality products and services for the control and efficient use of steam
Part of multi-national engineering group Spirax-Sarco Engineering plc, Spirax Sarco is a world leader in the management of steam, providing steam systems, products and packages for industrial, commercial and institutional customers the world over. Manufacturing Director of Spirax Sarco Ltd, UK, Greg Godfrey-Williams, explains more: "We are experts in steam and condensate management, heat control and thermal energy management, site surveys, energy audits, digital monitoring solutions and training," he says. "At any given moment, our experts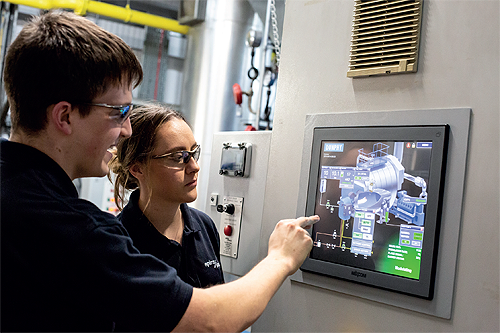 and specialist products are helping our customers heat hospitals, produce food on an industrial scale, sterilize pharmaceutical equipment, or generate a constant supply of hot water. As steam specialists with over 100 years of experience, we adapt to our customers' changing needs while offering them solutions based on a legacy of knowledge and expertise."
Whether designing and manufacturing new products, solving customers' operational challenges, improving industrial efficiency using digital monitoring solutions, or educating customers across nearly 50 training centers comworldwide, Spirax Sarco is always aiming to deliver value for its customers and shareholders. In terms of the company's routes to market, over 70 per cent of the company's revenue is generated directly from sales to end users, contractors and original equipment manufacturers. Greg believes that this direct sales approach is a key differentiator for the business.
"Spirax Sarco employs over 1,200 sales and service engineers globally who visit customer sites and use their expert application knowledge to design engineered solutions that increase our customers' operating efficiency, safety, and sustainability," he remarks. "We operate in both mature and emerging markets and have a direct sales presence in 66 countries, as well as serving customers in a further 64 countries via distributors. Our extensive global infrastructure enables us to rapidly branch into neighbouring markets, giving us a first-to-market advantage. These projects are only possible because of our direct sales approach and are largely self-generated."
Problem solvers
Highly flexible in its approach, and capable of serving a wide array of markets, Spirax Sarco's services have been in high demand throughout 2020's Covid-19 pandemic. In April this year, Spirax Sarco Ltd received an urgent call from a UK hospital in immediate need of a solution to stop oxygen storage tanks from freezing. A video conference call was promptly organized to provide the hospital with expertise from Spirax Sarco engineers in both the UK and Italy. It transpired that hot water was needed in situ to help relieve the problem, so the company recommended a steam-to-water mixing valve, combining the site's steam supply with cold water to produce the hot water required. From video call to product delivery – Spirax Sarco solved the problem in a matter of hours.
Furthermore, Spirax Sarco Ltd has been working in conjunction with Mercedes-AMG High Performance Powertrains and University College London to machine a critical component for use in the UCL-Ventura breathing aid, a Continuous Positive Airway Pressure (CPAP) device used to provide life-saving oxygen to Coronavirus patients.
"The part is a specially designed quick-fit connector that helps to safely manage the flow of oxygen, ensuring that as many patients as possible can receive the vital supply they need. In less than a week, we began production of 300 parts every 24 hours before quickly increasing this to 450 parts," Greg reveals. "We are proud to be able to offer our skills and resources to support the nation's fight against Covid-19, whilst continuing to supply many of our customers who are also playing a vital role in responding to this virus, from hospitals, to pharmaceutical companies, to food manufacturers."
In order to serve so many critical customers throughout the pandemic, Spirax Sarco has relied upon its substantial network of production facilities located across the globe, including a 60,000m² site in the UK, consisting of two extensively equipped machine facilities, an assembly plant and a state-of-the-art engineering Research and Development unit.
"We have a number of strategically placed manufacturing facilities around the world in Europe, Asia Pacific and the Americas, but the factory in the UK is the largest," Greg clarifies. "Our production sites follow a number of lean principles through the flow of production from raw material to finished products and shipping. We continue to invest in new technology, building upon our current capabilities, which include multi-axis machine centres, a press shop, grinding, turning, welding, fabrication, assembly, painting and testing equipment. Furthermore, our modern Research and Development facilities in the UK are testimony to the quality products we manufacture for our customers' existing and future needs."
Of course, high-tech production facilities are no good without a skilled workforce to populate them and consequently Spirax Sarco has created an environment where people can thrive, develop, and offer diverse opinions and ideas. At the centre of the company's commitment to staff development is its focus on encouraging young people to enter into Science, Technology, Engineering, and Mathematics (STEM) disciplines by offering comprehensive apprenticeship and graduate programs.
Diverse talents
"Many of our senior leaders have come through the apprenticeship route and our current focus is on engaging with local communities to provide role models and industry links for local children to help inspire them to pursue a STEM based career," Greg reports. "As a company, we organize and support many different activities and events like the Cheltenham Science Festival, inspirational school visits, work experience opportunities, and graduate and apprenticeship engagement days. We see developing talent as absolutely critical to our success and it's something that has become even more important to us over the past few years."
Sean Spencer joined Spirax Sarco in 2016 on the company's Graduate Programme and is now a Research Engineer for the company in the UK. He has recently had a project funded by EU Horizon and Innovate UK for the development of Thermodynamic cycles (CPC) to generate electricity from low grade waste heat streams for industry. He recently presented the project alongside an esteemed panel of experts at the IIR Rankine 2020 conference. The CPC energy efficient technology is due to be installed and operational in a UK hospital in late 2020. Sean's tale is one of many success stories inspired by Spirax Sarco.
"Our excellent apprenticeship programs lead people into skilled jobs within our factory and support other areas of the business such as product development and sales," Greg asserts. "Apprenticeships are also used to develop our existing staff in a range of areas such as energy management and Lean skills. Our leading international graduate scheme allows university leavers to experience all areas of our business including markets outside the UK. This is combined with our Year in Industry initiative which helps us bring in diverse talent across the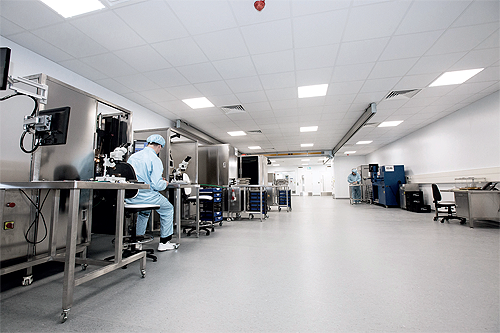 group."
Agent of positive change
Despite the challenges posed by Covid-19, Spirax Sarco Ltd was proud to receive a RoSPA (Royal Society for the Prevention of Accidents) Gold Award for the third year running in 2020. One of the most prestigious and widely recognized health and safety award schemes in the world, RoSPA awards recognize businesses that are as risk free and safe as possible.
"The health and safety of our people is a priority and one of our core values," Greg comments. "The RoSPA award process involves our business submitting details of what and how we continue to improve in our health and safety journey. Each year we demonstrate our relentless drive towards zero accidents, whilst improving on previous performances and sharing best practices. The award means a lot to the business as it demonstrates to our customers and employees our commitment to health and safety, whilst being a morale boost in recognition for everyone's hard work.
"We also hold numerous accreditations which we see as really important to both our business and our customers. These accreditations are audited independently and help us to demonstrate that our processes and systems of work are robust, repeatable and compliant to the highest of standards. In addition to pressure equipment directives and compliance to stringent industry standards – our notable accreditations are:
ISO 14001 Certificate – Environmental Management
ISO 18001 Certificate – Health and Safety
ISO 50001 Certificate – Energy Management Systems
ISO 9001 Certificate – Quality Management."
Though the company's overarching strategy is primarily one of organic growth, Spirax Sarco supplements this growth through the acquisition of businesses that meet stringent strategic and financial criteria. As the firm expands, it is also dedicated to the reduction of CO2 emissions and its wider impact on the environment. As Group Chief Executive Nicholas Anderson suggests, Spirax Sarco, and its parent company Spirax-Sarco Engineering plc, are moving full steam ahead towards a cleaner, brighter future.
"I'm very excited by actions we have taken to accelerate the Group sustainability agenda and performance – these include the appointment of a Group Head of Sustainability and making a number of environmental commitments such as achieving net zero greenhouse gas emissions by 2040 or earlier," Nicholas declares. "As a large and successful engineering company with a legacy of industry leadership and technical innovation, Spirax-Sarco Engineering and its subsidiaries are well positioned to take a leading role in the transition towards a more environmentally and socially sustainable economy. I firmly believe that it is our responsibility to be an agent of positive change as we manage and improve our own sustainability and help our customers and suppliers to do the same."
Spirax Sarco
Products and Services: Manufacturer and supplier of steam products and services
www.spiraxsarco.com