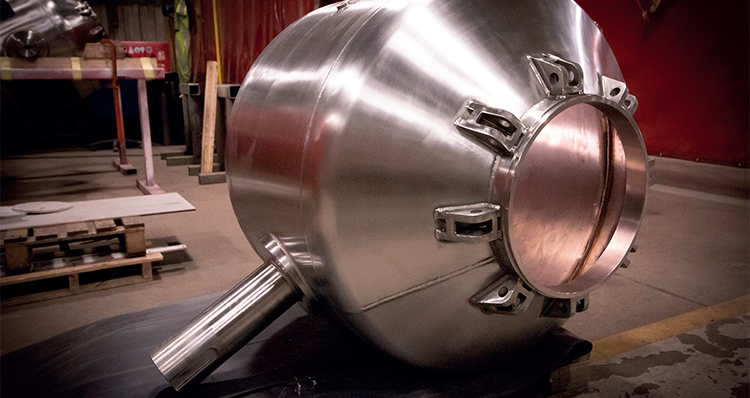 A year of opportunities
Having achieved continued year-on-year growth in recent times, Spirotech Group enters 2022 with exciting new developments on the horizon, not least of all its new smart factory of the future
It has been several years since UK-based Spirotech Group (Spirotech) last graced the pages of Manufacturing Today. In that time, however, it has not only maintained, but solidified its position as a global leader in the design, manufacture and delivery of screw conveyors, pressure vessels, elevators, feeders, dischargers, and de-watering systems, which it serves to some of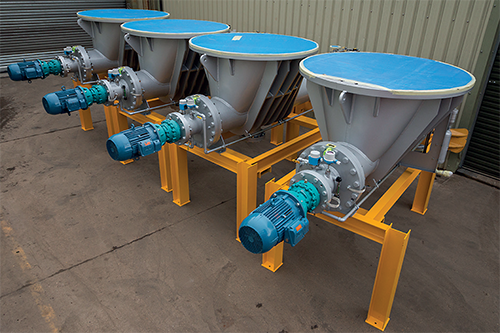 the most demanding commercial environments found anywhere in the world.
Catching up with the company's Production Director, Russell Gadsby at the turn of 2022, he discusses Spirotech's recent performance. "The growth of the business over the last five years has been significant, and better than predicted," he explains. "We have responded very effectively to the changing circumstances caused by the pandemic, by utilizing hands-on leadership, and keeping staff well informed of the ongoing situation, whilst keeping safety, stability, and security of paramount importance.
"I am pleased to say that we have maintained a strong output during the recent difficult months and – by being readily available to help the local community as much as possible – this has helped our people to maintain goodwill and camaraderie, giving each and every one of Spirotech's employees a real sense of purpose. It is therefore the case that the growth that the business has experienced is a credit to all of our staff members, who have worked extremely hard to ensure continuous improvements throughout the group have been made, whilst also seeking out new opportunities."
Continued investments
In the years since our last piece on Spirotech, the group has successfully designed, manufactured, and installed several very large projects for different water authorities up and down the United Kingdom. As Russell continues: "The highlight for me personally was witnessing the approach our team takes to these projects in terms of having a can-do attitude, along with the speed that they have been able to turn them around from concept to reality."
For Spirotech, growth in recent times has been prevalent in all sectors of the business, with the overseas market for its products and services being especially buoyant. In addition to its success in the UK, the group has also designed, manufactured, and shipped equipment all over the world, including to customers in Russia, India, Vietnam, and the United States, and all at a time when industries have been battling various challenges, from Covid-19 to Brexit, and beyond.
"As has been the case for almost every company in the UK, the last two years in particular have been especially challenging and worrying for everyone. For our part, we have strictly followed Government guidelines throughout the pandemic, which has allowed us to stay open," Russell states. "Meanwhile, regarding Brexit, we could foresee materials becoming an issue in terms of price and availability, which is why, during 2018, we made the decision to increase our stock levels dramatically year-on-year. This proved to be an excellent move, and has allowed us to bridge any gaps in terms of supply delays. Our supply chain partners have also been incredible, which has resulted in very little disruption to date."
One thing that remains as true about Spirotech today as it always has, is its commitment to continual investments in people, new methods, and equipment. "Since we last spoke, we have increased our staffing levels by a further 20 individuals who have taken up various roles throughout the business, along with four new apprentices who joined us in 2021," Russell notes. "Over the last three years, the group has also invested significantly in new equipment and practices, from introducing a range of bespoke machines, through to fine tuning our processes and procedures.
"We aim to continue investing in the business, and in our staff, long into the future in order to ensure that we are always adapting and changing to an evolving market. Attracting highly qualified engineers with exceptional skills harbours us through even the most competitive of times, and we are all looking forward to moving to our new smart factory and offices during 2022!"
Russell goes on to provide us with more insight into this exciting forthcoming development. "Construction of our brand new smart factory is well under way, with site searches having now been completed satisfactorily, and – as you can imagine – we are all eagerly looking forward to moving the business to the outskirts of Sawtry, close to the A1. This will help enormously with movement when it comes to some of our exceptionally large projects."
Impressive developments
The 60,000-square-foot head office and manufacturing facility has been designed to increase productivity and quality, using the very latest in smart manufacturing technology, ensuring that the Spirotech Group remains at the forefront of innovation, and continues to be a world leader within its industry. "The factory will also house a ser vice and maintenance division, a product research, test and development plant that will allow clients to run a range of different products on batch trials to see how they perform, and a training centre to give the next generation of engineers and creative minds the best opportunities for the future," Russell enthuses. "With this new facility, we can look forward to considerable growth for the next ten years and beyond!"
Against the backdrop of all of this, Spirotech has continued to play a vital role in a number of impressive projects across the globe. "Current projects that we are involved in come from a number of different sectors, including nuclear, petrochemical, food, and mining, and are taking place in destinations such as the UK, Russia, India, and Qatar," Russell says. "We are particularly delighted to have been awarded a multi-million-pound contract to supply 20 trash rack screens as part of the cooling water intake screening system at Hinkley Point C nuclear power station, which is currently under construction in Somerset, UK. The 20 trash rack screens will play an important role as cooling water supply to nuclear power stations is of vital importance, both for safety related purposes and to provide a heat sink for condenser cooling. The new-generation twin reactors are being built to provide low-carbon 3200 megawatts of electricity for six million British homes, and will make a major contribution to the UK's move to reduce carbon emissions."
Another area of the business that Russell is keen to highlight is its service spares and aftercare division based in York, which has also experienced rapid growth in the last 12 months. "Headed up by Gavin Morgan, our service engineers are looking after and servicing over 300 silos, and the team takes special pride in going the extra mile to source items, or to find a suitable replacement in order to help the customer avoid replacing equipment that still has a serviceable life span."
Before turning to what 2022 has in store of the group, Russell points out that it is also celebrating its recent appointment as the UK's sole distributor for Sodimate in France. "This is a highly advantageous move for both of our companies," he declares. "We recently hosted a representative from Sodimate for two weeks, during which time we were able to showcase our working methods and further strengthen ties for a long-term partnership. This proved to be beneficial for both parties, and it is our intention to visit our partners in Europe during 2022."
On the subject of this calendar year, Russell concludes with the following: "Our approach to 2022 will be based on the successful approach we have always taken in previous years, that being to look at how we can improve in all areas of the business and listen to our customers' requirements."
Spirotech Group Ltd
www.spirotechgroup.co.uk
Services: Design, manufacture and installation of bulk handling solutions