Bulking up
Spirotech-SRD Group Ltd is a global leader in the design and manufacture of equipment and machinery for handling and processing materials
Since its foundation in 1979 by John Owen and Derek Wheldon, Spirotech-SRD has developed its services to be at the forefront in the bulk handling industry. Originally a small workshop focused on the production of screws and replacement flight segments for the agriculture and cement industry, the company enjoyed strong growth throughout the 1980s as the founders responded to market demand for the design and construction of bespoke conveying systems.
Providing further information on the company's progress is Managing Director Russell Gadsby: "Having identified a gap in the market, John and Derek made the brave move to take on a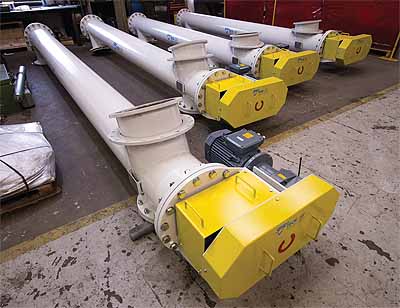 mortgage and erect a purpose-built factory in St Neots, and, by the mid-1980s, had moved on to the design and build of bespoke conveying systems. The market for these goods flourished and Spirotech began to export its products across the globe to a range of markets including food, chemicals and pharmaceuticals."
He continues: "By the mid-1990s, Spirotech had grown to be one of the biggest and most well-respected suppliers to the bulk handling sector in the UK. This in turn led to the need for even further expansion and a move to a 40,000 square foot factory in the late 1990s; this enabled the business further room for growth. Following these developments, Spirotech was sold to the SRD Group in early 2005; this move introduced silos and pressure vessels, along with screw conveyors, into the scope of supply and thus opened up markets for both organisations. Since Spirotech and SRD were merged together the level of investment now exceeds £3 million, paving the way for Spirotech-SRD to maintain its place at the forefront of its market activities across the globe."
In 2013 the ISO 9001 and ISO 14001 accredited firm made the strategic decision to open a new service, maintenance and spares division based in York, which has enabled it to offer service plans for all equipment produced as well as spare parts on a 24/7 basis. This segment of the business includes six wholly qualified engineers alongside a designer, engineer and an estimator that have experience in both mechanical and electrical systems. Proud to go above and beyond for its customers when it comes to sourcing obsolete items or finding a suitable replacement, Spirotech-SRD's team will even travel globally to help set up and install bulk handling and conveying systems that have been built at its head office near Peterborough, in the UK.
Additionally, engineers carry out scheduled maintenance programmes that are designed to fit in with the customer's production schedule, which ensures disruption at their plant is kept to an absolute minimum.
Having supplied the bulk handling sector for 25 years, the company has utilised its long-term experience in finding solutions to specific challenges as well as moving and storing bulk solids and liquid wastes through its screw conveyors, tanks and bulk storage products to develop a solid reputation in the food and beverage industry. In fact, Spirotech-SRD has become one of the biggest suppliers to the bulk handling sector worldwide, with blue-chip customers including Coca-Cola, Airbus, British Sugar, Anglian Water and Shell; the latter of which being a result of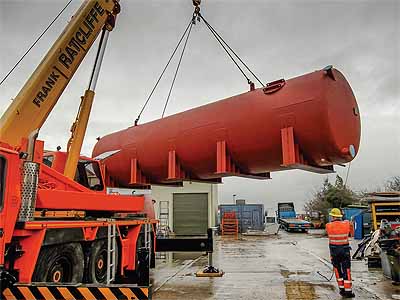 the company's expansion into the oil and gas industry.
Recent projects for the company include the delivery and installation of a 100,000 litre stainless steel water vessel for a major food producer in East Anglia. Having worked closely with the client, Spirotech-SRD ensured all aspects of the manufacture were fully taken care of before the vessel was lifted into position in early 2016. The firm has also recently been awarded a new contract with a major biscuit manufacturer and developed a stronger presence overseas with projects in locations such as India, the Philippines and Thailand.
Discussing the reasons for Spirotech-SRD's success, Russell comments: "We believe the edge we have over our competitors comes from three core areas: the level of expertise within the business that has been generated from nearly four decades of trading; our state-of-the-art factory and machinery, and our ability to listen and understand each customer's requirements so we can deliver the right product on time and to budget. A good percentage of Spirotech's customers have been trading with us since our doors opened nearly 40 years ago, I put this down to us offering a high quality product at competitive prices, with second-to-none aftersales."
In addition, Spirotech-SRD was awarded accreditation from Safecontractor for its commitment to achieving excellence in health and safety in November 2015 and carries out the majority of its engineering in-house, which means customers benefit from a one-stop-shop service. For clients who require equipment quickly, the company has established the 'Rapid-Build' programme, which allows it to offer a design and build service; it also has the capacity to almost double working time overnight thanks to the way its manufacturing systems are set up.
With an investment of £2 million put into the business over the last two years, the dynamic company is seeking out further growth as it plans to open a new service centre in York this year. By continuing to diversify its market sectors and further invest in service and maintenance, an area that has seen an 80 per cent increase over the last 12 months, Spirotech-SRD will be able to handle the bulk of work that is certain to come its way in the future.
Spirotech-SRD
Products: Equipment and machinery for handling and processing materials