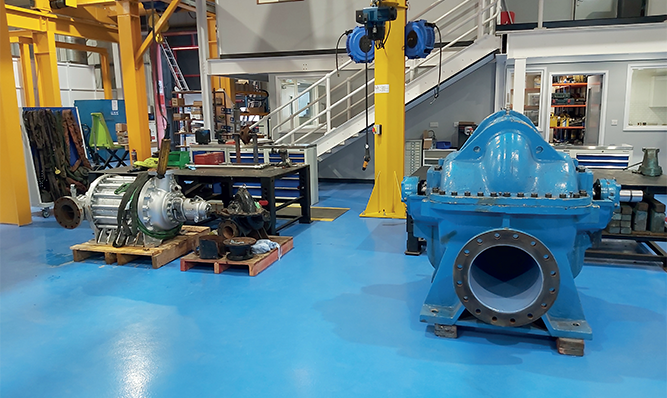 Moving with the times
A leading manufacturer of centrifugal pumps for the oil and gas sector, SPP Pumps Limited is pivoting its strategy to support the UK's renewable energy transition
It's been a tough year and a half for SPP Pumps Limited (SPP). For more than 140 years, the company has steadily built its name as a manufacturer of centrifugal pumps and associated systems, and has established a reputation in the design, supply and servicing of pumps, renowned fire pump packages and high-quality equipment for a wide range of applications and industry sectors. But since 2020, it's faced two problems. The first is well-documented: how best to overcome the severe difficulties posed by Covid-19? The second is more unique: for a company reliant on the energy sector, including oil and gas, how to navigate the irrevocable challenge posed by the UK's ongoing shift to renewables?
"We've had to really focus on cashflow, and managing our resources," admits Bob Tichband, SPP Chief Operating Officer, when asked about the impact of Covid-19. "We were unfortunate to experience a lot of instability with our customers. Quite often, we'd be building equipment to-order, when an outbreak would hit our customer's site, their operations would shut down, and suddenly they'd no longer need the goods we were supposed to be providing. From our perspective, it meant that we'd have made significant investments – in bought-out items, in labor, and we'd have tied up all our cash – just to find ourselves stuck with goods for which we couldn't invoice."
For Bob, it was a matter of adapting to survive. "We've had no choice but to optimize our procedures and technology in order to become a leaner and more efficient organization," he says. "We're seeing demand coming from new and different sectors, and we're responding to that. As an example, one of our historic strengths has been our prominence within the energy sector, an area in which new investment has declined. Nevertheless, that's coincided with a growing need to prolong the life of assets currently in operation, and we've honed-in on that, focusing our attention on the delivery of world-class servicing capabilities for our clients.
"In parallel, we've also successfully diversified into water utilities," Bob adds. "That's a move driven primarily by a need within that sector for more efficient products, as they look to reduce their energy consumption and minimize their carbon footprint. To achieve that, requires us to restore and enhance the current machine stock, upgrading their performance to a level that's as good as new. It's yet another area to which we can bring our high standards of service and expertise."
Nurturing talent
Despite the obstacles that SPP has faced, the period of the last two years has not been without positives. "In terms of what we can take pride in, and reflect upon, it's really underlined the importance of our people, their resilience, and the sheer depth of talent that we have throughout the organization," Bob tells us. "There's been plenty of cause for celebration. It's a period during which we've seen some of our employees receive recognition for their work through the Energy Industries Council (EIC) Rising Star Awards, embarking on funded MBA programs. It's an indication of the heavy emphasis we place upon investing in our people, and nurturing the talent we have at our disposal," Bob indicates. "We're really proud of all that they've achieved, and as we emerge from the turmoil of Covid-19, it's a focus that we're keen to maintain. As a company, we need to look to our future, even as we keep one eye on the present."
Key partnership
But the future is never far away. A standout among SPP's recent investments has been the opening of a brand-new flagship service center and Centre of Excellence, located at the company's primary Coleford manufacturing site. "The facilities we have at Coleford hold a special place within SPP, " Bob says. "We opened it 31 years ago, since which time it's become a testament to our hard work, and a symbol of our dedication to the manufacture of pump solutions. It was already a world-class site, but our latest investments have seen it reorganized and refocused, transforming it into one of the best test facilities across the whole of Europe, with plenty of additional features besides. It's absolutely stunning.
"We've also made a second major investment, into our new service center in Aberdeen," he goes on. "That's been built specifically to support our customers in the local area, which remains a major hub for the energy industry. It's situated in a prime location, close to the heliports in Dyce, and features a large workshop complete with overhead crane, adjoining open-plan office, boardroom, and welfare facilities. Investing in that region, we might seem a little bit late to the party – but we're adamant that the North Sea is far from dead, and now is the right time. Best of all, it reinforces our identity as a proud UK manufacturer and gives us a national service footprint when combined with our other established bases in Belfast and Hyde."
Coupled with this growing manufacturing footprint, SPP has also been hard at work to forge new partnerships within its key sectors. In August 2021, the company announced that it had become the authorized UK and Ireland distributor and service provider for Pleuger Industries, a globally-renowned manufacturer of submersible pumps for the water, marine and offshore, oil and gas, and mining industries. "It's a great relationship, and one that's already gaining momentum," Bob insists. "For SPP in particular, it's a partnership that we believe will introduce us to more opportunities within the water industry, as we look to deliver our products to an even greater number of companies involved in bore-hole drilling."
The strategy is already delivering tangible returns. "In the first two months of 2022, we've seen our business rise 25 percent on last year's order intake levels," Bob reveals. "There's a steady, but definite, return to more normal behavior post-pandemic, with a growing number of water and infrastructure projects taking shape. That being the case, we're extremely optimistic about the year ahead. We're confident in the knowledge that we're a scalable business – as the old cliché goes: big enough to deliver, but small enough that we still care. It's an advantageous position to be in, giving us the ability to be flexible, and to accommodate what we expect to be significant throughput across the next 12 months."
Product plans
Before we wrap up, Bob is keen to reiterate the importance of the energy transition, and to demonstrate that SPP is well-prepared for what's to come. "We're very keen to support the UK's efforts to decarbonize the economy and reach Net Zero," he concludes. "There's no question that it's the most significant event to occur within the energy space for decades. Our own efforts in this arena started more than ten years ago with the development of our LLC industrial pump – a solution that helped to reduce our customers' energy consumption. Now, as we look to further coordinate our efforts, we've now appointed an Energy Transition Manager. They've been tasked with the responsibility of getting out there into the market, and to acquire an understanding of the projects that are either in the planning phase, or already underway. In this new age, our goal is to identify precisely where we fit as a company, and exactly what we need to do – in terms of our product and our systems – to accommodate our customers, and to meet their needs."
SPP Pumps Limited
www.spppumps.com
Products: Centrifugal pumps and associated systems