Pumped up
SPP Pumps has established a reputation that reaches all corners of the globe. By focusing on service and quality the company is set to expand rapidly over the coming years.
Now occupying a world leading position in the centrifugal pump industry, SPP Pumps has experienced a long and successful history defined by growth and expertise. Founded back in 1875, The Pulsometer Engineering Company Ltd established itself as a significant player in the UK market. After nearly a century of activity, it merged with Sigmund Pumps of Gateshead in 1961 and SPP Pumps was formed as one of the largest pump companies in Europe. Today, under the Indian Kirloskar Brothers (KBL) group, the company occupies leading positions in a number of industrial sectors including, fire protection, water, oil and gas, and energy. SPP Pumps has a main R&D, manufacturing and testing purpose built site in the UK, along with a number of local sites in all five continents.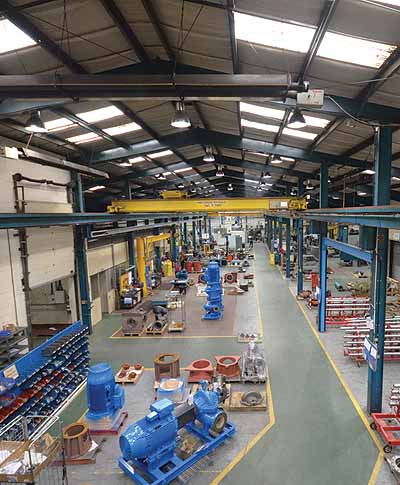 The company has a very strong presence with the oil and gas industry, in which it manufactures fire protection pumps, seawater lifting systems and other offshore processes. Its spread across the global industry is vast. With many of the major oil companies as customers, SPP has installed over 450 pumps in 70 oil fields, serving to prove its high regard within the industry. Its industrial fire protection division has a similar reputation, serving a range of sites from high-rise buildings to warehouses. Of note, many buildings in London's Canary Wharf complex, as well as the Shard are all protected by SPP fire pumps. The Shard represents a significant highlight for the company: "We had to come up with some innovative fire pump solutions, with a multi-stage, multi-outlet pump, to service the needs of the building in a very cost effective and space saving way," says Bob Tichband, general sales manager for SPP Pumps.
Acquisition by KBL in 2003 was a major point in SPP's history. "It was the catalyst to propel the business to the strong position where it is today," expressed Bob. Equal to the support provided by such a large company, however, are the many strengths within SPP's own operations. Adherence to producing the highest quality and reliability standards in the industry is at the core of the firm's business and with a range of bespoke systems being produced at the site, lean manufacturing processes are crucial to achieving these standards. The staff that it employs and the service that it delivers are also central: "It's all about the people and the attitude of those people," emphasises Bob. "That's our biggest differentiator; we look to provide world-class service from start to finish."
SPP Pumps is focused on remaining a UK manufacturer, and highly values its presence at Coleford in the Forest of Dean. Here, the company is one of the region's largest employers and it is committed to providing support and growth to the area. However, whilst being a valued UK business, the company is a very strong exporter. As Bob explains: "Between 60 and 70 per cent of what we manufacture is exported abroad." One example of the company's successful export horizon is its position in South East Asia. Recently, SPP Pumps won two contracts to supply fire protection systems to a luxury resort in Bali and a manufacturing facility for Suzuki. "We have got a very strong business in this region," highlights Bob. "Winning contracts in that area is common."
The future for SPP Pumps is all about growth and expansion, and recent developments within the company exemplify how it is gearing up to achieve this. A strong arm of the business is its aftermarket and service division. Previously it operated three separate businesses for field service, UK service centres and parts. Bob explains how this was ineffective: "They were all individual businesses and in some cases they were competing against each other. To fix it, we rationalised them under one management team – refocused and realigned them into a much more collaborative organisation. We wanted our aftermarket division to be more innovative and proactive in terms of providing solutions to our clients' problems, whatever they may be."
It also has investment plans to expand the manufacturing facilities in the Coleford plant. Investment comes from winning part of the regional development fund last year, and is crucial to the company making sure it has the facilities to cope with its increasing growth as well as providing more opportunities for the local community. The company also looks to install a world-class research and development facility there to further establish its position as a pioneering player in the industry. Moving inside, the facilities investment will also be directed towards new machinery, hydraulic and mechanical design software and capabilities. "Hydraulic design is something that is dying out in the UK and we're looking to reinvigorate that," says Bob. SPP also looks to follow in the footsteps of its parent company being one of the only pump manufacturers to use 3D printing, meaning bespoke designs and manufacturing within the plant can facilitate more innovation.
SPP Pumps has a commitment to its people and to the quality it delivers to its large customer base across the globe. With a focus on rapid expansion, both in terms of facilities and export markets, the company is positioning itself to continue the success it has achieved over its vast history.
SPP Pumps Limited
Products: Manufactures centrifugal pumps and associated systems
Sites: Global
Employees: 320