Sophisticated technology
SPTS Technologies is a leading supplier of etch, deposition and thermal equipment and process solutions
Encompassing over 40 years of experience in developing and manufacturing wafer processing equipment, SPTS Technologies Limited (SPTS) brings together expertise from several companies including Watkins-Johnson, Trikon Technologies, STS, and Aviza Technology. Although the roots of the company can be traced back as far as the 1960s the name SPTS first appeared during 2009 and continues to endure following its acquisition by Orbotech Ltd. last August. Orbotech is a NASDAQ listed company and has been at the cutting edge of the electronics industry supply chain, innovating technologies present in the manufacture of the world's most sophisticated consumer products for over 30 years.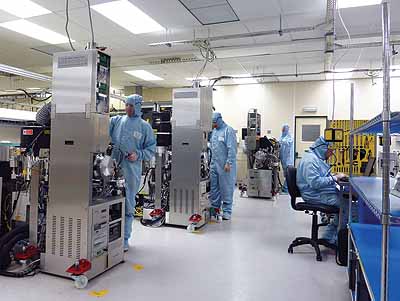 Today SPTS continues to design, manufacture, sell, and support etch, PVD, CVD and thermal capital equipment, providing advanced wafer processing technologies and solutions for the microelectronics industry. End-market applications include micro-electromechanical systems (MEMS), advanced packaging, LED, high-speed radio frequency device integrated circuits (IC's) and power semiconductors. As part of Orbotech, SPTS is able to build on its existing manufacturing strength and industry expertise to expand its reach to better serve its clients globally. Although the acquisition of SPTS by Orbotech was completed less than 12 months ago SPTS has made a significant impact on the group, delivering approximately a third of its total revenue during the first quarter of 2015. Furthermore SPTS is dedicated to exploring the synergies between itself and Orbotech, while remaining focused on its own technology development and manufacturing processes to ensure that it continues to remain at the forefront of an increasingly dynamic market.
"Like any business we are looking for synergies to develop global opportunities and consolidation – not in terms of headcount but certainly for operational efficiencies and supply chain, which continue to be a big focus for us," explains Mike Hewlett, vice president of operations at SPTS Technologies. "SPTS is a technology company, and we are continuously investing in new wafer processing solutions and manufacturing techniques to make sure all of the current and future requirements of our customers are met. To remain competitive in the rapidly evolving microelectronics manufacturing industry we have to be at the leading edge of development as new technologies emerge while being as responsive as possible with production-ready solutions for our customers as they ramp to volume manufacture."
Mike continued: "In fulfilling our customer requirements, one of our biggest strengths is in our lead-times. Our process modules and systems range from $1million to $4 million, so it is a significant investment for our customers. At the same time, our customers also face high levels of demand from their end customers who are global brands like Samsung and Apple who are highly driven by consumer behaviour and 'want it now'. This is a very fast moving industry and our lead-time genuinely gives us that competitive advantage to win the business."
Supply chain management and relations are critical in ensuring short lead-times. To achieve its competitive lead-times SPTS has introduced increasingly efficient manufacturing processes that have allowed the company to greatly improve production ramp without compromising customer specifications or quality. Presently SPTS enjoys material lead-times of around six weeks, which is achieved through co-operation with local suppliers. "Ideally our manufactured parts are delivered from within 100 miles of our facility, including machined parts, looms and electrical parts," Mike reveals. "This allows us to not only support the local economy, but also to manage quality and engineering revision change, which in such a dynamic industry is rife."
As the use and demand for electronics continue to increase so too has the need for delivering higher volumes of ICs at lower cost. SPTS has remained at the forefront of wafer processing solutions and this enables its customers to meet their challenging requirements by offering a range of wafer size handling systems. The integrated circuits and micro-electronic devices produced using SPTS equipment are found in every smartphone in the world and in other things that touch our lives every day, such as automobile airbags and domestic appliances.
"When I joined the company over 30 years ago, the wafers being managed at that time were 75mm in diameter," Mike elaborates. "Today the typical wafers we manage are 300mm in diameter, so that means that you can get more devices onto one wafer. If you imagine a 300mm wafer, it is 12 inches of silicon moving through a machine at a very quick pace before being diced into the small ICs that you see inside mobile phones, tablets, etc, which are between 3mm to 4mm in size or smaller. This means that it is possible to fit hundreds or thousands of devices onto one wafer. The semiconductor industry is highly cost sensitive so any improvement in throughput and yield gives both us and our customer an additional advantage. Therefore process efficiency and wafer throughput are benefits we always work to improve and deliver to our customers."
Commitment to customer satisfaction and customer success has also been instrumental in SPTS's success. Mike concludes: "We treat our customers extremely well and serve them as best as we can. Customer loyalty is our top corporate objective and it has been key for repeat business. Presently about 70 per cent of our business is repeat business because we have very strong relationships with our customers. We also do not simply just ship a unit and let it go into the field; we offer full support from installation through to qualification, and this is of great importance to any customer."
The company's combined efforts has enabled SPTS to win numerous awards, including the Queen's Award for Enterprise in International Trade 2013, and was also named Welsh Government Anchor Company in January 2014. More recent accolades include two awards at the Welsh Business Awards 2014 and EEF Future Manufacturing Awards Insider's Made in Wales 2013 'Manufacturer of the Year' Award and the 'Green Manufacturer' Award in 2014.
SPTS Technologies Ltd.
Products: Etch, PVD, CVD and thermal wafer processing capital equipment
Sites: Newport, South Wales
Employees: 500