Focus on Stainless Band
A leading supplier of stainless coil processed products, Stainless Band serves many sectors including the automotive, building and petrochemical industries throughout the UK and the world
Supplying to manufacturing companies worldwide, Stainless Band is a UK-based producer of stainless steel coil, strip, blanks and sheet in grades 1.4301, 1.4404 and 1.4016. The company supplied over 4,500 tonnes of slit coil last year to various manufacturers from around the world, which are impressive numbers considering the amount of testing each product undergoes within its facility. Testing is carried out on material in both its raw state and before leaving its facilities after processing, as well as multiple spot-tests throughout the production process.
In today's markets, quality is not only demanded, it's expected, and producing quality product starts with raw material. Ensuring the startingpoint of the supply chain is impeccable allows for a better end product, and Stainless Band takes this concept to heart.
Following a recent audit, Stainless Band's ISO 9001:2008 certification has been reissued until September 2018. The certification is a quality management system framework, ensuring efficiency, accountability andenvironmental management. Stainless Band has retained this certification for many years by continually reviewing and improving manufacturing processes,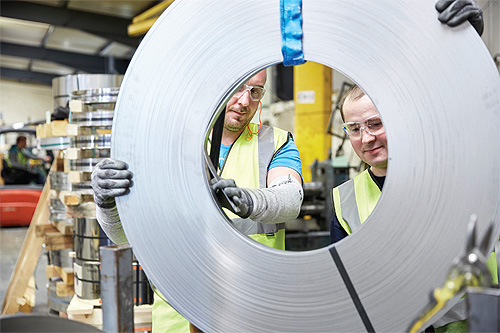 product quality and service to its customers, and work is now underway to attain the new ISO 9001:2015.
Quality Manager Kate Wawrzyczny is due to return to her position in the New Year following a period of maternity leave. Honey Sawhney, Quality Assistant, has overseen quality management at Stainless Band in Kate's absence, and has been instrumental in ensuring the quality of Stainless Band products continue to exceed the expectations of its customers. On Kate's return, both Kate and Honey will work to oversee the quality, HR and health and safety within the company. They will also continue with an update to Stainless Band's systems and implement its 'continuous improvement journey'. This focuses on not only QA systems, but also improving efficiency in production as well as improving the working environment for its 35 employees.
The first point of quality control is with all raw materials entering Stainless Band's 16,600 square foot manufacturing facility through its goods inward bay. Any material arriving from the mill is thoroughly tested at Stainless Band's in-house, multi-stage testing facility. These testing processes include hardness, tensile and chemical analysis testing, ensuring that the stringent quality demands put in place by Stainless Band are met before material enters the processing lines.
MD of Stainless Band, Jonathan Hanson stresses the importance of testing materials before production: "If we are 100 per cent sure of the raw material quality before entering our production lines, and it is tested throughout processing and pre-delivery, we can be confident of a consistently high quality product, increasing efficiency and quality in one fell swoop."
It's this attention to detail that has seen Stainless Band's sales soar over recent years. Its penetration of the global marketplace due to its friendly, multi-lingual team, consistent quality in its wide range of products and fast turnaround on orders has caused the company to make significant investments in its facility. Recent investments allow Stainless Band to store more raw materials, increase processing capabilities, streamline logistics and have increased processed stock available for shipments.
During 2017, Stainless Band spent £320,000 on expanding and improving its operations, which includes a 1,600 square foot warehouse extension for dispatching materials, which is equipped with £45,000 of racking throughout the facility and two additional forklift trucks.
The extra space has allowed the company to fit a new Fred Cam line, which allows for the production of coil up to 650mm wide and to 4mm in thickness, with a minimum width of 10mm. The overall capacity of the facility is set to increase by 30 per cent over the next three months, and significant improvements to the flow of material throughout the facility promises to further reduce turnaround times on all orders. Stainless Band has also employed an additional ten staff members in both office and production roles, which not only supports the company's expansion but also works to improve the local economy.
With such a wide range of processing services including slitting, shearing, coating, finishing, edge dressing and more, there is no wonder that Stainless Band is a preferred supplier to so many manufacturers worldwide. For companies that require a supplier with consistently high quality products and customer-focused service, as well as the flexibility to adapt to a continually evolving marketplace, Stainless Band continues to prove itself as a company that delivers.
For more information on Stainless Band, please call +44 (0) 1274 566 831 or visit www.stainlessband.co.uk.