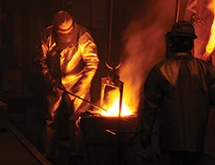 Stainless Foundry and Engineering
In an industry that continues to struggle finding skilled workers, Stainless Foundry and Engineering (SFE) is making itself an attractive option by investing in the latest technology and training. "As the foundry evolves, it needs to rely more and more on technology to control the processes and improve the skill sets of the next generation foundry worker," President Jim Stachowiak says. "We need to heavily invest in the next generation so we can replace the skills of our retiring workforce."
Stainless Foundry recently implemented a new ERP system providing access to data faster which will allow the business to focus on driving improvement in quality and lead-time. On the engineering side of the business, it continues to invest in training and development of solidification modeling software to provide better tools for the next generation engineer.
After getting its start out of a one-room foundry in 1946, the Milwaukee-based company today has become a highly regarded manufacturer of raw and machined castings in both sand and investment or lost wax. Still operating out of its hometown, but now in a 170,000-square-foot facility with 200 employees, SFE is a prominent supplier to OEMs servicing the chemical, petrochemical, nuclear, pulp and paper, pharmaceutical, food and dairy, metering and military markets.
"Quality is defined by our customers as getting a defect-free casting that meets their technical requirements," Stachowiak notes. "In general, the casting process has a lot of opportunities for failures and inherent defects associated with it. Most castings will have some level of defects depending on the alloy. Our engineers ensure the defects are locked into areas of the casting that get removed after further processing. Our customers evaluate our quality based on the results after machining the casting. When they aren't finding any internal defects and the product performs to their specification, then the product meets their requirements."
SFE specializes in corrosion-resistant, high heat and wear-resistant steel, stainless steel and high alloy parts. The company will ship more than two million pounds of castings this year, produced in weights ranging from grams to 2,800 pounds.
"Sand and investment casting are two different manufacturing techniques under one roof," Stachowiak says. "We are a one-stop shop for customers. Historically, we have been highly regarded for our technological strength and our ability to pour difficult alloys into complex shapes. We provide a service that a lot of foundries aren't capable of doing."
Improving Performance
"The ownership team brought me in to contemporize the manufacturing processes," Stachowiak explains. "Typically, the industry has been reluctant to change and has the mindset that there is a certain way things are done. I started looking at how we can improve overall performance to satisfy customers."
To improve quality performance, SFE developed what it calls a control plan that starts with a flow diagram of its processes. The process flow diagram is then put through a failure modes and effects analysis to identify the critical elements it needs to control. These critical control elements are rated based on the severity of impact to the outcome of the process. The high severity elements become the key process inputs of the control plan because if they fail it will impact the quality of the part.
The next steps are for SFE to identify and control high risks and probability. "Once the control plan is in place, we will follow up with layered process audits," Stachowiak explains. "We will have a supervisor or team lead monitor key steps and verify employees are doing what the control plan says they should be doing."
The next layer will be the foundry and engineering directors ensuring frontline employees are doing the audits by monitoring that on a consistent basis. The final layer includes the executive management, which includes Stachowiak, conducting process audits. "This is the first step for us, getting control plans in place," he says. "The next step is implementing standard work, which is how we will replace the knowledge and skilled craftsmen that are retiring."
Growing the Workforce
As seasoned employees look to retirement, SFE is finding the amount of knowledge in the workforce is draining away while new entry into the industry is slow. SFE is working to attract the next generation through internal training and state-of-the-art technology. "The biggest challenge we have seen has been the shifting of the workforce away from skilled craftsmen," Stachowiak adds. "We've crafted programs both on metallurgy and foundry that are taught here. Courses are specific to the industry and products we are pouring here."
Training is held on each step of the control plan, outlining work instructions for each procedure, which can be referenced directly from the plan. SFE partnered with Wisconsin Regional Training Partnership (WRTP) to develop a Foundry 101 course held at a local college. "It's a six-week bootcamp program where WRTP identifies candidates for the program," Stachowiak says. "They did foundry training on both sand and investment. Those students are eligible to be hired out of that program and provided skills we need to build the workforce."
SFE's goal is to change the younger generation's mindset of manufacturing as an old, dirty industry by leveraging its technology. "We really leverage the technical piece behind the foundry and what you can accomplish by combining alloys," Stachowiak says. "There is a tremendous amount of science behind foundry work and casting, and that's what we tap into when we get them excited about it. Once they understand, see it and watch what's going on, it creates a desire for understanding the technology and science behind it."
SFE is implementing 3-D technology for its wax and sand processes to get prototypes to its customers and get into full production faster. It is also upgrading robots in the investment foundry to increase its productivity and improve quality.
"We are the leading foundry from a technology perspective and giving our engineers exposure to things they may not see in other foundries," Stachowiak says. "I think it's an industry that has good potential here in the U.S. despite pressure from foreign competition. We need to understand to do that and be competitive we have to offer the best quality with the shortest lead-time."