Excellence in manufacturing
As a market leader in the development of vertical machining centres and milling-turning centres for some of the world's leading manufacturers, Stama represents an expert in the delivery of bespoke machine solutions
Founded by Mr. Gotthilf Stark as Stark Machines (Stama) during 1938, Stama Maschinenfabrik GmbH (Stama) is a globally recognised provider of CNC machining centres that are employed across a host of manufacturing industries. Early on in the company's history Stama was involved in the provision of equipment for leading manufacturers Daimler-Benz and Bosch, while the company changed focus to the production of household items ranging from noodle presses to cigarette lighters and other items that were in demand in Germany at the end of the second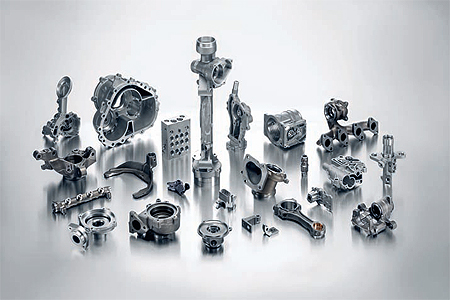 world war.
During the 1950s Stama set the foundation of the machine tool business, through the development of its patented Stama Revolver drilling heads ARBO and a series of special purpose rotary dial machines. By the 1970s the company had entered into the market for automated manufacturing through the introduction of the first Stama NC Revolver automated drilling system. This proved to be a huge success for the company and an important milestone for the manufacturing industry, meaning that by 1973 the original Stama production facility had reached its production limit. This led the company to partially transfer manufacturing of the Revolver drilling automated system to Uhingen, near Göppingen in southern Germany. During 1980 Stama introduced its first CNC double-spindle machining centre with TWIN branding. The TWIN system would go on to represent a key product for Stama during the subsequent decades, undergoing continued development to meet the changing demands of modern manufacturing.
"Stama today produces machining centres with single twin and four spindle variations, which are available with both HSK-A63 and HSK-A100 tooling. These machines feature modular design, meaning that Stama is able to deliver products that exactly fit the exact needs of its clients. Our Milling-Turning centres are also unique within the market and are available with both single and twin spindles. Milling and turning from bar stock or a single work piece are each possible, offering a complete package manufacturing solutions," explains Managing Director, Crispin Taylor. "We have recently introduced our MC 338 TWIN to the market, which is a heavy HSK-A100 twin spindle machine for heavy duty machining with a built in work piece changer. We are also working in collaboration with our sister company, Chiron, on the development of a new range of machines to be unveiled in the future."
Further to working to introduce new manufacturing machines into the market, Stama is also building on its rich history of innovation through the continued development of digital manufacturing processes. "We are investing a lot of man power in digitalisation, 'Industry 4.0' is currently being talked about everywhere and we have already developed solutions in this area. Within the Chiron Group we are presently developing our 'Smart Line' software and hardware packages, which set the foundation for the future digitalisation of our customers'
manufacturing processes," Crispin reveals. "With this new technology manufacturers will be able to control and optimise the uptime of their machines, as well as to receive advanced warning of breakdowns and service interventions. Three modules are currently available and comprised of 'Data Line' part of our application and service platform for production; 'Process Line', forming part of a turnkey CAD and simulation solution; and 'Remote Line', which enables us to offer customers a web-based remote teleservice."
The dedication of Stama to delivering innovative machining solutions to its clients is further demonstrated by its ability to produce bespoke manufacturing solutions, which are tailored to meet the unique requirements of its clients. This is backed by a constant commitment to maintaining the highest levels of quality, allowing customers to purchase machines with complete peace of mind that they can expect robust performance and solid aftersales support. "We operate a turnkey factory and 70 to 80 per cent of our delivered machines are built for customers through a full production process under one roof, with services including machine, tooling, fixturing and further process solutions including automation," Crispin says. "Quality is taken very seriously at Stama and during the past 12 months we have implemented a quality offensive to improve customer satisfaction. This is specifically focused on the overall total cost of ownership (TOC), because while it is one thing to develop the most dynamic, accurate and most cost-effective machine per part, the TOC of machines should be at its very best as well."
With a strong focus on quality that is recognised throughout the manufacturing industry, Stama has built a solid export market across several key production industries. Presently around 60 per cent of the company's machines are supplied to clients operating within the automotive sector, where efficient process solutions are required to meet increasingly complex manufacturing requirements. Machines in this market embody equal parts strategy and model diversity, short product cycles, variable batch sizes and the highest standards of quality. Implementing the optimal solution for the production of everything from chassis, gearboxes and motors to brake system components is key to maintaining a successful manufacturing business. Stama places great emphasis on achieving the highest standards of quality, while simultaneously lowering the cost-per-unit of production through innovative design and technology. This has been achieved through a continued dedication to the development of innovative new production solutions, which will enable Stama to remain at the forefront of the machine tool industry as the manufacturing sector continues to evolve.
"We are naturally very strong within our home market in Germany, but we also export 60 per cent of our machines to regions such as Asia and China. The USA has recently started to see a revival in manufacturing and we have subsequently also been able to strengthen our presence there. We are heavily engaged within the automotive industry, but we are strong in the tooling industry for hydraulic manufacturers and also sell into both the medical and aerospace industries," Crispin concludes. "The turning mill is definitely an area in which we can and will expand. We perceive that single machines that can provide a full manufacturing process will become more important in the future, as components become more demanding in terms of tolerances and complexity."
STAMA Maschinenfabrik GmbH
Services: Vertical machining centres, milling-turning centres, automation and turnkey-solutions