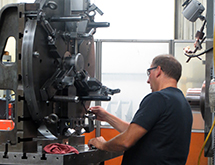 From the Great Depression to the Great Recession and all of the economic and technology changes in-between, Stanek Tool has survived and outlasted many of its contemporaries for one main reason. "We've always operated as a family business – we value our employees and value building relationships with our customers and suppliers," owner and President Mary Wehrheim says. "I think we're respected in the industry because we've done what I feel are the right things."
For Wehrheim, doing the right thing includes treating employees, customers vendors and suppliers with respect. Wehrheim represents the third generation of family ownership at the company, which celebrates its 90th anniversary in 2014. Her grandfather, Edward Stanek Sr., a native of Czechoslovakia, founded the company in 1924 after leaving his home country and settling in Milwaukee.
Stanek and his partners, Arthur Seegar and Joseph Stemo, weathered the difficult economic times of the late 1920s and 1930s by gaining a reputation as innovative tool and die makers.Stanek's son Jerry took the reins of the company in 1939 after Ed Stanek Sr.'s death. The second generation of leadership continued under Jerry Stanek and his brothers Ed Stanek Jr. and Tom Stanek, who joined the company in 1945 and 1953, respectively.
After nearly 50 years in Milwaukee, the company moved to its current 36,000-square-foot facility in New Berlin, Wis., in 1972. Wehrheim – Tom Stanek's daughter – joined the company in 1984 and took it over in 1996 following her father's retirement. Stanek Tool today is a certified woman-owned business.
Made to Order
Stanek Tool continues to specialize in custom tooling solutions that allow its customers to increase their productivity. "Whether we are using our own designs or our customers' designs, we want to be proactive by looking at what their goal is and making sure we give them what they really need," Wehrheim says.
The company engineers and manufactures workholding fixtures, precision-machined parts and mold solutions. Stanek Tool's workholding fixtures are used by customers in the automotive, heavy equipment and other industries to hold parts during the machining process. Molding solutions produced by Stanek Tool are used in plastics manufacturing.
Although Stanek Tool manufactures precision-machined parts for customers in the nuclear defense and other industries based entirely on customer designs, its workholding fixture and mold products are completely custom made. Stanek Tool's manufacturing capabilities include CNC machining, EDMing and precision grinding.
The company is ISO 9001 certified. This status is maintained in part through Stanek Tool's implementation of a customized software system, which allows the company to integrate many specific ISO requirements and lean manufacturing methodologies into its manufacturing and accounting practices. "This system has ultimately resulted in streamlining communication and increasing efficiencies plant-wide," Wehrheim says.
Stanek Tool will feature one of its custom-made workholding fixtures during the International Manufacturing and Technology Show (IMTS) in Chicago in September. This is the company's fourth time participating in the event.
Raising the Bar
Each of the company's products requires a diverse set of components and manufacturing processes. Customers are heavily involved in each portion of the design and manufacturing process. "We are a full-service tool-and-die shop," Wehrheim says. "For any process we don't have the capability of performing here, we team with vendors who we feel can perform those processes and we take total responsibility for their output."
One example of the company's success in manufacturing a product to solve a specific customer problem is its completion of a workholding fixture for a turbine blade manufacturer. Before hiring Stanek Tool, 60 percent of the blade manufacturer's products were scrap. Stanek Tool reduced this number to zero by creating a modular free-state fixture designed to accommodate nine different complex turbine parts. The fixture includes clamps that hold parts in place without deforming them.
"We designed and built a testing fixture before undertaking the final production fixtures, all with the full buy-in of the customer," Wehrheim says. "Since this project, we've worked with this customer and built fixtures that presented even more difficult challenges. Our customers constantly raise the bar."
Preparing for the Future
Wehrheim credits the company's ability to meet customers' high standards to its staff. The company supports its employees by offering ongoing training and development programs. Employees at all levels are also involved in maintaining product quality. "We have a culture of heavily involving shop floor employees in creating manufacturing solutions and giving them the opportunity to buy into those solutions," Wehrheim says.
Stanek Tool also supports prospective future employees. Wehrheim serves on the Wisconsin Apprenticeship Advisory Council, and is also active on the board of a local technical college and the workforce development board. Stanek Tool is also an active member of the Tool, Die and Machining Association of Wisconsin.
The company also participates in a dual enrollment program through the local technical college, which includes training 17 high school students on operating CNC equipment. Stanek Tool also actively supports high school robotics programs.