A star is born
Proudly manufacturing a range of both branded and private label cleaning products, Star Brands is the company responsible for names such as Stardrops and The Pink Stuff, which are regularly championed by the likes of Mrs Hinch
Proudly declaring itself to be a "quintessential Great British company", Star Brands has built up a reputation for delivering high quality service to its customers. At its core, the company manufactures both branded and private label laundry and household cleaning products, with a number of popular names being made under its roof, such as Stardrops, Clean-ology, Wizz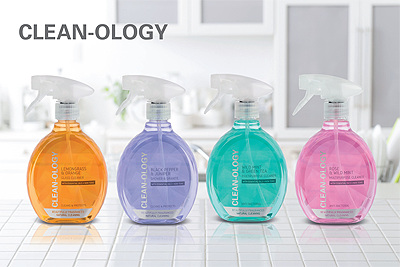 and The Pink Stuff. Individually, its range of household disinfectants, multi-surface cleaners, antibacterial solutions and laundry aids each offer quality, ease and simplicity, and consistently deliver an unmatched cleaning experience at an affordable price.
Today, around 70 per cent of the company's output is centred around retailer brands, which in itself places it in a strong position within the market, however it is its focus on what one could call the 'niche areas' of laundry and cleaning that helps to make Star Brands really shine. "Arguably our biggest USP – which sets us apart from our big competitors – is that rather than channelling our efforts into mass produced goods in the laundry category such as big box powders, we target some of the more peripheral products such as ironing water, fabric fresheners and stain powders," explains Star Brands' Managing Director, Tim North. "Similarly, on the cleaning front, whilst we do manufacture the likes of kitchen and bathroom cleaners, we have also shown ourselves to be experts when it comes to the more specialist areas such as carpet and stainless steel cleaning."
Such is the company's level of expertise that, at any given time, it can have anywhere between 250 and 300 stock keeping units (SKU's) active. This creates a degree of complexity that it has become well versed in embracing. "Our high degree of flexibility and adaptability has proven to be critical in being able to do what we do so efficiently," Tim continues. "At the same time, it is our ability to drive innovation and deliver added value across our various product categories that has helped us to achieve the success that we have in recent times. This has resulted in not only the on-going improvement of our existing brands, but also the introduction of entirely new products, such as our creation of the first non-bio stain powder in the stain powder category under the Fairy Non Bio brand as a P&G licensee."
Star Brands' efforts have had such an impact that they have also sparked the interest of key influencers, perhaps most significantly one Sophie Hinchliffe, aka Mrs Hinch, whose Instagram account alone attracts close to 2.5 million followers. "Endorsement from the likes of Mrs Hinch has helped to bring about some truly colossal growth amongst our brands," Tim states. "In the case of Stardrops, this is now a £10 million brand in itself – which represents a near doubling in size in the space of 12 months – while The Pink Stuff has seen sales rocket by around 350 per cent in just a six-month period, meaning we now find ourselves working almost around the clock just to keep up with demand!"
Meeting said demand is only possible thanks to the work that takes place within the company's 65,000 square foot production facility, which is based in Redditch. Here, Star Brands operates several high speed, fully automated production lines for liquids and powders, while a range of manufacturing vessels allow it to blend according to demand. These lines and vessels, which the company has capital plans to continue investing in over the course of the next several years in order to create more capacity, are operated by employees that work across two day shifts,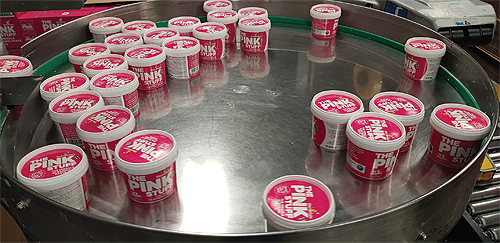 and a recently introduced night shift, which allows the site to function around the clock, five-daysa- week. Retaining a strong human element to the manufacturing process has been an important facet of the company's operations, providing it with the flexibility to react quickly in a way that a large, automation-led facility could not.
A little less than two months prior to our conversation with Tim, in early July 2019 to be precise, news broke of a major development that will help shape the future of Star Brands, namely the successful buy-in management buyout (BIMBO) of the business. The team behind the buyout, led by Tim and Marketing and M&A expert, Henrik Pade, were supported by private equity firm and investment partner Mobeus, which will invest several million pounds' worth of capital into the business.
"A management buyout of some form has long been something myself and Henrik have spoken about, having worked together for a number of years in our previous lives," Tim says. "Having identified Star Brands as the ideal candidate for such an endeavour, we worked for the best part of a year to finalise the deal, and have found Mobeus to be a fantastic, supportive partner. With their private equity backing, we can be confident in knowing that we have the financial firepower to take the business forward and secure its future."
The recent completion of the BIMBO means that Star Brands effectively finds itself in the very early stages of what Tim refers to as a five-year journey. "Our primary goal, as you can imagine, is to continue to grow the business, which will involve us doing things like continuing to ride the wave of success that we have had in the retail sector. From a brand perspective, we have lots of innovative ideas we are working towards bringing to market, and a number of future licensing opportunities that we hope to see come on-stream in the coming years.
"With the forward momentum we have behind us right now – what with the BIMBO, the support of Mobeus and the incredible popularity of our various brands – we expect it to open the doors to new opportunities to us. This could include acquisitions or moves into other category channels such as car care, which we have begun the process of dipping our toes into. While we intend for any further growth that we do experience to be manageable and sustainable, the aforementioned factors make this a very exciting time for Star Brands."
Star Brands
Products: Laundry and cleaning products