Star CNC Machine Tool Corp.
For nearly 70 years, manufacturers have relied on Star CNC to provide innovative and long-lasting CNC machines for their production lines.
Star CNC is a subsidiary of Star Micronics Co., a Japanese manufacturer of Swiss turning machines used in the production of small, complex and metal components. Star Micronics purchased the Hirschman Corp. in 1995 and changed the name of the company to Star CNC two years later. The company is now part of a larger global network that includes facilities in North America, Europe and Asia. Star CNC itself operates facilities in New York, Pennsylvania, Connecticut, Ohio, Illinois and California.
With a nationwide presence and global resources, Star CNC can handle virtually any CNC machine challenge. "Star CNC is well-equipped to meet the demanding and dynamic needs of the machine tool industry today and for the future," the company says.
In addition to its headquarters in Roslyn Heights, N.Y., Star CNC operates five regional facilities that provide sales and service support to customers. Those offices are located in Warminster, Pa.; Manchester, Conn.; Cleveland; Elk Grove Village, Ill.; and Yorba Linda, Calif.
Like its parent company, Star CNC manufactures a range of Swiss automatic lathes. "Customer benefits include fast job processing, high process reliability, simple and logical operation, energy-efficiency and low non-productive time," the company says. Star CNC's application engineers can help any customer identify the ideal solution to deliver production efficiency and cost-savings either through an off-the-shelf machine or a custom configuration.
Its latest machines include the SR-32JII, which features a modular design to increase its flexibility. The SR-32JII is designed to achieve higher rigidity, increased productivity and improved accuracy. The machine's higher rapid feed rate and a power-driven sub-spindle tool reduces processing time, while its moveable operation panel allows the operator to alter the positioning.
The SR-38 is another of Star CNC's latest designs. The 10-acis Swiss-type automatic lathe is ideal for aircraft, automotive and medical manufacturing. It features built-in main- and sub-spindles and high-tool post rigidity to ensure accuracy, according to the company. A proprietary motion control system reduces idle machine time. The low-energy consumption machine is designed for two-tool turning, heavy material removal and rough and finished tooling. "This latest addition to the Star CNC product line sets a new standard for machining of complex, large diameter parts with high efficiency," the company says of the SR-38 type B. "With B-axis versatility, complex parts can be produced in one operation with the prevision and accuracy required by quality critical applications in a variety of industries."
Also new is the SV-20R, a multi-axis machine with multi-series control for high machine productivity, according to Star CNC. The SV-20R offers flexible tooling layouts and a "super position mode" that allows multiple tools to work simultaneously. The SV-20R is an upgrade of the SV-20 that features cutting-edge software that allows for the machining of complex components such as bone screws, implants and surgical instruments.
All three machines, the SR-32JII, the SR-38 and the SV-20R, were introduced at the International Manufacturing Technology Show in Chicago last year. Star CNC will also participate in the Western Manufacturing Technology Show in Edmonton, Alberta, Medical Design & Manufacturing East in New York, WESTEC 2017 in Los Angeles, and the Canadian Manufacturing Show in Mississauga, Ontario later this year.
Support Service
The company's mission to develop fast and efficient high-quality machines that can endure the harsh requirements of a 24/7 production schedule. That begins with producing reliable machine capable of holding up to continuous use, but even the most rugged devices will eventually need maintenance and repairs. "At Star CNC, we are committed to providing service excellence so our customers can maintain the highest level of productivity," the company says. "Every machine we sell is supported, including discontinued machines; demo's and time studies; installations, training, applications assistance; replacement parts; [and] maintenance programs."
Star CNC provides that support in a number of ways. The company has a staff of service engineers that can be reached by phone or dispatched to the customer when necessary. Further, each of its five regional offices has a showroom where clients can receive technical help. The company's network of dealers and distributors also provide support services.
When repairs are needed, customers need quick access to replacement parts. Star CNC maintains an inventory of spare parts for all its current and retired machine models. Most orders ship within 48 hours, the company says, and customers can easily fill out orders using an online form or by calling Star CNC's main office.
Global Footprint
As a division of Star Micronics, Star CNC is the exclusive distributor of its parent company's machines in the United States, giving it access to machines and technology that have a worldwide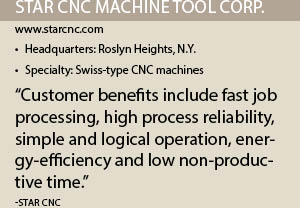 reputation for quality and reliability. "For more than a half century now, we have sought to develop businesses that generate the greatest impact from the least materials," the company says.
Star Micronics was established in 1950 as Star Manufacturing Co., a manufacturer specializing in the precision processing of miniature components. The Japanese company began selling cam-type automatic lathes in 1958 and in 1965 it changed its name to Star Micronics Co. Machine tools remain the largest segment of the company's business, but Star Micronics has since expanded into precision products such as wristwatch components and cloud services.
The company's gradual expansion during the past six decades has followed a strategy of developing businesses in growing industries and niche markets. In addition to acquisitions such as Star CNC in the 1990s, the company is exploring Internet-of-Things, artificial intelligence and cloud technologies. "At Star Micronics, we perceive every change as an opportunity to employ our long-cultivated technology, expand our global business and further raise our corporate value," the company says.
"As a global nice company, our goal is to enhance the prosperity and well-being of all stakeholders by distributing the added-value created through efforts aimed at combining the strengths of advanced software and precision processing technologies that help maximize customer satisfaction," Star Micronics says.
Sidebar:
Supported Models
The following is a list of CNC machine past and present models still supported by Star CNC:
Current Models
SB-12R
SB-16R
Sb-20R
SR-10J
SR-20J
SR-20R IV
Sr-32J
SR-32JII
SR-38
ST-20
ST-38
SV-20R
SV-38R
SW-12R II
SW-20
Rotary Magic GV
Star Motion Control
Thread Whirl Unit
Discontinued Models
ECAS-20
ECAS-32T
SB-16
SB-16D
SB-16E
SC-20
SR-20R II
SV-12
SV-20
SV-32
SV-32J II