Not just great on paper
Star Tissue is a leading independent manufacturer of hygiene paper products for private label customers as well as its own brands
Star Tissue UK is outperforming the growing hygiene paper market; it has grown its revenues by over 100 per cent in the past four years. The core of its business is manufacturing away from home hygiene paper products, including private label products for major suppliers and distributors in the professional cleaning, catering and medical markets in the UK and Ireland. Star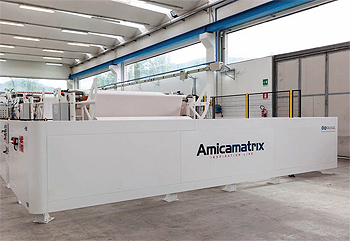 Tissue offers a number of premium quality brands including, Sirius®, ecoroll®, BLISS®, and newly launched EVOTEX®. This year Star Tissue was proud to be accredited with ISO 9001, ISO 14001 and OHSAS 18001 quality certificates.
Star Tissue has been identified as one of London Stock Exchange's 1000 Companies to Inspire Britain. The report is a celebration of the UK's fastest-growing and most dynamic small and medium sized businesses. The 2016 edition of the report profiles a cross-section of the economy, celebrating some of the fastestgrowing enterprises in the U.K. The 1000 businesses listed have, on average, grown their revenue by 50 per cent over the past four years and outperformed their sector peers. Just 25 per cent of the companies listed were featured last year.
A family company, Star Tissue is proud of the strong reputation it has gained in the industry since its inception for delivering superior customer service and value for money without ever compromising on meeting the high ethical and environmental standards. Indeed, with social and environmental responsibility reflected in all actions within the company, Star Tissue makes a constant effort to reduce the amount of waste that is generated from its activities by improving production methods and control measures that are designed to lower waste. Moreover, all tissue, plastic and board waste is recycled by reputable waste management companies.
Discussing the company's timeline of growth is Khalid Saifullah, Managing Director at Star Tissue UK: "We are a family business, father and sons, who manufacture hygiene paper products; we began manufacturing away-from-home product in sectors such as catering, hospitals, offices, restaurants, petrol stations and engineering places. In 2011 the business was growing at a steady pace, however we sought to understand the needs of the market better and worked out why people buy from Star Tissue, where is the market going and how can we be leaders in this market. From there, we made a five-year plan, which defined our focus on making the best quality products in the market at high volumes and at affordable prices; this was our vision going forward.
"In the same year we made the decision to invest in a new production line, an investment that was followed by another production line six months later. This investment ensured we were where we wanted to be in the market and has led to Star Tissue growing from £5 million to £6 million turnover to £17 million to £18 million turnover in a period of four years."
Based in a 140,000 square foot custom-built manufacturing facility in close proximity to the M65, M61 and M6, the company has not only focused on investment in equipment, but also in employees, as Khalid continues: "Star Tissue is about building relationships; we are a family business that is very open, with strategies developed collectively and shared throughout the company. As such, we ensure people who work for us feel part of Star Tissue and also have adequate training; in my view, there is no point in investing £5 million in machinery and then not investing in the people who will be running the equipment. Our way of working allows our employees to have opportunities to grow and develop within the company."
Alongside developing a strong relationship with employees, Khalid says Star Tissue also has a unique way of developing long-lasting relationships with customers: "When it comes to our customer base, we operate in a different kind of way; we don't cold call people or send out mail-shots, but instead identify the kind of company we want to work with and approach them strategically before developing a package to suit their needs. However, we only offer this service if we are certain we have the capacity to fulfill the order as opposed to agreeing to a contract and then scratching our heads as to how we can deliver. We have grown by making sure we have a good relationship with customers, which in turn has led to clients growing with us as they can sell a superior product alongside their usual items. In fact, many customers have grown at the same pace as us."
Through working with customers closely, Star Tissue and clients alike have both benefited from a more in-depth understanding of market trends or requirements, which has resulted in new products being added to Star Tissue's range. "There has been a demand led product development strategy for us, where if a customer says they are getting a lot of requests for a certain product, we then develop and launch for resale. This way of working enables us to develop more products and benefit from a sales increase through that," notes Khalid.
Through accumulating a diverse range of customers and going above and beyond to meet each of their requirements, Star Tissue has cemented a comfortable position in the market as a company to trust when it comes to the delivery of high quality products at a costeffective price. This is a strength that is certain to come in handy over the coming years as issues such as price pressures, currency factors from Brexit and consolidation in the market lead to further challenges.
"Looking forward, we would like to continue our trend of growth; we are aspirational and want to push forward, particularly after investing in infrastructure, our people and a good senior management team. Now that we are in a position to grow, we will be investing in our own brand more and creating more awareness of this as they are in high demand in the market. We know there is huge potential out there for a company that offers a great service and good quality; we have built our company on the needs of this sector, which is very diverse, by remaining flexible and also conforming to the different requirements of each sector. This is our strength," Khalid concludes.
Star Tissue
Products: Manufacturers of hygiene paper products