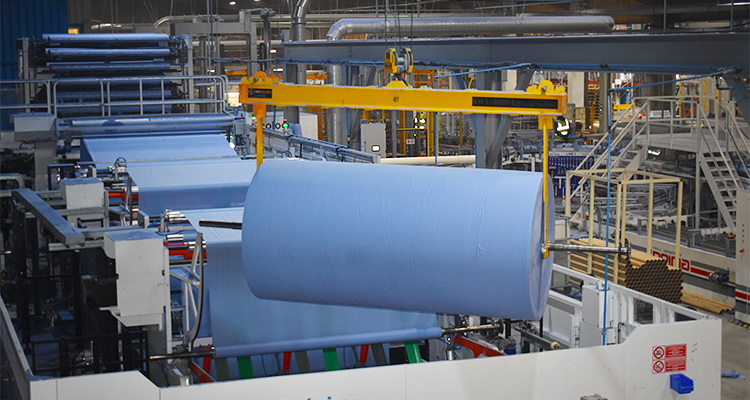 Star Tissue is 20 years strong in 2023, but the family's eyes are fixed on the future 
In 2003, Abid Ditta founded Star Tissue (Star) in Blackburn. In tandem with his family, and their 45 years of collective experience in the hygiene paper product industry, he established the foundation of what has continued to be an award-winning family-oriented operation. Come 2011, the company relocated from its original small-holdings unit to a mega site, and the following year it fully broke into the away-from-home sector by releasing its hugely successful Sirius range.  
"Things have really escalated for us over the last two decades," exclaims Khalid Saifullah, Managing Director. "Following the huge popularity of our Sirius range we installed one of the country's most advanced paper production machines in 2013. By 2017, we were among the London Stock Exchange's Top 1000 Companies to Inspire Europe.  
"Besides our deeply ingrained family-owned ethos, our key focus is to provide the highest quality products available. These chiefly include the likes of hygiene, kitchen, and wiper rolls, as well as toilet tissue, which are mostly sold within the away-from-home sector. We're always looking to improve our individual offerings to ensure that we have the perfect range to satisfy our customers' needs.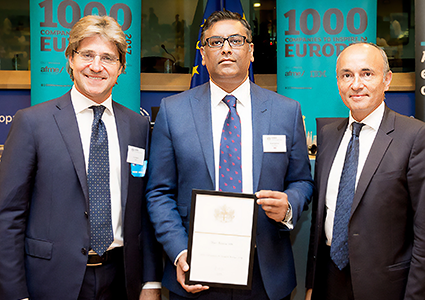 "We take great pride in maintaining our client relations," he continues, "which is one of our leading USPs. Our strong, lengthy relationships enable us to gain a deeper and more thorough understanding of what, and how much of it, our market requires. We have always believed that service must be on par with quality; it's one of the key principles that Star was founded upon." 
Within the away-from-home sector, the company primarily services the hospitality, catering, healthcare, janitorial, and industrial markets. However, alongside converting 30,000 tons of tissue per annum, otherwise measured in a capacity of one million rolls per day, the business also offers accessories such as dispensers from its 150,000 square feet of warehousing space. 
Although the company is currently more focused on growing its market share within its established industries, as opposed to expanding into new markets, the same can't be said for its footprint. This comes after the tremendous growth it recorded in 2022, climbing up to £4.2 million from £2.3 million the year before. 
"We're currently looking to invest in a mirrored facility for our mega-site in Blackburn," Khalid explains. "The resultant increase in capacity is coming at exactly the right time and will give us the necessary space to fully utilize our production lines. Furthermore, it would play a huge part in reducing our lead times for customers even further. 
"With regards to our recent growth, we believe it to be the outcome of a number of influential factors. Ever since the pandemic, there has been a significant rise in the demand for hygiene paper products, in which we specialize. Our delivery of this is down to our strong and dedicated workforce, who are another factor themselves. As a result of both of these, we have continued to acquire new customers whom we successfully retain with our excellent levels of service." 
With the aim of cultivating a dynamic and creative workplace for its employees, Star has recently installed a new ideas room. The space is available to members from any department and is designed to offer an area for collaboratively brainstorming or problem solving. This has been part of wider renovations across the site, which have included a living wall and a new modernized look for the production floor. All said investments have been implemented to improve staff motivation, mental wellness in the workplace, and to instill a sense of growth and innovation among the teams.  
Last November, at The Tenth Hive Blackburn and Darwen Business Awards, the organization was recognized with the event's Manufacturing Excellence Award 2022. Khalid cites this as being not only an honor, but a hardcopy testament to the collective effort made by every member of the Star team, every single day. 
"It's also a reminder of how far we've come over the last 20 years," he adds. "We've grown so much since starting out in our first small unit, and we're only just getting started. Over the next five years, I'm hoping that we'll get to see our vision of possessing two UK sites fully materialize. Also, I'd personally like to see us increase our market share to 20 percent of the away-from-home sector. We want Star to be the first-choice provider of hygiene products in the country. 
"But not everything is about growth," Khalid concludes. "We've currently got a wide array of green strategies that we're looking to expand as the company develops further. These include minimizing waste by investing in an even more efficient production line, as well as extending our active recycling promotions beyond our internal stakeholders and out to our supply chain partners and customers. We source and promote a product range that minimizes the impact of both its production and distribution and 70 percent of our paper is made from recycled materials. Additionally, all of our carboard boxes are recycled and we generate our own electricity too. Sustainability is king for Star."