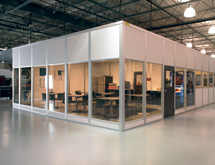 The more challenging the project, the more excited Starrco gets. "We see ourselves as a solutions company," says Bryan Carey, president of the modular building manufacturer. "We like jobs that are kind of messy and have to be engineered to a tee. We like the jobs other people are scared of or walk away from; we love jobs involving building codes, projects that have to be permitted, or jobs where fire codes are an issue."
The Maryland Heights, Mo.-headquartered company produces, ships and installs a variety of pre-engineered modular office systems including single-user offices and two-story indoor office complexes. Starrco also manufactures cleanroom wall systems, interior wall partitions, safety guardrails and pre-assembled portable buildings.
Since it was founded in 1965, Starrco has been mostly known for providing modular systems for industrial facilities such as warehouses and manufacturing plants. Recent years have seen the company expand its work into more commercial uses such as offices. "Our jobs are getting bigger and bigger, and our systems are housing more people," Carey says. "I think we're entering an era of mainstream construction."
Starrco's modular building solutions are proving to be a viable option for companies looking to change their workspaces without buying new property or undertaking expensive renovations. "We do a lot of new construction as well as retrofits," Carey says.
"Our retrofitting expertise lends itself to the current economy, as many of our clients are changing the facilities they have or combining two facilities into one instead of building new," he continues.
The company's business has more than doubled in the last few years. "We're getting bigger and bigger and going from a little company to a significant force," Carey says. "I think modular construction is being recognized as a alternative to permanent construction, and the upside for us is quite significant."
Starrco operates one manufacturing facility in Maryland Heights, with multiple sales offices across the United States. Modular systems are fabricated and assembled on site to customer specifications, Carey says.
All projects are designed and engineered to fit a customer's need. The company uses computer-aided design (CAD) tools to generate drawings specific to each job. CAD software is also used in conjunction with automated systems on the manufacturing floor to ensure quality at every part of the fabrication process.
The majority of Starrco's products are shipped within two to three weeks after orders are received. Modular unit walls and framework are shipped pre-finished and cut to size, which allows for quick installation and minimal disruption to surrounding workspaces. Each component is individually labeled and easy to identify, and all systems include a CAD drawing and material list.
The Modular Advantage
Starrco's building systems offer a number of advantages for clients. Modular offices can be built in one-fourth of the time of conventional construction and are reusable, making expansions and modifications easy. "There's no need to bring in a carpenter, taper, painter or electrician," Carey says. "There's just one crew that shows up and puts the whole product together from start to finish; it's construction made easy."
The company's modular systems can also be configured into load-bearing applications; the systems can support 125 pounds of pressure per square foot. Systems are also engineered to be durable and maintenance-free.
Starrco systems also offer significant tax advantages over traditional, "stick-built" construction because they qualify for a seven-year depreciation period, while conventional construction is depreciated over 39 years.
Starrco's largest clients include major corporations such as Coca-Cola, Walgreens, Dish Network and Walmart. "Our clients recognize the quality of our products and the way we service them," Carey adds. "We have a lot of repeat customers who appreciate what we do."