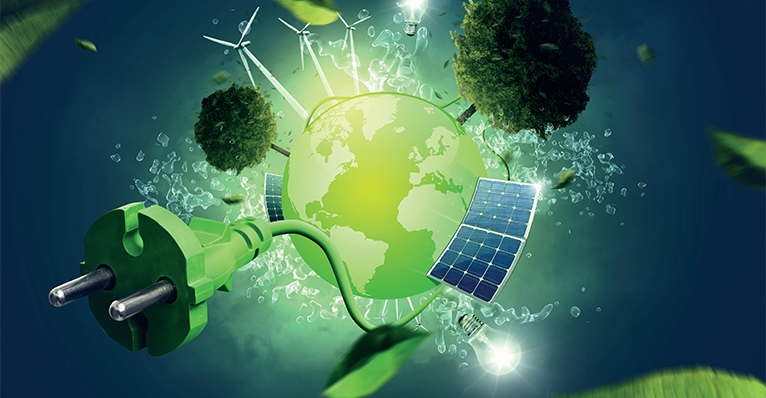 Manufacturing is one of the UK's most energy-intensive industries. According to analysis from 2021, out of the top ten biggest business energy consumers, five are manufacturing-related: manufacturing and industrial services, chemical manufacturing, food, drink and tobacco manufacturing, mineral products manufacturing, and iron, steel and metal manufacturing. Together they use 14,163 ktoe of energy each year.
In the wake of COP26, as the true severity of the climate crisis becomes more apparent and pressure for businesses to reduce their impact on the environment continues to mount, there is a clear need for manufacturers to assess and improve their energy management practices.
Gazprom Energy's Road to Net Zero report has revealed that large and medium businesses cite improving sustainability among the three biggest challenges they face, along with identifying ways to reduce energy consumption and working to reduced budgets. These findings indicate that the relationship between better energy management, a reduced carbon footprint and lower operating costs needs to be emphasized.
Manufacturers need to understand that financial and sustainability priorities do not necessarily contradict each other, and actually, committing to net zero can help to deliver profit and new business opportunities.
Bolstering sustainability strategies and planning for net-zero is a significant task and requires careful planning, realistic and time-framed goals and commitment from across the business. Beginning this planning can be daunting, especially in energy-intensive manufacturing, but breaking the bigger picture down into more manageable chunks will help to set businesses in the right direction. Efficient and considered energy management is a sensible place to start. The following tips will help manufacturing businesses to start to cut down their use of gas and electricity, and therefore their emissions and operating costs.
Analyze and improve processes
All sustainability journeys should start with a comprehensive energy audit to analyze how the business is currently doing and where improvements need to be made. Energy auditors can be consulted, help highlight troublesome areas and give invaluable advice, but it is also possible to carry out your own audit. Even a simple review will give some beneficial insights and points for improvement.
Gazprom Energy's research revealed that currently, less than half (48 percent) of medium and large businesses in the UK use energy-saving consultancy and audits, indicating that there are many organizations still to reap the benefits from this activity.
Ensure boilers are properly maintained
Improving insulation and heat recovery will improve the efficiency of steam and hot water boilers. Around ten per cent of the heat produced in boilers can be lost through insufficient insulation of the distribution system, meaning more energy is needed to compensate for this loss. Efficient steam generation and distribution through proper control and maintenance can save manufacturers up to 30 percent of the energy used in boilers overall.
Focus on your furnace
Furnaces account for a large proportion of energy use, especially in the high-temperature manufacturing sector. Benchmarking data allows manufacturers to quantify the performance of their furnaces against other manufacturers to ascertain if they need improvement.
Improving furnace yield, looking at the way it is charged and unloaded, improving scheduling and carrying out regular maintenance will all help to improve overall efficiency.
Be aware of process utilities
Compressed air, cooling water, industrial gases and other process utilities can be costly but are also areas where significant energy savings can be made. Systems should be switched off when not in use to eliminate unnecessary usage and regular upkeep is highly recommended to ensure the systems are always optimized.
Upgrade motors and drivers
Some manufacturers may not realize that they are working with inefficient motors. Although implementing high-efficiency motors will come with initial cost, they can improve efficiency by three to four percent so it is quickly outweighed by energy savings, plus the sustainability benefits.
Alternatively, variable speed drives installed on existing motors enable manufacturers to reduce the motor speed to about 20 percent, reducing the power requirement by about 50 percent.
If high-efficiency motors or variable speed drives are possible, small changes like ensuring motors are switched off when not in use and reducing the pumping load can help to make some energy savings.
Consider non-manufacturing spaces
While the energy consumption of spaces such as offices, canteens and kitchens may be comparably low against manufacturing spaces, savings made in these areas will still help to reduce overall costs and emissions.
For example, reducing temperatures by one degree can save eight per cent on heating bills and insulating cavity walls can reduce heat loss by 70 percent. Switching to LED lightbulbs will make lighting much more efficient and sensors or timers will ensure lights are only on when the space is in use.
Drive employee support
Reducing energy usage within a business becomes much easier when employees are on board and understand the importance of being energy conscious. With this, employee habits will begin to change, ensuring machinery is switched off rather than left on standby and lights and heating are used only as required.
Regular audits and tracking should be shared with employees so they can see the impact of best practices with energy. This will help sustainability to become something that everyone within the business contributes to and can take ownership of.
Next steps
Improved energy management should be just one facet of the wider sustainability strategy, but it is a good block to start with. Once manufacturers are effectively managing their energy consumption, more complex elements can be considered and implemented. These may include procuring renewable energy, investigating in on-site power generation and battery storage capabilities, and carbon offsetting any unavoidable or short-term emissions.
The road to net-zero can be overwhelming, but starting with simple habit changes when it comes to energy management will give manufacturers the confidence to continue to do better for the environment. Once the sustainability journey is underway, manufacturers will begin to truly feel the benefits both for the business and for the planet.
For sources used in this article, please contact the editor
Tim Jarvis
Tim Jarvis is Manager of Mid-Market at Gazprom Energy, the retail arm of London-based Gazprom Marketing & Trading Ltd, and an award-winning business energy supplier with a passion for customer service and the backing of one of the world's largest energy companies. With offices in the UK, France and Benelux, it focuses on being a reliable supplier that offers value for money and excellent customer service. As one of the country's leading business gas suppliers, it provides gas, electricity and green energy products to over 30,000 business customers across the UK. It also offers a range of complementary services, including carbon management and power purchase agreements, supported by its relationship with the wider Gazprom group.
For more information, please visit www.gazprom-energy.co.uk