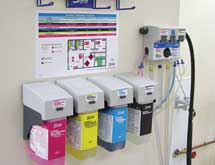 State Industrial Products
Although the U.S. manufacturing industry absorbed some of the hardest hits as a result of the crash of the economy in late 2008, State Industrial Products continues to thrive. In fact, the industrial cleaning products manufacturer moved from its main manufacturing facility in Cleveland to a 200,000-square-foot plant in Hebron, Ohio – tripling State Industrial Products' manufacturing capacity – in November of that year in anticipation of an eventual boom in sales.
"The reason this new facility is such a big deal for us is because we were volume-constrained in the old manufacturing facility," explains Jim Beard, senior vice president of marketing. "We see our volume going up dramatically."
Founded in 1911, State Industrial Products helps customers care for their work environments. The company's cleaning supplies and systems cater to the commercial, institutional and industrial market sectors. State Industrial Products provides customers with drain maintenance and air care programs as well as cleaning systems, maintenance supplies and auxiliary programs.
These offerings come from four divisions within the company:
State Chemical Solutions – hundreds of products for air care, floor and carpet care, drain care, lubricants, food preparation, general cleaners, grounds care and insecticides.
UZ Engineered Products – 22,000 products for welding, battery terminals, lubrications, cutting tools, electrical supplies, brass fittings, adhesives, specialty screws, chemicals and standard fasteners.
Neutron Industries – serves janitorial and maintenance needs with products for carpet care, cleaners, degreasers, polishes, disinfectants, drain care, floor care, glass cleaners, hand cleaners and vacuums.
State Cleaning Solutions – offers ware wash, laundry and cleaning products for commercial and institutional clients.
Going Green
One of the main reasons Beard ex­pects such a huge leap in sales is customers' growing demand for "green" cleaning products. Beard explains the company has invested heavily in developing products certified by various governing bodies, such as Green Seal and EcoLogo.
Although increasingly stringent government regulations drove de­mand for these products as recently as five years ago, Beard says State Industrial Products' customers have a preference for green products simply because they are made better.
"What's really changed for us in the past five years is the functionality of green-certified products as a product of choice – whether you care about green or not – they are just better products," Beard says. "Now, most Fortune 500 companies have green initiatives in their strategic plans, and the cleaning program is part of that."
Attentive Service
One of the factors that distinguishes State Industrial Products from its competitors is a service program that brings account managers – who are located throughout the United States, Canada and Puerto Rico – into a customer's facility to determine its exact needs.
Account managers also help customers set up their own program and train employees on proper usage of the products.
"What's unique about our company is we have our own research and development department, so we can manufacture our own formulas to our own standards," Beard explains. "This gives us tight control of the design, function and quality of all of the products we produce."
This allows State Industrial Pro­ducts to go into a customer's facility and work with it to determine cleaning program objectives and operational issues.
From there, the company can design a program specifically for that customer and suggest the appropriate products or formulas that the customer will need for the program.
"In most cases, this will improve customer operations and save them some money," Beard adds.
Quality Standards
Although State Industrial Products is ISO 9000- and 14001-certified, Beard says many of its customers are more concerned with quality at the end-user level. He adds that this is ensured by the sales representatives who visit their customers' sites, often on a monthly basis.
"Most customers prefer ISO 9001-certified manufacturing systems, but once you have that given, the real concern is about quality at the user level," he says. "The definition of quality becomes how the results come out in the application of the system and products. That is, how well does it work?"