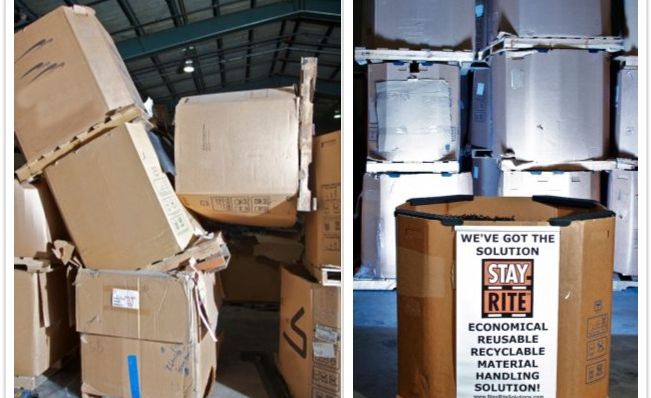 It was born out of necessity. Springing to life inside a plastic recycling warehouse that stored roughly 70,000 square feet and several million pounds of palletized boxes, the idea was simple. Yet, nobody thought of it before.
"The top box and pallet had fallen into the bottom one and the bottom box ripped completely down the side," says Clay Frazier, owner of STAY-RITE Solutions LLC. "It was leaking material onto the floor. Took us about 45 minutes to fix everything and we lost product, packaging and time. This occurs throughout our industry every day."
Frazier, who also owns Plastic Resources Inc., a plastic recycling company in Carteresville, Ga., was faced with an ongoing situation where he had product materials spilling onto the floor of his warehouse as a result of gaylord containers collapsing or falling into the stacked boxes below them.
"Then I had the idea," he says. "It was such a simple idea. I went home and built a few prototypes and brought them back into the office and we put them on the boxes and we said: 'wait a minute, we've really got something here.'"
A Reusable Product
The STAY-RITE universal platform stacking device was born. Injection molded out of recycled plastic material, it is a reusable material handling solution that is placed in each of the four corners of an open-top bulk container. It primarily prevents a stacked container and pallet from collapsing into the container below.
"We took material we were recycling inhouse and created a recycled and reusable product," Frazier says. "So now we have this beautiful closed loop process. We use our own recycled materials to make these corner supports, and when they are used up, they are recyclable again. We can grind them up and mold them back into the original product."
The corner supports exhibit significant load bearing capability, while supporting multiple stacked containers.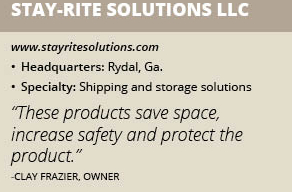 Without the need for any additional assembly or equipment, STAY-RITE's load bearing capability can support thousands of pounds of static load weight to various heights.
It also promotes a safer work environment by reducing dangerous work conditions and worker liability due to unstable falling inventory. So, not only does it make for safer storage, it increases storage space.
"The greatest need of any company is usable and available floor space," Frazier says. "These products save space, increase safety and protect the product. A pallet takes approximately 16 square feet of floor space. If you have single stacked boxes and now you can double stack them you have increased your floor space by 50 percent."
Problem Solver
By reducing direct contact between stacked containers and pallets, STAY-RITE instantly removes the vulnerability where damage and breakdown occur. Because of its rigid, yet lightweight and durable design, STAY-RITE fits onto octagonal, hexagonal, square and circular open-top containers, as well as supports a variety of pallet sizes.
"It's a universal stacking device that can be used in a variety of industries from food and automotive to the chemical industry," Frazier says. "If you're using gaylord-type bulk containers, you need STAY-RITE."
New and re-use open-top bulk containers, such as gaylord containers, are widespread across multiple industries and often considered an industry standard. They are used in multiple market segments for the movement, production, storage and transportation of raw materials, as well as, unfinished goods and finished goods in the chemicals, plastics, food, produce and waste markets.
Since each STAY-RITE stacking solution is manufactured from recycled material and can be easily recycled after multiple reuses, it is one of the greenest packaging solutions on the market. With the ability to strengthen and reinforce box corners, reduce liability from falling inventory and increase productivity through its smooth handling, the product is an all-in-one, innovative packaging, material handling and storage solution for bulk open-top containers.
They Sell Themselves
STAY-RITE Solutions unveiled its new product an industry trade show. "We sold 77 percent of the people that came to our booth," Frazier says. "We were shocked at how many people gave us orders. These shows are usually a 'meet, greet and eat' type of thing. But this product was so simple and evident that it sold itself."
The company took a very lean approach to introducing its product to the market. It spent about eight months and $50,000 on material selection, concept design and rigourous testing to develop the product and get it ready for market.
"There was a lot of work that went into the engineering and design of this product," Frazier says. "But we came up with a very affordable and high-performance product. It's certainly not just minimally viable, but rather robust and it works."
At a fraction of the cost of Gaylord boxes and other protective packaging systems, STAY-RITE has proved itself to be growing in popularity. "We have sold tens of thousands of these products just by word of mouth," he adds.
Since STAY-RITE reduces the pallet to box contact where damage and breakdown occur, open-top containers will last longer and provide multiple re-uses rather than being damaged, destroyed and discarded for baling.
With its ability to solve an array of common warehousing problems, the STAY-RITE stacking platform is probably one of the simplest and economical solutions to hit the market in a long time.