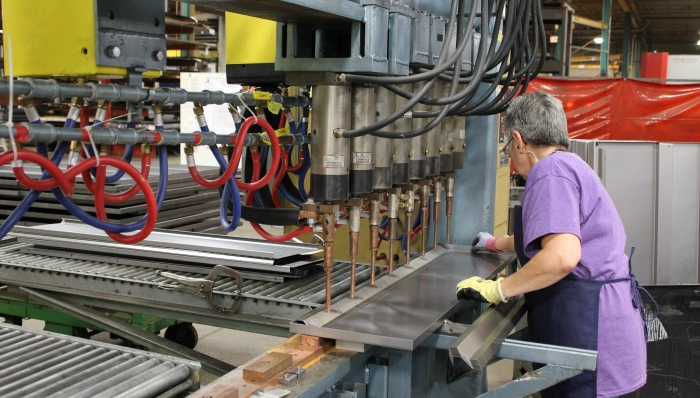 When Steel Craft Corp. opened its doors for the first time in 1976, the company consisted of two people and a 2,000-square-foot facility. That's a long way from where the company is 40 years later, with more than 200 employees and a 365,000-square-foot, state-of-the-art manufacturing facility that continues to grow. President Tom Verbos says the key to the company's success is rooted in the dedication of its people and their desire to meet customers' metal fabrication, stamping and coating needs in any way possible.
From its base of operations in Hartford, Wis., Steel Craft specializes in working with customers across a wide range of industries to fabricate components and see them all the way through to painting, assembly, packaging and delivery. According to Verbos, the variety of customers the company serves has been a major reason why Steel Craft has been able to survive numerous ups and downs in the manufacturing sector. "We've got a nice diverse mix of clients, and that really allows us to stay successful even in challenging times," he says.
As the company celebrates its 40th anniversary this year, Steel Craft continues to focus on the things that have made it successful. Verbos says the company is ensuring that the company never loses sight of its goal of continuous improvement and this will allow Steel Craft to continue to play a vital role in its customers' manufacturing operations.
Serving Customers
First and foremost among the strengths Steel Craft offers to its customers is the fortitude of its employees, Verbos says. "Undoubtedly the strongest advantage is our people and our desire to serve our clients," he says. "Without good people and an attitude to delight our clients, we would not enjoy the type of long-term success that we have with our customers."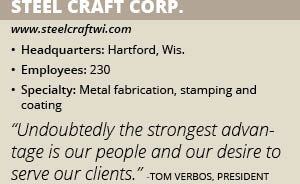 Backing up that dedication is the broad range of capabilities and technologies Steel Craft brings to bear for its customers. The company says it has the capabilities to take a customer's drawing or rendering and make it a reality, and its engineering team works with customers to identify opportunities to reduce costs or develop enhancements to quality and manufacturability with their designs. Once the design is optimized, Steel Craft offers services including laser cutting, tube forming, brake forming up to 350 tons, roll forming, welding (both manual and robotic processes for MIG, TIG and Plasma), machining, stamping, finishing and assembly.
Steel Craft provides all of these services with some of the most advanced and sophisticated equipment in the industry, and Verbos says the company continues to invest in that technology. He says the company recently invested in a new 6,000-watt fiber laser system, an additional "big bed" CO2 laser and a new machining center to provide Steel Craft with greater manufacturing efficiency and flexibility. "Those are just some of the latest investments that have been made in the second half of the year," Verbos says.
Performance With People
Although the company's technology and equipment is state-of-the-art, Steel Craft understands that technology is nothing without the right people behind it. Vice President and General Manager Kelly Wendorff says Steel Craft is active in nurturing the next generation of personnel because the labor pool is shrinking year by year. "Some of the biggest challenges we have are continuing to find and develop skilled labor," he says.
To ensure that the company continues to have the best and brightest people in the industry to serve its customers, Steel Craft is focused on providing a good working environment. Wendorff says the company offers special summer hours to give employees more control over their work/life balance, and it also has stepped up internal training efforts to hone employees' skills. Wendorff says there's more to keeping employees satisfied than wages, although Steel Craft continues to offer competitive wages. "It's not all a dollar investment, it's time and energy as well," he says.
This includes giving employees a direct conduit to the company's upper management to share feedback and discuss any challenges or opportunities for improvement. Wendorff says he and Verbos spend a lot of their time meeting with employees at all levels of the company and talking to them. "A lot of companies say they have an open-door policy, but our doors are truly open 24/7," he says.
When it comes to encouraging the next generation of the industry, Steel Craft has focused on working with local high schools and colleges to promote careers in manufacturing. Wendorff says the company is establishing two new internship programs, and recently more than 70 high school juniors toured Steel Craft's facility to get them interested in manufacturing. He says the company also will be starting a new program this fall with a local technical college to provide brake press training at its facility.
Extending Its Reach
Verbos says Steel Craft is proud to serve as an extension of its customers' own operations, thanks to its capabilities as well as the capabilities of its sister companies such as Capitol Stamping and Hartford Finishing. "We can help clients from concept to prototype to soft tool production to hard tool production based on their needs and change the product as the client needs," he says.
With the support of its supply base, Verbos says, Steel Craft will continue to look for ways to maintain its growth of more than 10 percent per year by finding new strategic clients with diverse product needs. Thanks to the company's ability to provide full product lifecycle support, Steel Craft is in a good position for the future.