Caring more
Eager to distinguish itself from the rest of the industry, Steel Dynamics excels with the use of superior technology within the steel processing market that enables the company to offer an attractive value proposition for its clients
Taking a look at the specialty steel industry some seven years ago, Ian Griffiths – Managing Director and majority shareholder of Steel Dynamics – could not help thinking that significantly higher service levels could be achieved by a specialty metals distributor. The formation of the company in 2012 aimed at applying this view in practice, with a clear goal being set to redefine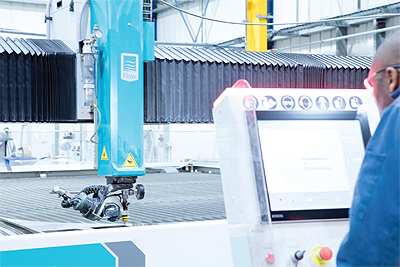 service offered by a metal service centre.
"There are three pillars that support our vision," Ian begins. "When we started, we saw that we can outperform our competitors through superior technology, cost and culture. At first, we only had two processing machines and a smattering of inventory, but early on, we made some significant investments in the latest CNC programming machines and the most efficient ERP systems. We found that working with such equipment allowed us to operate at a cost level that was providing us with a good return for the business, whilst also enabling us to offer very competitive prices to the market.
"With regards to the final element of our vision, we defined culture simply as 'we stay until the job is done'," Ian continues. "If we Ltdcommit to a project, we take it to a successful completion no matter what. To a great degree, our growth is down to our 'We Care More' creed, which our customers can feel in all of our interactions with us."
As if naturally, the mentality adopted by Steel Dynamics has led it to a year-on-year growth ever since the company was established. In addition, the stockholder and processor was named one of the 1000 Companies to Inspire Britain in the 2019 edition of the eponymous list compiled by the London Stock Exchange Group. "Whilst we were pleased to be singled out, our plans are a lot bigger and long-term, so we will continue to look at how we can improve our offering and add more value for our clients," Ian comments.
In order to deliver on this promise, Steel Dynamics regularly upgrades its profiling equipment with the latest machinery and has developed manufacturing capabilities that few of its peers can match. "We have got a total of 16 CNC-controlled machines and we have the ability to handle pieces that are up to eight metres long and 35 tonnes in weight. Moreover, we do not just do plate profiling, but also incredibly complex five-axis machining to very exacting standards for the nuclear industry," Ian explains.
"To support our activities, we have recently purchased the latest Bystronic fibre lasers, which, we believe, are the best machines available in the market," he adds. "We have also invested in a large horizontal boring machine, which can process nuclear parts that weigh up to 35 tonnes. What is more, we can shotblast and paint components, which is quite an unusual capability in our sector. This all comes to show that we far exceed the expectations of those who come to visit and work with us, in terms of the products and services that we offer and how far down the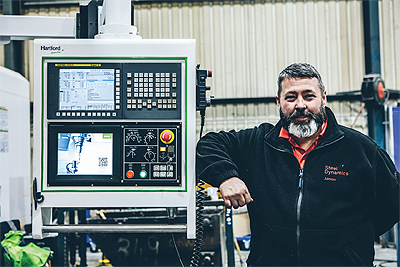 supply chain we can go, adding more and more value."
Steel Dynamics' broad range of skills has attracted the attention of customers from a multitude of sectors, including nuclear, aerospace, oil and gas, pharmaceutical, and petrochemical. To Ian, it is the former two that are currently showing more notable growth in demand. "As nuclear decommissioning continues and accelerates we are seeing lots of opportunities where our unique product offering allows our clients to streamline their supply chain. One example of this is our involvement in a project for Sellafield where we are developing a product for nuclear waste containment. Our involvement in the nuclear sector has really heightened our overall awareness of health and safety. We already have an excellent record in this anyway, but our participation has really sharpened our understanding of the best health and safety practices and we are safer today than we have ever been.
"In the meantime, automotive is also growing for us and as we are fairly new entrants into this sector, our offering seems to have generated a lot of interest," Ian reveals. "We may have established a presence in this area only this year, but we have already learned a lot of valuable lessons. Ultimately, we realised that if you are to be successful, you need to do your job right the first time. It is absolutely essential that you pay attention to quality and safety and I think that the experience we are gaining from our work in automotive will really benefit us, because it pushes us to outdo ourselves in such a competitive environment."
It is nothing new for us to hear that companies are intelligibly concerned about the Brexit situation. While Steel Dynamics does not make an exception, Ian shares with us that he expects the company to continue to grow in the immediate future, courtesy of the projects it has won in recent times. "We will be supporting the production of stainless steel vortex generators for the Thames Tideway project, which is just one of the orders we have received that will help us to achieve our goal of reaching a £20 million turnover by 2020," he notes.
"Continuous investment in expanding our capabilities also remains a priority for us, going forward. From a manufacturing point of view, we are now planning to automate some of our processes to make ourselves more efficient. In line with our commitment to providing a truly value-added business proposition, we are also interested in making a couple of company acquisitions in the short to medium-term, so that we can complement the products that we already supply," Ian concludes.
Steel Dynamics Ltd
Services: Steel stockholding and processing