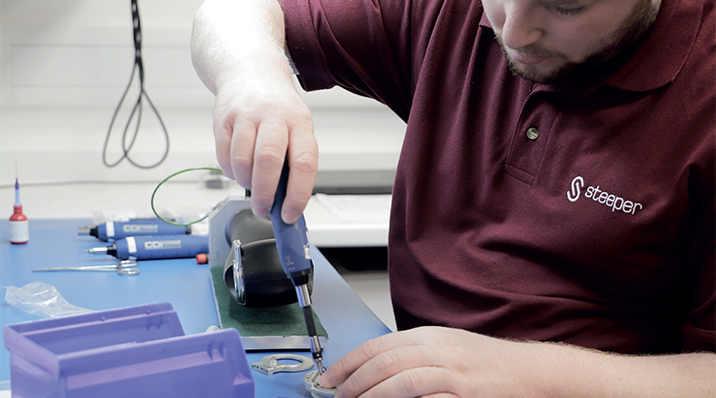 Enhanced capabilities
Steeper Group marked 100 years of operation in 2021. Now, the medical devices manufacturer discusses its latest innovations, including the Espire Elbow range and Myo Kinisi prosthetic hand
Steeper Group's experience over the last 24 months is a familiar story. When Covid-19 hit the UK in early 2020, it initially brought a significant downturn in demand for product for the medical devices manufacturer. The company reduced its capacity in line with demand, and team members who could do so worked from home, while only a small core remained onsite to manage the reduced workload.
"We significantly increased our communication to all team members to try to alleviate any fears surrounding the continued changes," recalls Paul Drake, Director of Production at Steeper Group. "Most importantly, our goal was to ensure that should a team member need to self-isolate they knew exactly what was expected of them, and when they could return to work. We offered flexible working patterns, and we rapidly introduced Microsoft Teams.
"In terms of the products we manufacture, our technicians are highly skilled, so it was key for us to make sure they were supported. We made use of the time by cross-training and upskilling our team."
With the lifting of restrictions in healthcare services after the first UK lockdown, it was all-change once again. "As healthcare services were allowed to continue, demand returned to around 70 percent of normal volumes, spiking to 100 percent at times," Paul notes. "We turned our skills towards the manufacturing of PPE for local clinics and NHS trust partners, supplying products such as face visors. As a medical device manufacturer, very stringent and focused on hygiene practices, we were able to use what we call our 'clean zones'. A lot of the machinery to make these products we already had, so the shift wasn't that challenging. It was a case of setting up the process and making a few tweaks."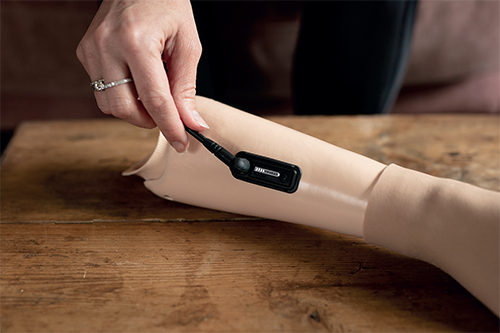 Emerging from the pandemic in impressive condition, Steeper Group is once again pushing the envelope when it comes to life-changing prosthetics and orthotics. In 2020, the company acquired the Espire Elbow product range from US manufacturer College Park Industries. It was a significant investment, in technology with international appeal.
"The Espire Elbow range features four distinct models with a sleek anatomical shape," Paul outlines. "The Espire Pro is the most advanced, boasting a powered elbow joint with multiple electronic locking positions, and a free swing to imitate natural walking movement. The Espire Hybrid offers a mechanical elbow joint with forearm counterbalance and multiple electronic lock positions. Both these models include a high-powered removable battery, and can be configured to specific patient requirements. The Classic Plus model offers space for a battery system such as our S-Charge System, while the Espire Classic provides a lightweight alternative, delivering the same anatomical shape without the electronics or circuitry."
New product launch
The initial roll-out of the Espire Elbow range wasn't without its challenges. "The biggest obstacle to overcome was how to transfer the manufacturing from the US, at a time when international travel wasn't permitted," Paul admits. "We resorted to Teams to do so, conducting training workshops virtually and recording them for future reference.
"The range officially went live on 1st December 2020," he indicates. "Since then, we've continued to introduce small tweaks to existing processes, making the product more robust, and reduce the time taken to manufacture a standard variation of the elbow range. This has allowed us to market the product on a global scale, while continuing to meet client expectations in the US."
In 2021, the company followed up on the Espire Elbow range with the launch of its Myoelectric System, including the very latest innovation: the Myo Kinisi, an easy to use, durable and highly functional myoelectric hand for patients around the globe. "The Myo Kinisi was developed to meet specific demand from global customers and to replace the previous 'Myo Select' hand, which was found to no longer be meeting the expectations of the global market," says Lee Kempton, Head of R&D at Steeper Group. "Following careful analysis of patient feedback, a new hand was conceptualized and then developed with a gearbox design, allowing a smoother and faster open-close speed.
"Clinicians and patients also required a secondary safety mechanism to be in place should power not be available to the device," he adds. "To meet this design pillar, we identified that a thumb release mechanism would be the best option. It also had to be created from a robust material strong enough to withstand the rigors of the user's daily activities."
Focus on sustainability
Unsurprisingly, bringing such advanced products to market involves an extensive R&D phase. "We have a pool of clinicians and team members who are constantly talking to patients, conducting reviews, and acquiring feedback," Lee outlines. "Our Product Development Council meets on a monthly basis to discuss innovations that could develop and give benefit to a patient's life. We utilise 3D printing technology for initial development, assessment and proof of concept for early designs before further testing using chosen production materials. Pre-market research and IP searches are also critical within the ideation / feasibility phases to consider for product designs."
As with the Espire Elbow, Steeper Group's efforts to conduct patient trials for the Myo Kinisi were hampered by the ongoing need for social distancing. "The patient trial phase is one of the most critical elements of a development in terms of feedback," Lee explains. "We try and replicate how a patient would use the product in development, testing and re-testing to make sure the design is robust and reliable to ensure it meets customer requirements internally before we move to any external patient trial.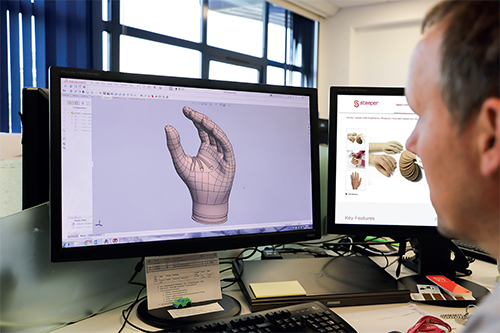 "Under normal circumstances, our patients would have visited either our Leeds headquarters or a local clinic, where a clinical member of our Product Development Council would have fit and set up the device ready for the patient to trial off-site," he reveals. "Instead, our clinicians worked specifically with those who were already using similar existing devices, sending them a pre-programmed device to trial in their home environment: at first under clinical supervision, and then with regular check-ins. Data was captured both using a form, and anecdotally via video call, in as much detail as possible."
Steeper Group's innovations aren't all about performance, however; sustainability is another major consideration. "We wanted to be able to securely ship the Myo Kinisi around the world, while also keeping the packaging recyclable," Lee confirms. "To do so, we utilized a 100-percent cardboard solution with specially designed inserts, keeping the hand in place throughout transportation."
It's just one example of Steeper Group's ongoing effort to improve its environmental credentials. "We've recently introduced a new company car policy, and we've announced a partner for the provision of our company vehicles," Paul goes on. "Between December 2021 and February 2022, half of our vehicle fleet was replaced, of which ten new cars were electric and nine were plug-in hybrid. Our facility also boasts electric charging points for vehicles, so we actively encourage our team who drive to work to consider an electric or hybrid vehicle when next replacing their car."
Centenary celebrations
Turning to the future, the company intends to bring yet more innovations to its upper limb prosthetics range. "As a business, we're constantly looking to evolve, and to develop a new product that's going to enhance a patient's life, whether it's psychologically or physically," Lee reiterates. "When you see someone come in to have a product fitted for which you've been involved in, you see them smiling, and you witness the turning point in their life, it's amazing. There's no greater satisfaction."
To realize that goal, the company hopes to further bolster its manufacturing footprint. "We'll be streamlining our production and procurement processes to directly impact upon the deliverability of devices to customers," Paul promises. "We'll also implement further strategic objectives, such as the creation of an innovation and technology hub focused on the development of our upper limb prosthetic devices.
"As a company, March 2021 marked our centenary, but with ongoing pandemic protection measures in place, we put our celebrations on hold," he concludes. "This September, we're hosting an event for Steeper Group employees and invited guests, celebrating our 100 years of success. We want to ensure that our thanks go out to our team members past and present, all of whom have gone over and above to provide excellent devices to patients around the world."
Steeper Group
www.steepergroup.com
Services: Prosthetics and orthotics design and manufacture