Creating life's turning points
Steeper Group's passion for delivering innovative prostheses and orthoses has changed the lives of thousands of patients, with the company continuing to invest in the improvement of its technology
The personal pleasure derived from working in a company whose products have a meaningful, positive impact over people's lives and wellbeing is a powerful stimulus for everyone at Steeper Group to continue improving. This manufacturer of prosthetics, orthotics and assistive technology has a rich history that dates back to 1921 and today is one of the most respected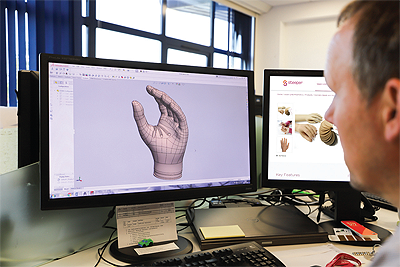 organisations in its field, which may well be accredited to the passion of its 400+ employees and their demonstrable attention to detail in developing tailor-made devices that empower patients and enhance their everyday activities.
"To me personally, one of the appeals of this business is that it is not just a job, and I have every reason to believe that everyone within the company feels the same. We are making a visible difference in patients' lives and this is the best reward we can get for our efforts," says Steeper Group's Production Director, Paul Drake.
Being a bespoke manufacturer presupposes the availability of a highly-skilled workforce to address the specific requirements for each device, and this is exactly what Paul highlights as the company's core strength. "The flexibility of our team and the technologies we use allows us to provide precise finishing touches, often manually, to make a product as comfortable to wear as possible. It is characteristic of our operation that we are always conscious of the fact that there is an end user for every device we produce. Therefore, we know we need to take into account both patient and clinician feedback when developing a product, so that it ends up providing maximum optimal results."
Steeper Group also designs and manufactures high tech upper limb prosthetic devices in-house and is a specialist in the manufacture of bespoke sockets which are attached to many types of prosthesis. Meanwhile, the company seeks collaboration with other innovative manufacturers for the development of lower limb prosthetic devices. Steeper Group continuously works on exciting R&D projects and it is currently focused on delivering a new range of microprocessor based electronic hands to a global market.
"We are incredibly excited about some of these developments, which will not only make our products more user-friendly, but will prove to be a significant game-changer within the market. We are confident that the completion of these projects will cement our position as leaders in upper limb prosthetic technology and will see us grow at an even quicker pace," Paul enthuses.
"What is probably unique about our proposition, is that we wrap the services we provide around our products ensuring the very best for our patients, and this goes back to the point I made earlier about our willingness to understand the end user's needs and craft a tailor-made solution," he continues. "The whole team takes pride in delivering excellent prostheses and orthoses and there are multiple inspirational stories we can tell of how we have helped patients and empowered them to lead a wholesome life."
One case study that stands out was the successful treatment of Pectus Carinatum for Gemma who was 11 years old when she was diagnosed with this genetic disorder of the chest wall that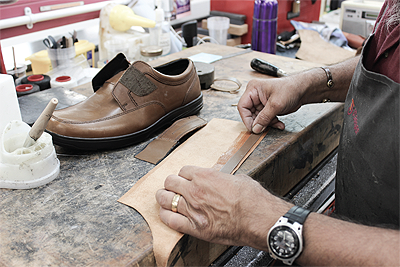 makes the chest jut out due to the unusual growth of rib and breastbone cartilage. The only treatment route for Gemma was to undergo painful surgery when she was 18, but reluctant to wait, and knowing she would be left with significant scarring, Gemma and her mum undertook their own research and found out that bracing treatment provided by Steeper Group could be an option for her.
Developed by clinical specialist orthotists from within the company, the Steeper compressor brace provided a longed-for non-surgical option, and its customisation for Gemma's condition is a telling example of Steeper Group's approach to addressing the needs of every individual patient. "The orthotists worked hand-in-hand with our manufacturing team on-site to create a brace that was made exclusively for Gemma, taking into consideration the specifications of her case. The path we took to develop this solution demonstrates our holistic approach and shows that we are genuinely interested in going the extra mile for our patients and acting upon the smallest of factors that might have an impact on their condition," Paul explains.
Steeper Group has recorded success after success across its different divisions, presently experiencing an increase in orders, overshadowing that of their industry competitors. "We are growing on a month-on-month basis, with the entire portfolio performing very well. As a result, we have launched a recruitment campaign looking to increase our production headcount by 20 per cent to meet the demand. I can also foresee us starting to operate on a two-shift regime within the next 12-18 months, all the while introducing new technology to reduce lead times," Paul adds.
Following a devastating flood in 2015, Steeper Group took the opportunity to relocate within Leeds to one facility, bringing all three divisions under one roof in 2017 and investing in the latest CAD CAM and pattern cutting technologies; Steeper Group has been able to improve the quality of its work and provide good cross-training opportunities for its people to broaden their knowledge and expertise. Paul comments: "We have repeatedly received positive feedback for the new building from our customers and suppliers alike. It is a lovely premises and we are very keen to invest in new technology and equipment in the coming months to make it even more efficient, as we pursue our future goals."
Going from strength to strength, ambitious plans have been put in place for Steeper Group for the next five years. Group CEO Paul Steeper comments: "The growth we are seeing is a testament to the enthusiasm and dedication of our staff in delivering high quality state-of-the-art solutions that fully meet the needs of the clients we serve. Continuous investment in manufacturing technology is key to our continued success, and developments within 3D printing are also an exciting prospect for our industry."
Steeper Group
Services: Design and manufacturing of prosthetics and orthotics