Intelligent vision
Today Step-Tec AG occupies a leading position in the market because of a dedicated commitment to innovation and customer service
"Step-Tec has been developing, producing and servicing Swiss quality spindles for mould making, production and aerospace since 1995," begins Fabrice Monti di Sopra, MD at Step-Tec AG. "The company's sole focus is on providing its customers with the best solutions with the aim for the lowest total cost of ownership (TCO) and as such describes itself as a solution provider, rather than a product manufacturer."
With this commitment lived by a dedicated team along with a clear vision of innovation, Step-Tec has taken the lead in the global market of motor spindles. Based in Luterbach, Switzerland, Step-Tec's manpower accounts to about 100, generating an annual turnover between 30 million to 40 million Swiss Francs. "By the end of 2014 we had manufactured and delivered well over 20,000 motor spindles and refurbished an equal number of spindles that receive a second or third life, " explains Fabrice. "Today, working in close co-operation with our customers and their needs, we build some 80 different high precision-/ high performance spindle variants with diameters starting from 90mm to 320mm covering a power range from 1kW up to 82kW."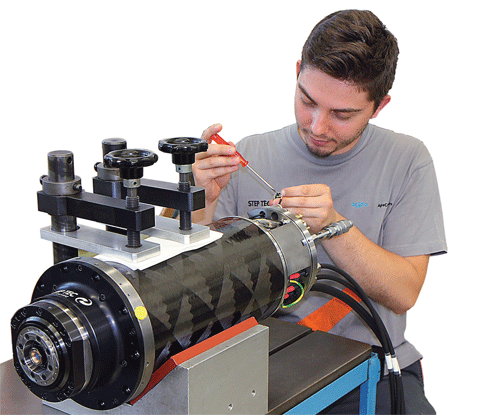 The current market for high precision and high performance motor spindles is a strong one, especially in Europe and Asia, where significant growth could be seen in recent years. Step-Tec is ideally positioned to participate in this global market. "In the premium segment of high-precision- and high-performance motor spindles, there are only few players really owning and mastering the required expertise. I am proud to say that Step-Tec has been able to maintain a leading role over two decades," adds Fabrice. As such, the company's products are currently installed in machine tools of 70 different companies around the globe and are served by a worldwide network of service centres with three main hubs, naturally the one in Switzerland but North America and China as well.
To occupy and hold this leading position, Step-Tec's products and services have to be of the highest quality in its pursuit of providing the best TCO in the market as Fabrice declares the essentials for accomplishing a leading position that are these three key factors: "Firstly, we are a unique 'all-in-house' supplier specialised in mechatronics covering all operations and processes as to name the relevant ones like engineering, followed by the production and customer services," h motivated team personifying values like dedication, pride, specialised skills not found elsewhere along with yearlong experience all embedded in an open environment with a flat leadership structure. This is insured by providing continuous in-house training as well as close collaboration with external engineering pools and universities to constantly upgrade and enhance our products to meet the current state of the art technology standards.
"Finally, Step-Tec's sub suppliers need to be reliable, on-time, quality-orientated and cost competitive. We are happy to confirm that we have excellent, co-operative and trustful relationships with our main suppliers, some of which have been with us from the day of founding Step-Tec.
"Innovation is what drives us to contribute to the company's success as this is evident and a result of the ever on-going product development." Step-Tec's product range focuses predominantly on three target areas of applications: mould and die, production, and aerospace/energy. Fabrice is keen to point to two major and recent innovations of which the well-established intelliSTEP system holds more potential for future utilisation as part of the machining process optimisation while even going as far as to offer preventive maintenance. "Already today Step-Tec spindles are equipped with displacement- and various temperature sensors and a patented 3D vibration sensor for real time monitoring," he notes. "This information can be used for the milling management (similar to the motor management of a race car) for improving the machining process as well as the machining quality. As for the other more recent innovation the signals from the built-in 3D vibration sensor serve the MSP. The Machine and Spindle protection features as an option in a machine tool to protect the spindle from permanent damage in case of a collision. It not only saves the spindle from being replaced it saves the machine's geometry and again further reduces the TCO during the life time of a machine tool."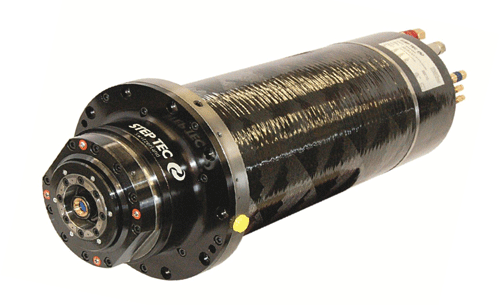 The built-in spindle diagnostic module SDM enables field service technicians online access to the spindle through the SDS diagnosis software. The various spindle parameters including crash events can be utilised by the machine's CNC control for the purpose of optimising the machining process. The digital spindle is just a step away as the full benefit shall reward the customer by again reducing his TCO while increasing the overall performance and machining quality of his machine tool at the same time.
An earlier major step forward had been the introduction of the Cool-Core spindle that delivered the solution to one of the main challenges of precision machining – high temperature conduction into the rotating spindle shaft coming from the tool. "We have developed a spindle that resolves the temperature issue at the point of origin," highlights Fabrice. "This spindle, yet being offered as a platform spindle with a variety of features and power holds this already approved unique cooling concept, cooling both stationary and rotating parts of the spindle to minimise the thermal growth towards the work piece while at the same time reducing the heat transfer to surrounding machine components. This results in the best possible thermal stability of the entire spindle setup in the machine support ensuring enhanced machining accuracy & surface finish by the least amount of thermal growth, the key and solution in high precision milling."
Continuing to add value, sensing customers' needs and living a culture of open co-operation are central to Step-Tec's vision and values. "We have some exciting developments in our pipeline that will be revealed in the next few months, which will further enhance machining accuracy and surface finish in the mould and die segment," Fabrice concludes. "In addition we plan to significantly widen our service portfolio so as to further promote it worldwide, including preventive maintenance activities that will significantly benefit our customers by lowering their TCO. In the long term, we will be looking to strengthen our activities in Korea, Taiwan and China as well as pushing forward our innovations to pack more intelligence into our spindles."
Step-Tec AG
Products: Specialist in the design, production and repair of high quality motor spindles