A personal touch
Combining innovation, technical expertise and a flexible approach, Stephenson delivers tailor made solutions for personal care brands and manufacturers worldwide
To trace the history of Stephenson means taking a considerable leap back in time, to 1856 to be precise. It was back then, in Bradford, Yorkshire, that the business would begin life manufacturing soap based agents for the processing of wool in what was a thriving industry in the north of England. This would remain its sole activity until the 1960s, when the business began to diversify significantly, first by moving into producing speciality products for the textile industry, and later into the paper recycling and rubber sectors. The evolution of Stephenson would then take its greatest leap to date in the late 1990s with the introduction of personal care products, focused on soap bases using saponification technology.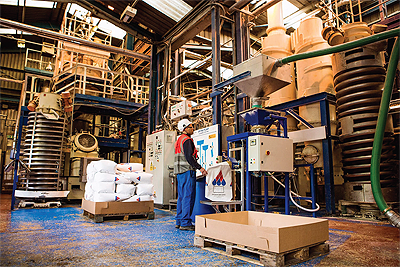 "The concept of reinvention is one that runs throughout the history of the business, and it has been our realisation of the need to diversify over the years that has brought us to where we are today," begins Stephenson's Chief Executive Officer, Jamie Bentley. Jamie represents the fifth generation of his family to run the business, and it is he who has witnessed first-hand its recent transformation. "We adopted this plan to make soap bases for the personal care industry some 20 years ago – building ourselves around the manufacturing of niche, organic and sustainable raw materials – and it was approximately five years ago that we succeeded in building up enough critical mass in this area to become 100 per cent focused on these activities."
Today, Stephenson utilises its technical expertise, innovative, creative chemistry and a state-of-the-art research facility, to develop and supply products for brands and manufacturers worldwide, from small and medium sized craft businesses to multinational blue chip brands such as L'Oréal and Unilever. It supplies these with a whole range of melt and pour, extrude, liquid and cosmetic concentrates, as well as key ingredients – which it markets under the name DUROSOFT® – such as emulsifiers, emollients, thickeners and solubilisers.
"At the heart of our long-term success has been industry-leading technical development, coupled with customer service," Jamie continues. "We work in close harmony with our customers in order to provide them with the materials necessary to produce niche products, brands and stories that have authenticity, or that meet a particular need. We export approximately 85 per cent of everything that we make, with roughly one third going to customers in Europe, one third to the United States and the other to the rest of the world. We also have a unique situation whereby not one of our customers makes up more than seven per cent of our business, and this gives us a hugely varied base of brands and companies to work with."
The health of Stephenson is there for all to see – after all, this is a business making a regular turnover of over £25 million in a multi-billion-pound market – and as such it has a right to feel that it is in control of its own destiny. "I believe that a business of our size makes its own fortunes and creates its own opportunities," Jamie states, before going into detail about a recent product development that showcases this thought process perfectly. "We have developed a product called Syndopal®, which is a soap free, ultra-mild extruded syndet base, making it ideal for the manufacture of luxury, high performance, opaque, solid beauty shampoo and conditioner bars.
"Being a pH 5.5-6.0 extruded syndet base Syndopal® can be made into a high-quality shampoo bar that is as good for washing ones' hair as a bottle of branded shampoo. We think that this has incredible potential, not only as it forms part of our wider drive to use mild synthetic formulas to make the soap bar more of a modern cosmetic product, rather than a toiletry, but also because it provides one possible solution to the challenge of reducing single use plastic packaging."
The process of soap making, even dating back centuries, has always been about achieving the right chemical reactions, and for Jamie and his forefathers the most interesting evolution to watch over the decades has been the way that the alchemy around the whole process has been transformed into a very accurate science. Keen to take this to the next level, Stephenson has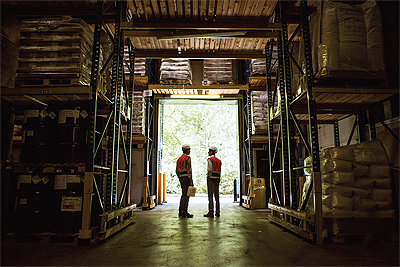 spent several years investing around £1 million per annum into advancing its manufacturing technology, specifically with the adoption of advanced automation systems.
"Our embracing of automation is not at all about reducing head count, rather it is about improving efficiencies so that we can make larger volumes within the infrastructure that we possess, and reduce batch times significantly through the use of analytics and data," Jamie states. "As we work with natural raw materials, there will always be a level of variability when it comes to the chemical mixing process, therefore if we are able to control the dosing and processing of these we are able to create a more consistent product. Consequently, it means that we have raised our skill level, which allows us to begin to manufacture more complex products.
To this end, we are currently investing £750,000 into new reactors, all in the hope of producing more technically clever and improved natural products."
The efforts of Stephenson's chemical experts are also being felt beyond its traditional market segments, with the group having recently spun out a company by the name of CO2Sustain®. "This company is built around a patented, liquid, non-silicone antifoam ingredient, which is used as a processing aid in the carbonated drinks industry," Jamie says. "By adding it to the drink making process, it controls foam during filling and increases the perception and longevity of fizziness in the finished beverage. The creation of CO2Sustain® came about thanks to our expertise in manipulating bubble size, with the technology benefiting several of the world's largest drink brands and continuing to grow rapidly."
Returning to Stephenson, with its infrastructure and personal care ranges, the remainder of 2019 promises to be just as eventful, as Jamie goes on to conclude. "We are presently installing an entirely new computer system, which will be completed at the end of summer 2019, which will be tasked with receiving customer orders, scheduling and then prompting the production of products, so this represents a massive step forward for the business. At the same time, we will continue to invest in our Syndopal® technology and machinery. The result, as of the beginning of 2020, will likely be a different looking business in terms of the equipment and systems that we utilise, yet our focus on driving the sales of our key products and ingredients will only increase!"
Stephenson
Products: Speciality soap bases and natural ingredients