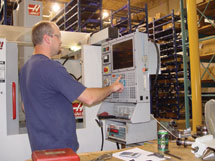 At a time when many of its competitors and manufacturing peers have needed to resort to staff and inventory cuts as well as outsourcing to maintain their bottom lines, STOBER Drives is taking the opposite approach.
"We're investing in customer support, technical support and providing quick delivery to our customers," says Peter Feil, vice president of the Maysville, Ky.-based manufacturer. "We plan to continue investing in the company and improving our ability to serve and provide superior products as opposed to reducing our capacity and hindering our ability to serve."
STOBER Drives manufactures motion control gear heads and power transmission gear systems used in automation and other factory processes. "We provide products for anything that moves in a factory – any machine, conveyor or process that requires something to move we can provide gearing for," Feil adds. "Our focus is on making products that are precise, durable and reliable."
STOBER gear boxes are used in production lines in the packaging, food and beverage and robotics markets. These products are designed to withstand continuous operation in a variety of severe environments, including those with chemical wash down, dust and moisture.
The company supplies both OEMs of factory equipment as well as the users of that equipment. Services include training, application support and part replacements and upgrades. "We provide anything that a customer needs in support of the installation and application of our products both in our factory and at their site, as well," Feil says. STOBER serves the North American market from the Maysville location, with the rest of the world served by the company's international headquarters in Germany. Brothers Paul and Wilhelm Stoeber started the company in Germany in 1934 as a general machine building and motorcycle engine repair shop.
Meeting Specifications
STOBER Drives offers more than 10,000 products and component combinations built to customer specifications. Products are assembled from components the company keeps in inventory to fill orders in the shortest possible time. Many of the components used in STOBER's products are produced in-house, giving it the ability to shorten its supply chain.
Vertical integration is a high investment priority for the company. STOBER recently purchased a building adjacent to its headquarters it plans to use to expand its manufacturing space by more than 50,000 square feet. The new facility will give it room for more internal component production, Feil says.
"One thing we do differently than others is build everything to order from parts and ship within one to three days," he adds. "Our OEMs appreciate that quick delivery, but it's especially important to the factories we serve."
After an order is received, parts are pulled from the company's inventory and assembled. Following assembly, products are tested for precision, noise and proper performance before being oiled, painted and shipped to customers.
While STOBER Drives is increasing its own component manufacturing, it also relies on long-term vendor relationships to supply materials including bearings, seals and oil. These include SKF Bearings, Freudenberg Seals and Exxon Mobil. "Our suppliers not only provide us with parts, they also help us manage our inventory by replenishing components on a kanban basis. Suppliers also train our employees in the use and handling of their components, greatly adding to our employee's ability to achieve high quality results when applying those components," Feil says.
Partnering with customers is also a very important aspect of STOBER's success. STOBER, in a collaborative engineering development effort with Lexington, Ky.-based manufacturer Big Ass Fans, recently developed a custom gearbox for Big Ass Fans' Powerfoil® X product. The result is an innovative, industry-leading product specific to the air moving industry, Feil says.
Big Ass Fans produces high-volume, low-speed fans for use in residential, commercial and industrial facilities. The Powerfoil® X product, which Senior Director of Marketing Al Barlow calls the company's "statement product," is a ceiling-mounted fan between eight to 24 feet in diameter.
STOBER's reputation for high-quality products that can work in any environment was a major factor behind the relationship between the two companies. "Our intent was to create a product that required as little maintenance as possible," Barlow says, adding that the STOBER gearbox is one of the factors that allows Big Ass Fans to offer longer warranties on its products.
STOBER has also proven to be an open, forthcoming partner to Big Ass Fans during product development. "STOBER is very open about their process and very proud of their product line, as they should be," Barlow says. "They're not at all reticent about sharing information with us, which has been very helpful to our salespeople."
Benchmarking Success
STOBER believes strongly in cross-training employees on manufacturing functions. "We invest heavily in our people so they're able to meet the needs of any customer by becoming proficient in a variety of functions, even if it's not what they do on a daily basis," Feil says.
Other training priorities include customer service, leadership development and lean manufacturing. "We're on a continuous, sustainable journey to engage and empower our workforce," he adds. "Our goal is to have every employee have the same customer-focused mindset and be driven and engaged."
An engaged workforce gives STOBER the ability to offer its customers more than reliable products. "We want to be the supplier that is easiest to do business with, while delivering gold standard drive solutions." Feil says. "We answer the phone within three rings, and the person on the phone is able to walk the customer through ordering the right product to fill their need."
STOBER Drives believes in looking outside of its own doors for training and other needs, and regularly contracts with external consultants. "I believe we do a very good job of looking outside the company to help us improve and grow. We have many smart, highly skilled people, but there are many things we need additional proficiency in that we can't generate internally," Feil says, noting marketing and strategic planning as examples. "We think it's very important to benchmark other industries and bring in experts to help us improve our business in ways we otherwise would not be able to do.
"In our opinion, you can't grow a business to its fullest potential using only internally generated ideas and developments."