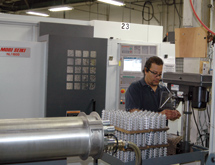 Stock Drive Products/Sterling Instrument
Stock Drive Products (SDP)/ Sterling Instrument (SI) prides itself on being a company founded and run by engineers. "We have some of the most knowledgeable manufacturing, design and application engineers around, working tirelessly to come up with new designs, improve existing designs and give unrivaled service to any customer looking to perfect their own design," SDP Vice President Adele Hager says. "Our engineers ensure that you will always find the right parts for your application, or else help you design them.
"We are a full-service manufacturer that caters to our customers' needs from design to final shipment of parts," Hager continues. "We pride ourselves on being extremely flexible to meet our customers' ever-changing demands."
SDP/SI serves a large body of customers both big and small in the aerospace, military, medical and commercial industries. Its stock pulleys, belts and other standard SDP components are used in everything from one-time replacements to huge blanket orders for customers that are making new products en masse. Precision gears and gear assemblies from SI are found in intricate medical devices, military weapons and vehicles and even satellites.
Both Stock Drive Products and Sterling Instrument started off as separate companies. Stock Drive Products has always made a point of having whatever drive component the customer needs on-hand and ready to ship, while the essence of Sterling Instrument is unrivaled gear-cutting capabilities. Today, they both retain their original identities, but work together as one company toward a common goal: to provide excellent service to the customer.
The Manufacturing Process
Production control will issue all requests for parts to be manufactured, including material, quantity and all other specs for that particular job. The next step is to determine the best machine for the job, which essentially means getting the outer geometry of the part cut in as few machining operations as possible. Often, it is possible in just one.
The programmers then will write the necessary programs and lay out all other specifics regarding the process for the machine operator. All secondary operations are done after the initial geometry, and then the finished parts are sent to quality control for inspection.
Current quality levels are maintained by submitting pieces to quality control to verify key inspection criteria twice a day. This ensures that the machines are actually making the parts to the dimensions that are specified by the prints. Parts will still go through quality control upon completion to make sure that the finished parts match everything stated on the drawing. Improving quality even further entails phasing out older machinery that cannot keep up with the tighter tolerances of the newer machinery.
Lean Manufacturing
SDP/SI is working toward lean manufacturing standards to help improve overall throughput. The eventual goal is 96 percent to 98 percent efficiency all around. This means that the amount of product generated, how quickly it gets shipped to the customer, how little scrap is generated and all other such measures are within 96 to 98 percent of the maximum possible throughput given the number of machines and employees. That means that scheduling and operations for all manufacturing will be streamlined to the point where there is no wasted time or motion.
The company's stock inventory is maintained with a computerized carousel system that allows quick access to carefully labeled bins for each part. Stocking quantity is based on demand and is determined by reviewing a 12-month rolling average of prior usage. Reminders are generated for when to review parts for restocking, and new inventory is generated accordingly. The new ERP system that is currently being integrated can be programmed to request automatically the appropriate number of pieces at the appropriate time.
All new manufacturing employees are given hands-on training in the use of all the different machines and tools. Regardless of prior experience, they all start from scratch, working under veteran employees and copying what they do so that everyone is working in the same way to achieve consistent results.
Manufacturing Challenge
An example of overcoming a manufacturing challenge is SDP/SI's signature patented product, the Fairloc® integral fastener, which used to take three separate machine operations and 14 minutes to complete. With a constant demand for this popular product, SDP/SI had always sought a way to streamline the process to increase throughput. It was thought that such a complex part could never be done in one operation. But now, through the use of modern machining technology, SDP/SI is able to make the part complete in a single operation in five minutes, an enormous improvement over the original process.
More than 100 highly skilled manufacturing workforce members help to create a significant portion of the SDP/SI product line. These members are distributed across four different manufacturing plants, all located within a mile of each other. Each machine shop floor has its own team of foremen supervising to ensure steady workflow. A separate production control team helps to schedule the manufacturing tasks in a way that maximizes machine uptime and profitability.
Stock Drive Products is ISO 9001-certified, and Sterling Instrument is AS9100 certified, Boeing certified (BQMS), and ITAR registered (U.S. Dept. of State – Directorate of Defense Trade Control).
SDP/SI has been around since before computers and the Internet played any significant role in the way businesses were run on a daily basis. With the ever-increasing effect of Internet searches and social media on a company's image in the market, SDP/SI has undertaken the task of redoing its website to be easier to navigate, more informative and generally more appealing to view. SDP/SI also has begun partnerships with third-party services to make effective use of statistical tracking, to better understand what its customers respond to and hold onto existing ones while gaining new ones.
Future Growth
SDP/SI's recent plan involves consolidating all of its divisions, including those besides Stock Drive Products and Sterling Instrument, into one large facility. At present, having separate stockrooms, machine shops and office areas in several different buildings is a functional system, but by manufacturing, stocking and shipping all parts in one place, SDP/SI hopes to improve overall efficiency dramatically.
"In addition, we have invested much time and money in upgrading our inventory tracking software and training all staff personnel in its use," says Robert Gaulrapp, senior project manager of Designatronics. "With these and other changes, we hope to grow our annual revenue by a minimum of 10 percent this year. In addition, we are in the process of implementing a new enterprise resource planning system. As a corporation, we are currently looking at improving both quality and value for our customers. To accomplish this, we are looking into advanced automation processes to ensure the delivery of a quality product on time every time."
John Lowe, foreman of SI Manufacturing, reveals what he is most proud of. "I'm most proud of the amount of change that has been successfully implemented over time, and that SI's vice president has allowed me to do that," Lowe says. "Some people do things a certain way and don't ever want to change. Then they say, 'Oh yeah, we're a modern machine shop,' and you go in and it looks like 1960 in there. But for us, you look out there, and that's the most cutting-edge technology available anywhere. And we're always looking for ways to improve."