The beauty of metal packaging
More than 400 billion aluminum cans are produced every year and the vast majority will have passed through a piece of Stolle equipment – and it stands to reason that such a figure will only increase from here on out
At Manufacturing Today, we've been paying close attention to Stolle's operations since the beginning of the pandemic. As the world's leading supplier of two piece can and end-making machinery for the canmaking industry, the business holds a unique position in the market, and when we last spoke to Steve Higginson, Executive Vice President at Stolle Europe and Asia Pacific, he described the business as having 'the can making experience and the end making experience. Put simply, there is nobody quite like us.'
Sitting down with us once more, in a time where we are again fighting the coronavirus, Steve is determined to prove that his initial assessment is still accurate. First, however, it would be prudent to further remind ourselves about the company he so proudly leads across its European and Asian territories.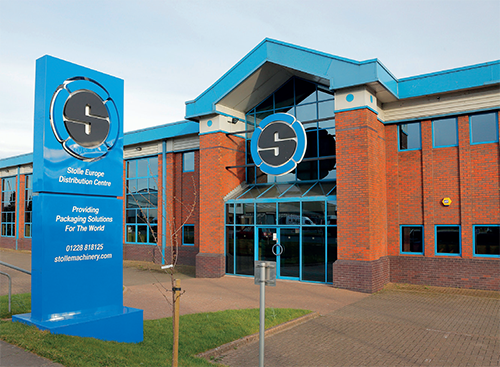 Stolle's machinery division, which was founded in the US under the name Fuchs & Lang in 1870, produces a vast range of high-speed machines. Over the last century and a half, these machines have become – in quite the literal sense – the robust backbone propping up and facilitating can making operations across the world. The brand is widely recognized for its quality, and its name has since become synonymous with productivity, reliability, and efficiency. As a whole, the company provides complete turnkey solutions at all levels – from the production and supply of individual machines (for instance, the DynaForm and Triton cupping systems) and line modules to the design, build, and commissioning of entire facilities for clients. If there is something that needs to be done, then chances are that Stolle can do it.
Stolle's management team has a wealth of knowledge, which has been gathered over decades of industry experience across the globe and from various parallel sectors; team members come from diverse backgrounds like management, global relations, technology, and finance. From its humble US beginnings, the company has spread its wings and taken flight – a long one, around the world and back again, creating an international network of partners and customers.
North America, Latin America, Europe, China, Asia, the Middle East, and India. Stolle's name is known far and wide – and for good reason. It has facilities strategically located across the globe, enabling the market leader to provide rapid service to customers regardless of where they are located.
Stolle in Europe
In Europe, the division to which this article turns its attention, Stolle is headquartered in Carlisle, and this location serves as a major hub for genuine Stolle OEM (original equipment manufacturer) parts, field service, and complete technical support for can and end lines. The European team also proudly offers a rapid response service and stocks a large inventory of spares, which are primed and ready to go for customers under the company's impressive 24-hour delivery pledge.
Furthermore, by embracing a policy of strategic acquisitions, Stolle Europe has become an impressive collection of businesses. Stolle Global Systems, Stolle EMS, and Stolle Conveyance Systems add to the parent company's array of services, offering not only unrivalled machining and assembly capabilities for customers, but also turnkey manufacturing, upgrade, and process analysis for the can and end manufacturing industry.
"These acquisitions have led us to become a highly diverse operation," Steve told us back in 2019. "There are now many different elements to our business, including the spares, repairs, and aftermarket activities section under Stolle Global Systems, which was worth $1 million in 2006, and has since grown to in excess of $30 million."
No doubt, that number has continued to bloom. Under Stolle EMS, the group is responsible for the design and manufacture of myriad thermal products, including a range of Optimus washers and dryers, DecoCure pin ovens, and InterCure internal bake ovens, and operates out of several facilities in Altham, UK and a large plant in Gliwice, Poland. This division is now headed up by Ian Scholey, Chief Technology Officer and member of the Stolle Executive Team.
Whereas, for Stolle Conveying Systems, its expert team of industry engineers specializes in conveying and material handling systems – from large, full-service turnkey projects to smaller ventures – and stocks a wide range of mechanical and electrical support parts. It also offers line speed improvement, modifications, retrofits, and machine decommissioning and relocation services.
As constituent parts of that highly-refined machine called Stolle, the companies work under an overarching group mission statement: to develop and provide customers with the most reliable solutions and innovative technologies to enhance the usefulness and beauty of metal packaging, while, at the same time, spearheading the industry with innovation and always leading with experience.
Like this article began: more than 400 billion aluminum cans are produced every year. With that level of production, one might expect a parallel statistic indicating the colossal waste involved in said production.
But that is where, as the company will endorse, the beauty of metal packaging comes in: aluminum is infinitely recyclable; plastic is not. Just nine percent of the plastic that has been made since 1950 has been recycled, and most has ended up in landfill or in our oceans. Whereas, according to Stolle, 75 percent of all the aluminum ever made is still in use.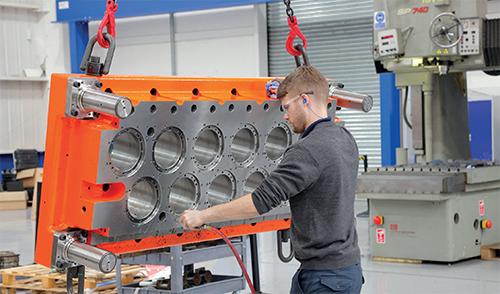 Increasing development
The environmental benefits of metal packaging – the beauty behind the ostensibly ordinary can of soda or tuna – and the rapidly awakening public conscientiousness surrounding our insurmountable levels of waste has, recently, paid dividends for Stolle. "We consider ourselves very fortunate that our business sector continues to display high levels of activity on a global basis," explains Steve, catching up with us once again, this time on the latter end of the perceived pandemic timeline. "The company achieved all its targets last year, and as we move on from Covid-19, we are excited to be travelling again. Yet, our growth throughout that incredibly turbulent time was only made possible by our continued and accelerated investment, recruitment, and manufacturing footprint to ensure that we could keep meeting customer requirements – and those requirements are rising. Indeed, we are fortunate that – in what appears as a perfect storm – a growing pressure was building surrounding plastics so that, when Covid-19 hi, everyone was quick to turn to fully recyclable and disposable packaging, which of course our products and services help to manufacture. As the biggest global supplier of metal packaging solutions, we were building on a very good foundation, and now we are continuing to do so.
"Since the pandemic, demand has seen an uplift of around 25 percent," he goes on. "But, of course, that is only one side of the equation. Our investments in research and development have also grown at a time when other industries are cutting back; however, now we are taking on more staff than ever and putting their know-how into the improvement of our products and services. In fact, our recruitment has grown by some 25 percent in just over two years. Consequently, we are match-fit and able to respond effectively to the demands of the business. One example is the development of an algorithm that enables differing software programs to talk to one other in order to monitor the complete decoration of a can – all within just 0.025 seconds. The can is then either passed on or rejected: if rejected, the fault is understood, and the machine adjusts accordingly – automatically and at full line speed – to reduce the chances of spoilage. This technology generates more good product produced per unit of energy consumed and also eliminates the need for post-manufacture inspection of the decoration. In turn, these factors will reduce warehouse space and future plants will be able to carry a smaller footprint."
That said, some of Stolle's suppliers have been negatively affected by the Covid-19 crisis, and that has since had a knock-on effect on the company's ability to supply products to clients within set timelines. "We are uniquely placed in that we can supply all of the component parts to our customers," notes Steve. "On the flip side of that, for each project we cannot afford to have a single missing piece. So, business is incredibly complex. To account for such contingency, we have made acquisitions, found answers in technology, and – perhaps most importantly – increased our supplier base. The modern world has never experienced anything like the pandemic and, for a business that is traditionally proactive, we found that day-to-day business instead had to be reactive. As a result, we had to adapt and move forward with care, adjusting our operations and working closely with our suppliers.
"We made sure that we went to great lengths to keep our staff safe, and our crisis management team effectively put all governmental legislation in place," he adds. "One of the biggest challenges during the pandemic was our reduced ability to visit customers face-to-face; however, thanks to the willingness of our staff and despite the travel restrictions, we were still able to get the teams to where they needed to be and home again. Yet, on the other hand, we also learned that you do not always need to jump on a plane to get things done. Instead, we were able to mobilize more local support for our projects and that had the effect of strengthening many existing relationships. Coming together in that way reinforced the worth of our staff and the value system of the business."
Manufacturing improvement programs

To ensure business and manufacturing standards are always second-to-none, Stolle has its own proprietary improvement program: SPDS, or the Stolle Product Delivery System. The program is both an ideological and methodological roadmap to the next hundred years of the company; it is, as Steve goes on to express, the binding agent that keeps all of Stolle's working parts aligned and well-oiled, upholding business goals and offering its people the guidelines to work towards such.
"SPDS is the foundation underpinning our commitment to continuous improvement and to the consistent meeting of evolving customer requirements," he reveals. "In short, it will guide the business forward through the years to come. To be frank for a moment, we have had quality issues in the past and those affected business. But we did not let them get the better of us. We took on board the constructive feedback and, over several years, developed this program and quickly put it in practice at all our operational facilities.
"In addition, the company has invested heavily in all divisions, as well as in new technology and has since increased the global footprint of the business in order to meet growing customer demands," says Steve. "Indeed, across some product lines, we have doubled or even trebled capacity. We pay particular attention to the needs of the industry and understand the necessity for incremental development. To that end, our SATO (Stolle Advanced Technical Operations) team has been bolstered with a new research and development center in Centennial, US to ensure fresh ideas and creative product development continue well into the future. By training our employees in this way, we will be able to provide all Stolle customers with high-quality, customized training on our full line of two-piece can and end making machinery. In the end, you cannot do anything without people; they are key to our success and, as such, the customer's success. We strive to create an atmosphere where our employees are able to contribute with ideas and feel satisfied in their role; we genuinely want people to enjoy working for Stolle. That way, everyone benefits – and the business continues to grow."
And it does. In June, Stolle was awarded a significant new contract, seeing two new production lines in South Africa. More recently, Stolle completed a second line for one Hungarian client, allowing them to become fully operational with a 2.4 billion can making capacity. Following on from the positive experience, that same client has now ordered a third line of equipment as their business continues to expand.
"We have excellent customers in South Africa, and both have made robust investments since working with us, with plans to add even more capacity to those plants," details Steve. "In terms of our work in Hungary, we had to deliver what we said we would with the client's initial investment. During that project, our relationship and understanding with the client began to develop; they have set exceptionally high standards throughout their business models and that has resulted in double digit growth for them.
"We have therefore maintained contact with them and reinforced our relationship in many areas of business – not just in the project itself," he continues. "The second line expansion was completed last year, and we are currently working on the third line to increase their capacity to 3.6 billion cans and ends. As it stands, we have many projects underway, and we value all customer investments. We provide a professional service irrespective of complexity and size, and remain engaged with activity in the US, Mexico, South Africa, Europe, Middle East, and Asia. Due to recent, difficult supply chain scenarios, we are also working closely with engineering teams in order to make the necessary changes in procurement to keep our customers manufacturing their products."
Having referred to the green benefits of aluminum previously, it is no surprise that sustainability remains a topic to which Stolle pays great attention. Another recent development reflects the wider group's concentrated efforts to continuously improve in this area. More specifically, the company is finding pioneering solutions to reduce the environmental impact of the wash process.
As Steve explains: "Our washer, which has been developed over the years to meet customer requirements, now uses 25 percent of the water, chemicals, and effluent than it used to previously. When you consider the volume of water that is typically utilized in can and end making processes, this development is a huge win for us and the planet. In addition, we have significantly improved the efficiency of our ovens and driers; the research and development team are always looking at similar energy-saving projects that can, as a result, reduce spoilage and increase overall efficiency. While many of our developments remain secret up until the point of IP being granted, we can reveal that we are working on multiple sustainability and energy projects that will stand to benefit our industry for decades to come. The new 32,000-square-foot facility that we recently built for our SATO team, which has been specifically designed to encourage new developments and is headed by our Chief Technology Officer, Ian Scholey, will no doubt expedite these efforts."
So, to return to that initial statement from our 2019 interview: "Put simply, there is nobody quite like us." From our latest interview, it remains hard to argue any different.
As the leading force within its niche, Stolle is making strides into the future with vigor, commercial backing, and a strategic approach to investment. "From now into the future, we will continue to support the business models of our customers," Steve concludes. "To do that well, we will be making further investments in technology, specifically in relation to the business sector and our fulfilment of projects that we are engaged in. Looking further ahead, then, we do expect to see some tapering off of business by, say, 2026; however, because our installed base has grown significantly and consumer demands have evolved in the wake of the pandemic, we feel that a permanent shift has occurred with regards to our expected level of activity. In response, we will keep strengthening our position as the leading supplier within the metal packaging market, turning once more to increased recruitment and investment in both our people and our technology."
Stolle
www.stollemachinery.com
Services: Turnkey systems and solutions for can and end making