Elastic fantastic
Counting Victoria's Secret and Nike among its key clients, Stretchline is the world's largest narrow elastic fabric manufacturer and a leading pioneer in the development of new materials and processes including covered yarns
Each and every year, Stretchline produces more than 1.5 billion meters of narrow elastic fabric, making it the largest elastics manufacturer in the world. With a history stretching back over 150 years, the company originally established itself as a world-class producer of intimate apparel elastic for the lingerie industry before expanding into new markets.
Today, Stretchline products can be found in automobiles, medical applications, footwear, wearable technologies, outerwear, activewear and swimwear. A major supplier to some of the world's biggest companies, including Victoria's Secret, Nike and Marks & Spencer, the elastics firm operates in seven different countries across four continents, giving it an enviable global reach and speed to market.
"We have set up our locations very close to the needlepoint of garment makers in both the Eastern and Western hemispheres, which, of course, benefits our speed to market, but also our carbon footprint," explains European Sales & Marketing Director and Head of Global Brands Barry Head. "It's important for us to have that kind of presence because we are actively manufacturing elastics for our customers' garments and often acting as a face for their brands.
"Reliable high-quality has become one of the hallmarks of Stretchline and one thing we guarantee is, no matter who the customer is, or where in the world we are working, each product will have the same exceptional quality," he continues. "When you go to McDonald's and ask for a Big Mac, it doesn't matter where that McDonald's restaurant is or what country it is in, you will certainly get something that, at the very least, resembles a Big Mac. In the same way, a Stretchline bra strap will have virtually the same quality and specifications the world over."
Backed by its advanced and extensive global production infrastructure, Stretchline has a commitment to innovation and finding new solutions for clients. For example, when the bra industry was suffering from a reoccurring underwire fault, Stretchline set out to develop a suitable alternative.
"M&S as an example explained that many of their underwire bras were being returned each year as a result of wire protruding through the material and potentially causing harm to people and their washing machines," Barry says. "In response, we developed our Fortitube product, which is a wire casing that has got low melt yarns within its construction, so whenever we dyed it at temperature, the low melt yarns melted, plasticizing the woven construction and forming a penetration barrier.
"Part of the problem beforehand was that the bras in question were not machine washable, which was causing wire breaches because nobody actually hand washes their bras, they just throw them in the washing machine," he states. "Now, thanks to Fortitube, companies are selling bras that they can say, with confidence, are machine washable."
Fresh solutions
A long-time pioneer in its field, Stretchline's recent innovations also include Stay4Sure, a patented silicone coating technology that can be applied to both broad or narrow fabrics. Unlike conventional silicones, Stay4Sure is not reliant on any chemical fixation or compression to keep the garment in place. Instead, the unique silicone coating gently adheres to the skin for a greater level of comfort than ever before.
"The type of silicon previously used in garments could be quite harsh and sometimes ended up giving people friction burns," Barry reveals. "Stay4Sure, however, which has found success with a host of organizations from Marks & Spencer to the British Olympic team, employs a really soft, hypoallergenic, silicone gel that gently adheres to the skin, meaning you no longer need compression."
Stay4Sure can now be found in a variety of products at major retailers like Asda, Hanes and Donna Karan. It serves as yet another illustration of Stretchline's ability to introduce fresh new solutions to the market.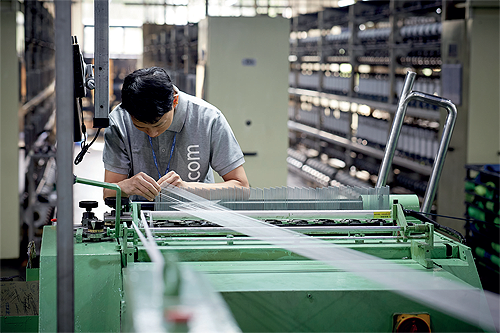 "In addition to consistent quality and worldwide coverage, Stretchline brings an element of progress and newness to the market," Barry points out. "We manufacture products for a wide range of companies. The result is that a lot of people are probably wearing something from Stretchline right now, but they just don't know it."
Stretchline's track record of design success is not only the result of comprehensive research and development, but also thanks to a talented and creative workforce. A strong believer in supporting the next generation of designers, the company has links with five UK universities, including De Montfort in Leicester, and Loughborough University, where the firm sponsors a Master's qualification.
"For 15 years, we have taken graduates from places like De Montfort and sent them to our main Research & Innovation base in Sri Lanka," Barry reports. "Additionally, we intend to offer interns a year's experience in the industry whilst we continue to hire our design managers straight from university, when they are full of fresh ideas about how we can take the business forward."
Future growth
In 2021, Stretchline required all of its patented creativity to help the company overcome one of the greatest challenges in its history – the Covid-19 pandemic. After discussing how the firm could best support the global response to the crisis, and having worked with the medical industry on previous products like anti-embolism stockings, Stretchline turned its attentions to the production of PPE.
"We shifted all our sites to focus on PPE and ended up manufacturing enough elastic for 600 million face masks," Barry declares. "Our global footprint across a number of different countries offered a flexibility that meant, when localised lockdowns occurred, we could transfer production to a different location."
After remaining operational throughout the Covid-19 pandemic, and proving itself a trusted manufacturer of elastic suitable for facemasks and PPE, Stretchline expects this line of work to continue beyond 2021. Recently, upon learning of the growing number of facemasks ending up in landfill sites the company were driven by a commitment to helping the industry find more sustainable solutions the company has developed biodegradable elastic for use in protective face coverings.
Barry remarks: "The rush for PPE in 2020 has led to masks piling up a bit like plastic bags, but the new masks using our elastic are biodegradable within five years."
Following a better than expected performance in the first half of 2021 – the company achieved record sales in its Sri Lanka factory in May – Stretchline is well-positioned for future growth. Happy to be heading up a healthy organization after a challenging 18 months of business, Barry is confident that Stretchline, as a company, is only going to get better.
"The medical side of our business is growing, we're working with some big names in the automotive sector, and the contacts we are gaining are going to allow for diversification into brand new areas for us," Barry asserts. "We have gone from an intimate apparel and sportswear business to a company capable of servicing a huge range of products and sectors.
"In the years ahead, with the help of software programs like Browzwear, technology and 3D visualization will play a big role in the design process, which will be a major development for both us and our customers. In terms of production, Vietnam and Bangladesh remain popular options for manufacturing, but we are also looking at other opportunities. In the next three-to-five years, I expect us to open one or two more factories in different countries to reinforce our global presence and keep the business on a positive trajectory."
Stretchline
www.stretchline.com
Products: Elastic fabric manufacturer