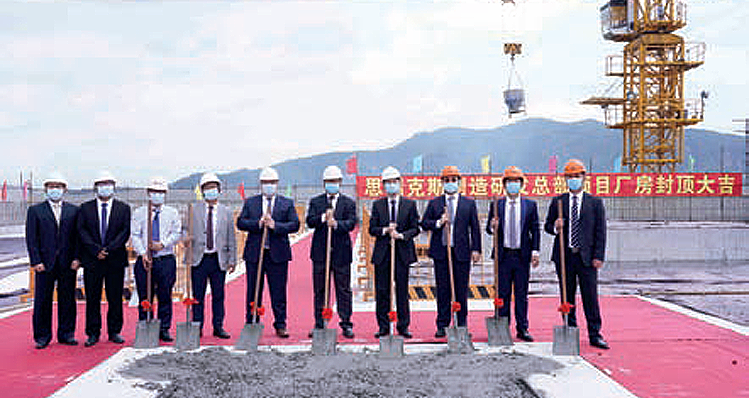 Brewing up the future
Less than 12 months away from the completion of a major new factory in China, Strix is building on its position as the world's number one manufacturer of kettle controls
Headquartered on the Isle of Man, Strix is a global leader in the design, manufacture, and supply of kettle safety controls, as well as other components and devices involving water heating and temperature control, steam management, and water filtration. Established in the 1980s with the goal to dominate the kettle sector, today Strix is responsible for more than 50 per cent of the value share of the global market. Approximately 90 per cent of the company's revenue is drawn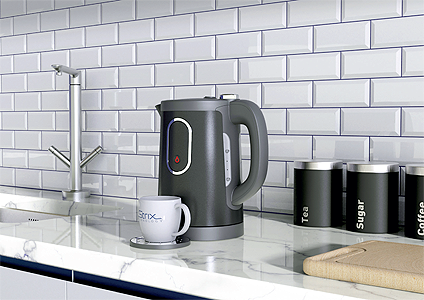 from kettle control sales. The remaining ten per cent is formed through sales from the water category – which includes filtration brands like Aqua Optima and HaloSource – and the appliance category – which is split between hot water on-demand applications and baby care products.
Alongside the company's core services, a key part of Strix's business model is its role as a 'solution provider' for 200 OEMs and 450 brands and retailers around the world. Often referred to as the 'consultants of the kettle industry', Strix is a true innovator within the 'other services' segment argues the company's CEO Mark Bartlett.
"I think Strix is quite different to a normal component supplier," Mark declares. "Whilst we make most of our money from selling our components to China-based OEMs, there are quite a lot of value-added services that go on in the background. For our OEM customers for example, we produce industrial designs of kettles or heating elements, perform compatibility testing, and offer a comprehensive MOT for any new products utilizing a Strix control. We also work very closely with the OEMs to sell their products. A lot of the them don't have a remote sales channel, whereas we have dedicated salespeople out in the field that will take their products to over 450 brands and retailers around the world. It enables us to sell more controls and offers valuable support for a lot of our China-based OEMs.
"On the other side of the channel, we are constantly looking at the product ranges of brands and retailers and making recommendations about additional products we could provide. We will always try and pair them with OEMs so that they get the best service and we will also support the OEM in building the products. If there are ever any issues, we are usually one of the first people to get called because our customers know that Strix solves problems. There aren't many brands and retailers that have the resources to deep dive into a China-based OEM to solve a problem like we can. It's not a model I've seen in other industries and it's a huge selling point for us, along with our significant market share. If an OEM is making a product and wants to sell as many as possible, it makes sense to work with Strix because we have a much wider reach than anyone else – we are almost four times bigger than our nearest competitor."
Product development
A renowned industry pioneer, Strix has worked on countless successful projects over the years including development of the Tommee Tippee baby prep appliance and the Turbo Toaster. Committed to making the lives of consumers easier, Strix places great emphasis on its relationships with brands and OEMs as part of its product development process. In some cases, the firm is able to take control of the process, fully developing a concept before selling the idea to a brand and then taking it to an OEM for manufacture.
"It's quite a unique process," Mark says, "but we are very heavily involved in that project management role. We can provide the core technology and help both parties to get a product to market as quickly as possible. We have been investing heavily in product development since the company was listed in 2017 and we have R&D centers on the Isle of Man, China and in Seattle. Our strong partnerships with brands, retailers, and OEMs provide us with a wide variety of insights and the opportunity to leverage on their experience and data to ensure we are developing the right products with the right features and benefits for consumers."
Accelerating an expansion to its product offering, Strix plans to launch 14 new products this year, across the three categories – a record high for the business. This will include adding to the company's range of kettle controls in an attempt to make it more competitive across some of its less regulated territories, new baby products that provide consumers with improved efficiency and performance, and new water appliances that afford significant energy saving opportunities.
"One of these appliances – 'Duality' – helps to eliminate the overfilling of a kettle and with our HaloSource product, we have added sterilization to the water category, recently launching a new system to provide farms with safe drinking water for their animals using HaloPure technology," Mark reveals. "Later this year, we will be releasing a product called Aurora, which is effectively a stand-alone water station that does everything from boiled water to chilled water. It's a highly efficient way of boiling water and a system that provides significant energy saving."
Expansion plans
A proactive response to the Covid-19 pandemic means that Strix has been able to limit the impact of the virus on its full-year forecasts and its development plans remain on schedule. Innovations such as the erection of a disinfection tent
that employed the company's own HaloPure technology helped Strix's China factory to reopen before many of its competitors. Strix also helped to produce PPE and components in breathing apparatus for the Isle of Man government. The company's positive contribution during a global crisis has not gone unnoticed.
"We received a lot of positive press over Covid and it's had a very encouraging impact on our share price," Mark comments. "I'm pleased to report that Strix has continued to make a solid start to 2020. Given the global macroeconomic disruption, we remain confident in the future prospects of the company and believe we will emerge as a stronger business, well-positioned for a market recovery.
"I've been looking very carefully at efficiency measures to make sure we can manage our bottom line and we've definitely put a stronger focus on the engineering side of the business. We've also put emphasis on enhancing some of the roles within the senior management team so we have the right skillsets to drive us forward and we've certainly ramped up the number of new products we are bringing to market."
To support the company's program of new product development, Strix has embarked on the construction of a new factory in China. The facility will double the firm's capacity and will have the same operating costs as Strix's three existing Chinese sites. 'On budget and on schedule', Mark is confident that the new facility will be operational by August 2021.
"We recently had what they call the 'Ceiling Ceremony' in China, effectively capping the roof, so all external construction of the five-floor factory and warehouse is now complete," Mark reports. "The next step is to deal with the internal works like electricity, air conditioning, and design layouts.
"As far as the manufacturing capabilities are concerned, automation is a key part of our strategy and we have made significant investments in automation over the past three to five years. On the Isle of Man, we produce more than 500 million components per year with just 38 people, and in China we are now manufacturing around 80 million controls a year with the automated lines producing a control every 1.8 seconds. It marks a significant improvement in efficiency over the last few years."
As we enter the second half of 2020, Strix is already enjoying a positive recovery in China, as well as a rebound in other markets as lockdown restrictions are eased around the world. Currently, there is only 35 per cent global household penetration for kettles, a statistic that Mark argues should offer Strix continued opportunity for growth.
"We are operating from a very solid base and we have ambitious expansion plans for the future," he states. "We are constantly developing new ways to grow organically and, as a highly profitable market leader, we are always on the lookout for potential opportunities for acquisition in either the small domestic appliance or water filtration markets. We are about to complete the new factory, which will give us double our current production capacity, and we expect to fill this with the various opportunities we have identified over the coming years. It's an exciting time for Strix as we change from what was perceived as just a yield company to a yield and growth business."
Strix
Products: Manufacturer specializing in kettle controls
www.strix.com