Success is never certain, but for Henry Repeating Arms, an obsessive focus on the customer has kept it an industry leader for 25 years
Henry Repeating Arms (Henry) gets its name from Benjamin Tyler Henry, the famed gunsmith and inventor of the first successful lever action rifle patented in 1860. Carrying on the same spirit of manufacturing lever actions on American soil, this Wisconsin-based business shipped its first guns in March 1997, with only one model in the product catalog – the H001 Classic Lever Action .22. To date, it has sold over 1,000,000 of these rifles worldwide, and Henry's product catalog now boasts well over 200 individual models in a wide range of calibers and finishes. Two years after the first shipment, the company introduced the award-winning Golden Boy rifle, which became its flagship model with a premium look and feel found nowhere else in the industry at the price point. At the time, all manufacturing and assembly took place in Brooklyn, New York.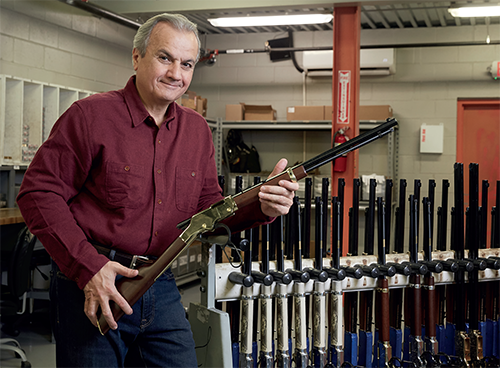 As we stand in 2023, the business is one of America's leading firearms manufacturers, founded in 1996 by Anthony Imperato, who now serves as the CEO. In 2008, the business moved operations from Brooklyn to a much larger facility on the waterfront of Bayonne, New Jersey, where the company still manufactures well over 200,000 guns annually at this location alone. Unfortunately, this facility was devastated by Hurricane Sandy in October 2012. However, with support from key vendors and other talented people, the facility resumed operations by the end of the year. In 2014, Henry announced the first models manufactured and assembled entirely at its current headquarters in Rice Lake, Wisconsin, which had previously been supplying parts for Bayonne assembly. In 2021, as a result of surging consumer demand, the company further expanded its operations to an 84,000 square-foot facility in Ladysmith, Wisconsin, to provide additional space for parts manufacturing.
Just recently celebrating its 25th year in the long-gun manufacturing industry, we hear from Anthony, as well as Dan Clayton-Luce, Vice President of Communications, and Andy Wickstrom, President, about how Henry empowers its team to do whatever is necessary to ensure every customer is satisfied with their Henry purchase.
Innovation in action
What started as a small facility in Brooklyn, New York, has grown over the last 25 years to become a total of 350,000 square feet of high-tech manufacturing space shared between its locations in Wisconsin and New Jersey. "We currently operate three facilities," shares Andy, "with the largest being the headquarters operations in Rice Lake. Across all three locations, we're running more than 100 CNC machines because, at the end of the day, most of what we do to build guns is cut metal. We continue to invest heavily in automation for new products, while a portion of our resources is reserved for improving existing processes for current products. There's a bit of a 'new school meets old school' dichotomy as well, because we have some old WWII-era Pratt & Whitney drills that we've rebuilt to newer specifications, including PLC controls and touchscreen interfaces. More recent technology also includes laser scanning to make incoming inspections more efficient and precise."
Gun manufacturing is a loaded business, and contains a significant amount of innovation to keep up with safety standards and efficient usability, as we learn from Dan. "Despite the underlying technology of a lever action repeating rifle dating back all the way to 1860, we have found there's still plenty of room for innovation to meet the needs of today's outdoorsmen and women. At any given time, we have design engineers actively working on products that might not see the inside of a store until five years later," he shares.
Customer feedback
From exploring new metal finishes to developing automation, or even working with industry partners to develop entirely new calibers and cartridges, Henry places great importance on product innovation and invests heavily in the manufacturing capabilities needed to facilitate this process. Additionally, the business pays close attention to customer suggestions, and as their hunting needs evolve, so too does the company's product line. "Quite often," Dan continues, "new ideas come to us from our customers. We keep our ears to the ground on social media and other channels to see what people are asking for. We get emails and phone calls daily from our customers who want to let us know what they'd like to see in the next new Henry release. This feedback is priceless to us, and when we start seeing enough demand for a specific idea, we'll start discussing it internally, do some market research, and start coming up with prototypes."
Four promises
This attention to customer demand has enabled the company to produce industry-leading products, with one of the most popular recent releases being its X Models. "They're a group of rifles and shotguns with a more modern look and feel. We've noticed that this range has attracted an entirely different audience than we've seen before in the lever action space. Most notably, the X Model rifles and shotguns feature durable synthetic furniture with integrated universal accessory mounting points, so customers can 'dress up' their firearm to meet their needs. For example, someone might purchase a Big Boy X Model in .357 Magnum and attach a silencer to make it incredibly quiet, or a flashlight for use in low-light situations and put a sling on it for convenience. With that, you have a versatile carbine that can be used for hunting in the morning and protecting the home at night," Dan expresses.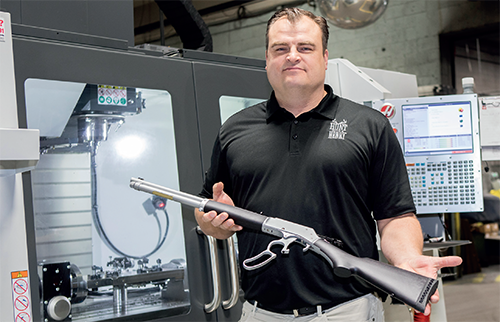 What sets Henry apart from the other sellers is not only its dedication to excellent manufacturing processes, but also its commitment to quality. "We maintain four promises," Dan highlights. "First, all the products are backed by a lifetime satisfaction guarantee, which is not found anywhere else in the industry. Second, our clients are guaranteed accurate and reliable firearms with craftsmanship and material quality that punches well above their price tag. Third, we offer the best customer service in the industry. Finally, every one of our rifles and shotguns embodies the company's motto, 'Made in America, or not made at all.' While that may not be a primary driver for international customers, it's a value that our customers take great pride in."
The emphasis on customer satisfaction is rooted within the values of the company, which was instigated by Anthony's passion for strong and lasting relationships. "When people ask me what business I'm in," he says, "I often respond that I am in the 'keep everyone happy' business. Work is all about relationships, and that's something that was instilled in me early on.
"Growing up, I worked behind the counter of my family's law enforcement supply and gun store in Brooklyn, and that's where I understood the importance of relationships in business. Despite now being a global company, I want to treat every interaction that someone has with our company as if it was a customer walking through the door of that little gun shop. Of course, I can't respond to every single email or phone call myself, so then it becomes a matter of transferring that mentality to every one of our employees. It doesn't matter if they're a customer service representative answering the phone or a CNC operator; every employee knows the importance of people in what we do."
Charitable work
For Henry's leaders, part of what makes their niche work in manufacturing so rewarding, are the organizations that form its network. Anthony takes a moment to acknowledge the dedication that the company's supply chain has invested in the company's success. He also recognizes that a large number of nonprofits around the country depend on Henry's support, and this impact is nothing short of priceless. "I've had the pleasure of traveling the country to meet those whose lifework is leading some of the largest and most impactful non-profits that help support their deserving constituencies. From the law enforcement officers that put their lives on the line daily to serve their community, or the men and women that have answered the call of duty to serve their country, or the EMS personnel that work tirelessly to save lives every single day, Henry Repeating Arms is proud to help the cause."
This then triggers the topic of social responsibility. Another way the business celebrated its 25th anniversary, is through a surge of support to local and national communities. Last year, Anthony pledged one million dollars to a wide variety charitable groups, including children's hospitals, military veterans, law enforcement and first responder organizations, and many others. "To achieve this hefty amount, we did something special. We created and donated a limited-edition series of 1000 Golden Boy Silver Anniversary Edition rifles, which raised the money for us to distribute across the categories we are proud to support."
Positive impacts
Henry Repeating Arms is known throughout the industry for these endeavors, which are run through the charitable branch of Henry called 'Guns for Great Causes.' "I started this to help financially support individual families of sick children that face immense medical bills for lifesaving treatment, and it has grown in scale year over year," Anthony says. "Now, beneficiaries of our fundraising efforts still include those individual families, but we're also helping support wildlife and habitat conservation agencies, shooting sports and hunter education organizations, and national and grassroots groups that advocate for Americans' right to keep and bear arms. These groups mean a lot to me personally and professionally, and I am forever grateful to our customers and employees who enable us to make these positive impacts."
As America's debate on the Second Amendment continues to gain traction, it is businesses like Henry Repeating Arms that are ensuring rifles are safe and reliable, and from what we have learned, securing this guarantee depends on industry-leading manufacturing. "Every day, we try to take one more step toward being the best company, not just in the lever action space but in the overall firearms industry. We have a great team of incredibly talented people who help me sail the ship to get it done," says Anthony.
"Five years from now, we'll be offering our customers even more choices, our investments in increased capacity through automation and workflow optimizations will be firing on all cylinders, and our company will be right on the tip of everyone's tongue when thinking about a quality, American-made firearm."
In closing, Anthony shares that when he reflects on the last 25 years, he believes gratitude is at the heart of the company's success. "I am so thankful for our hardworking employees, our loyal customers, and great industry partners in our Henry retailers, distributors, vendors, and others. Without them, this achievement would not have been possible."
www.henryusa.com