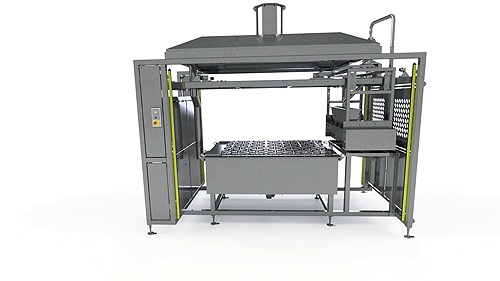 Batter business
Boosted by the recent acquisition of intellectual property from Vanderpol Waffle Systems, Sugden Ltd's hotplate lines are taking the world by storm
A world leader in the design and manufacture of hotplate plants for the production of pancakes, English muffins, crumpets, and similar products, Sugden Ltd has over 45 years of experience in the development of custom-configured griddle and prover technology. Offering full installation and training across the globe on bespoke lines designed and manufactured in-house, Sugden's high-quality bakery solutions benefit from superior engineering.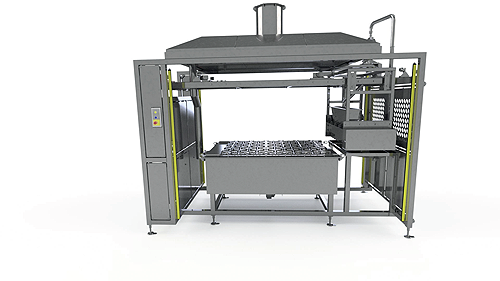 "We are always looking for ways to improve our lines and I think that's what helps us produce some of the best crumpet, pancake and English muffin hotplate plants in the world," declares Sugden's Managing Director, Chris Baldwin. "We recently triple insulated our English muffin line to increase energy savings, while new servomechanisms on the crumpet lines improve efficiency, reliability and consistency. These updates are all part of a mission to evolve, year on year."
Having formed a strong partnership over the years with American firm AMF Bakery Systems, Sugden was recently presented with an opportunity to acquire the intellectual property of Vanderpol Waffle Systems – a member of AMF's portfolio. Following 12 months of negotiation, Sugden finalized the acquisition in December 2020, meaning the firm can now manufacture, supply and install a full range of popular Vanderpol waffle solutions.
"It was a proud moment when we finally announced the acquisition. We are pleased to be in a position to carry on supporting and supplying market-leading waffle lines under the Sugden Vanderpol range," Chris states. "It was a great opportunity because the waffle lines are a perfect fit, as the equipment sits very closely to what we already manufacture."
The Vanderpol acquisition was made possible by Sugden's relocation to a purpose-built 35,000 square foot facility in 2019. Now with the capacity and capabilities to work on up to six lines at once, the company is in an ideal position to expand.
"Vanderpol marks a huge expansion to our portfolio and, so far, the response has been really good," Chris reports. "We are currently quoting eight waffle lines worldwide and I would hope to see a few more orders in the first two quarters of 2021."
Product innovation has never been in short supply at Sugden and in 2015, the company introduced the multi-plant – a single line that can be used to produce various batter products. At the beginning of 2021, Sugden launched its latest product – the mini hotplate. Incorporating the same core technologies as its larger systems, the mini hotplate is specifically designed to help small and medium-sized bakeries deliver a range of products on a single piece of equipment with a small footprint.
"During our extensive travels, we have realized that the demand for high quality products for smaller bakeries is not being met. We have also experienced a huge call for traditional UK products like crumpets and pikelets in places as far away as Russia, Bangladesh and India. These gaps in the market led to the development of the mini hotplate," Chris reveals. "We are already quoting bakeries in Asia for the mini hotplate, so we think it could be a real breakthrough in bringing crumpets and pancakes to the world, as well as helping to serve a growing craft bakery market in the UK. If we can get the mini hotplate into emerging markets around the world, we think demand for products like crumpets will grow, and orders for bigger lines will follow."
In 2021, Sugden will be pushing for more growth, with the business set to add around 10 new members of staff and embark on new projects across the world. Whatever the challenge, Chris is proud to have the support of Sugden's skilled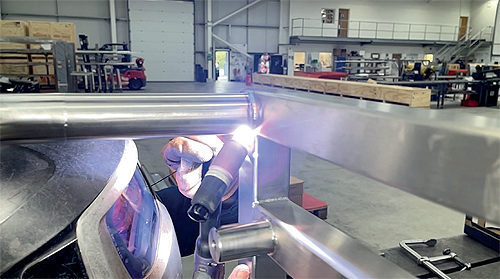 and resilient workforce.
"Our people are everything and we are extremely lucky to have them," he asserts. "We take on apprentices every year and with our encouragement and support, our people learn and grow, becoming increasingly more vital factors in our success.
"Right now, we are shipping three lines into Australia and we are quoting all over the world, so we hope 2021 will be a good year. With the help of our staff, we are getting ready to take on three more projects in North America in the coming months."
Over the last half-decade, Sugden has doubled in size and the company is hoping for a continuation of that trajectory in the years ahead. Buoyed by the addition of its Vanderpol lines, and the launch of new systems like the mini hotplate, Chris hopes the company can expand by 25 per cent before 2025.
"Vanderpol is an established brand with 60 lines worldwide, so the waffle side of our business looks very receptive already," Chris says. "Our spares and service work is likely to increase as vaccines lead to the easing of travel regulations, and I can't wait to sell our first mini hotplates to places like Bangladesh and India. Getting small machines out to emerging markets could mean that, in five years' time, bakeries want bigger lines because business is booming. It's a positive, forward-thinking approach that gives us a lot of hope for the future."
Sugden Ltd
Products: Hotplate lines and griddle technology
www.sugden.ltd.uk