Sulzer Pump Solutions Ireland Ltd
Improving the flow
Sulzer Pump Solutions Ireland (SPIRL) benefits from the skills of a knowledgeable workforce.
Sulzer's manufacturing facility in Wexford, Ireland has a rich and varied history. The German company ABS Pumps, which had been manufacturing pumps and equipment for the wastewater industry since 1959, originally founded the site in 1973. By 2011, in a move to incorporate wastewater services into its portfolio, Sulzer acquired the company at that time called Cardo Flow Solutions and brought the Wexford site on board. Significantly, Sulzer brought to the table over 175 years of experience in the pump engineering and manufacturing industry. What results is a facility that has access to a vast expanse of experience and expertise within the industry, and this is very much reflected in the success the company has earned.
"In Ireland we focus primarily on the production of submersible pumps," explains MD in Ireland, Juergen Deutschmann. "We support the municipal wastewater collection and treatment services, and we are also strong in the domestic commercial wastewater segments. This includes products and service from initial collection to mixing and aeration within the treatment plant. Recently, after a footprint consolidation at Sulzer, we have also started producing pumps for the mining and construction industries."
As a global organisation the Sulzer divisions Pumps Equipment, Rotating Equipment Services and Chemtech serve a wide range of industries. Within its pump offering, which accounts for more than 50 per cent of business, the company targets the oil and gas, power and water segments. "Wastewater was only introduced to Sulzer's offering in 2011 and during the transition period the market did not offer any support, so we faced a number of challenges," notes Juergen. "However, over the course of 2015 we have overcome these issues and are now experiencing some positive growth in the water segment." The strength of Sulzer in Ireland very much comes from the expansive global network and organisation. "The company works in many different strategic areas so all of that competence and expertise is brought to our products," highlights Juergen. Another valuable capability offered by Sulzer that allows it to stand out is its approach to research and development. A product development (PD) team is located within the company, developing products and supporting the local and global organisation.
"We are fortunate to have a PD department in Ireland, supporting our products but also other products for colleagues around the world," says Juergen. "A recent example of good collaboration is the introduction of a new progressing cavity (PC) pump line. This is a sludge pump to clear out what is left after the water has been removed from the water treatment plant. Another excellent example of innovation achieved through global and local collaboration is the recent completion and introduction of the Contrablock plus hydraulic range on our large wastewater pumps. This involved PD, procurement and operations in Lohmar, Germany and Wexford working closely together to deliver a successful innovation to the market."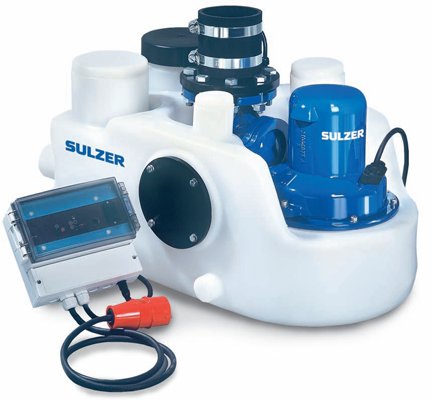 As part of a world-leading organisation the Wexford-based factory operates to a level of product quality and reliability that conforms to the global reputation held by Sulzer. To adhere to this there is in-house production of hydraulic components to maintain these levels. "We still machine components on-site especially for parts that are individually complex, so it is key to keep these manufacturing capabilities internal," notes Juergen. "However, our main focus in Ireland is on the assembly and testing of products. Amongst other facilities we have a dedicated PD test department with capability for motor brake testing up to 45kW and a dedicated anti-clogging test tank, which includes a 1000 fps high-speed camera to visualise material interaction with pump hydraulics. These are key core competences for our business. It has also recently completed an investment programme to install a new robotic paint line to deliver a high quality finish to the company's products.
"We are much focused on lean production and have a global lean organisation set up to ensure that this is delivered in our facilities," adds Juergen. "This is about making sure that everybody in the factory understands the lean process, so that we can operate in a more organised and harmonised way. Ultimately, the organisation is looking at best practice – we don't have to reinvent the wheel – and making sure these practices are delivered in all the right areas."
As part of this focus on lean manufacturing, the Wexford facility has invested heavily into the new production line for mining and construction products. "We have utilised a new shape of production line in order to improve the manufacturing flow, reducing disruptions, recording and resolving problems and improving our first pass yield," outlines Juergen. "We have invested into new workbenches, which are organised to ensure a constant flow of work from station to station. All parts needed are already there and we have ensured there is a lot of transparency with things like pictures to make information clear about what is being done at each station. This is then accompanied by IT equipment to allow scanning and tracking to be monitored by everyone. Essentially, this is a demonstration of our lean capabilities that will be considered for a roll-out across the factory."
Results from the new production line are already beginning to show as Juergen reports a 50 per cent increase in output within just a matter of months, yet he also remains aware of the dangers in becoming complacent with this type of achievement. "To truly be lean it is a programme of continuous improvement," he says. "Therefore we have improved our communication methods with the introduction of our one minute boards to the production lines to make sure everyone is aware of where we are and where we want to go both internally and as a part of Sulzer. We also have a number of key performance indicators (KPIs) in NSKplace to make sure we can track exactly where we are and see where we need to improve.
"We have quality and reliable products already but we would like to further reduce costs and use our global footprint to participate more in the market," concludes Juergen. "In addition to this strategic goal we will also be focusing on growth areas like the increasing demand for municipal wastewater systems and opportunities in the mining and construction segment."
Sulzer Pump Solutions Ireland Ltd
Products: Pump engineering and manufacturing
Sites: Wexford, Ireland