Sumitomo Machinery Corporation of America
Sumitomo Machinery Corporation of America (SMA) is a global leader in power transmission knowledge and innovation, serving the growing gearbox market across the Americas with a wide range of solutions. "We have robust capabilities and can handle everything from motion control up to large industrial gearboxes," Director of Marketing Phil Zarate says. "We have always been a leader in both quality and gearbox technology."
Sumitomo Group began more than 400 years ago when Masatomo Sumitomo opened a book and a pharmacy store in Kyoto, Japan. Over the next 100 years, the Sumitomo family developed its leading presence in copper refining, which led to the family opening the Besshi copper mine. Sumitomo Heavy Industries was formed in 1888 to provide equipment repair services to the copper mine and has become one of the largest manufacturers of machinery in Japan.
Founded in 1966, SMA is a subsidiary of Sumitomo Heavy Industries (SHI). The company was born when Sumitomo Heavy Industries began to manufacture Cyclo® drives, and wanted to expand into the U.S. market. In 2003, Sumitomo Drive Technologies was established as a global group brand to unite all of Sumitomo's power transmission businesses across the globe.
SMA's U.S. headquarters in Chesapeake, Va., oversees production to the Americas with multiple subsidiaries in Canada, Mexico, Guatemala, Argentina and Chile. "We have quite a few manufacturing facilities in the Americas, but specifically in Chesapeake we do gear cutting, fabrication, assembly, repairs and a lot of custom manufacturing," Zarate explains. "Our parts are sourced domestically, internationally, or manufactured here by us and then shipped out to our regional assembly centers."
Dependable Partner
SMA prides itself on being a dependable partner with reliable products and delivering "dynamic, timely support and services." The company's brand guarantees innovative, top quality products and services developed by the most advanced technologies. From steel production and cargo cranes to food processing and healthcare, SMA offers products and services worldwide that improve quality of life.
"We strive to be a solutions provider," Zarate says. "We have a wide range of capabilities that only a few others in the global marketplace have. Our Cyclo® product has been the core of our business and the product we built our reputation on. We have been able to leverage this technology and incorporate it into other configurations, which has expanded our reach into other industries and applications. A good example of this is our Bevel Buddy Box product, which marries Cyclo® technology with bevel gearing to create a robust right angle gearbox."
The Cyclo® Drive products provide SMA's customers with almost limitless flexibility and reliability in their applications. The revolutionary Hyponic products give customers high-efficiency performance in a compact design with hypoid gear technology. The Paramax product family provides industrial customers a strong and reliable gearbox that is designed for years of trouble-free service, the company says.
"We built our business around the Cyclo product and we have expanded to include a lineup of high-quality gearboxes," Zarate adds. "Our customers are looking for reliability and customization, and we have always met that need by offering engineered solutions."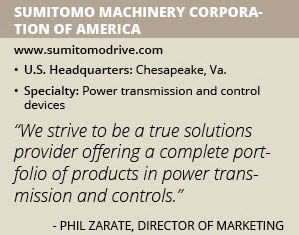 The Total Package
SMA's customers are also looking for a complete package rather than buying a gearbox from one manufacturer and the motor from another, for example. "We have always had the capabilities to supply those solutions by outsourcing the products from a third-party when needed, but when customers need support, we often have to refer them to that third-party," Zarate says. "In today's market, the customer prefers a single source, so it's pushed us to diversify our portfolio through research and development and acquisitions."
Earlier this year, Sumitomo Heavy Industries announced the acquisition of Lafert Group, a European leader in the design and production of electric motors and drivers customized for industrial use. Headquartered in San Dona, Italy, Lafert was a major acquisition for SHI and a milestone in the company's expansion strategy in the electric motors and industrial machines electrification space.
SHI also acquired Hansen Industrial Transmissions, a leading provider of large industrial gear drives, five years ago to further strengthen its position in the power transmission market. The Hansen factory in Belgium produces some of the highest-quality gearing in the world while the facility in Verona, Va., continued operations as a regional assembly and service center under the SMA network of regional facilities.
Facility Enhancements
In May, SMA held a grand opening at its new 72,000-square-foot Gearbox Center of Excellence in Verona. The new facility will serve as the final assembly location for industrial gearboxes used in mining, water treatment, manufacturing and other heavy-duty applications. "We built the new factory in Verona, which is about 50 percent larger than our previous building, to accommodate our growing industrial gearbox business," Zarate adds.
SMA also recently broke ground on a $10 million expansion to its manufacturing facility in Chesapeake that it expects will be completed next spring. The company will add 100,000 square feet to its North American headquarters, which is home to 220 employees overseeing 18 facilities spanning across the United States, Canada, Mexico, and Central and South America. "The expansion is all part of our focus to increase efficiencies, realize cost savings and reduce lead times," Zarate notes. "It will allow us to centralize parts distribution for North America, as well as expand manufacturing and assembly initiatives."
For years the company has been focused on driving waste out of its processes from the sales side to operations. "Six Sigma has been a huge part of the culture now for a long time and we are constantly doing Kaizen events to help improve efficiency," Zarate says. "We have sometimes seen 25 to 30 percent increases in productivity in both manufacturing and assembly. That's not only a huge boost in efficiency, but it allows us to increase throughput and ultimately deliver product faster."
SMA engages every department in A3 problem solving for continuous improvement. The company holds an active A3 competition where it challenges each department to find process improvements, develop an A3, see the tasks in action and report on the efficiency and productivity gains. "We reward a department or individual with a monetary incentive based on how successful that was," Zarate notes. "It's been a nice boost for morale and productivity."
Striving for More
SMA prides itself on having a culture of continuous improvement and innovation is part of its DNA. "We are always looking to make our products better, even if it is only one percent better," Zarate says. "Continuous improvement is more than just improving the products, it's also about improving our processes and most importantly our people. We put a lot of emphasis on personal and professional development, which strengthens our knowledge base and enhances our approach to things like R&D."
For example, SMA launched Cyclo® Smart about one year ago, which is a predictive maintenance tool that allows users to understand when the gearbox may potentially fail or if it is having problems. "It's specifically optimized for our Cyclo® products and we have thousands of hours in research and data analysis into it," Zarate says. "Predictive maintenance, sensor technology and IIOT are huge right now as customers are looking to prevent problems from occurring and reduce downtime. The more we can help save costs and help with predictive maintenance, the better position we will be in."
SMA also recently launched Fortress, a new stainless steel right angle product for the food and beverage industry. The stainless steel cast 304 housing offers resistance to the most caustic environments and the unique contour design reduces the build-up of bacteria in those hard to reach areas.
SMA is also striving to become a stronger player in the aftermarket and repair side of the business. "Right now, the economy is in a good place where businesses are investing capital, but like in years past, when some of the capital money dries up, they look to repair," Zarate explains. "To be No. 1, we feel you have to be positioned to, at a minimum, repair your own gearboxes let alone competitors."
Moving forward, SMA's vision is to be the leading power transmission provider in the world. "We are probably in the top three right now, but that's our desire, to take the No. 1 spot," Zarate says. "It's a tall task because we have competitors that are pretty strong and also have great products and full product lineups.
"We strive to be a true solutions provider offering a complete portfolio of products in power transmission and controls," he continues. "Innovation is certainly part of our genetics here at Sumitomo and we are always looking for ways to help our customers become more efficient in their operations and add to their bottom line."