Many irons in the fire
Summitglow Ltd is a heat treatment specialist that continues to expand and steadily grow and as such takes advantage of both traditional and new technologies
The past few years has been a testing time for many of those connected to the oil industry, though there are those that have managed to continue to achieve growth, and Summitglow is one of them. The company provides a wide selection of specialised heat treatments and supplies these to a range of industries. Summitglow has made further improvements and investments to the business, as well as devoting focus to diversification and expanding into more markets, which demonstrates the strengths of Summitglow and how well it can perform even during a more challenging period.
The company was set up in Sheffield during 1983, and it was a family owned business – something it continues to be to this day. Summitglow originally provided salt bath heat treatment services, though due to a sustainable growth plan it evolved – it now offers unique and specialised heat treatment services by using cutting edge technology and a dedicated small team. At the present time Summitglow offers services that range from vacuum, salt bath, case hardening, gas nitriding and nitrocarburising, to sub-zero (cryogenic) and air and atmosphere treatments, in addition to hot chemical blacking and straightening services. Having been established in 1983, the company has already achieved the milestone of over three decades of activity, and with further investments and larger demand for its products – attaining five decades or even a century in business seems likely.
Summitglow has previously been featured in Manufacturing Today Europe during 2015, in that piece managing director Philip Watkinson discussed that the company was looking into the opportunities that opening a new furnace would provide: "The vision is, and has been for a while, to progress further into doing more high-end, high-complexity components that require high tolerances and better quality. By pushing for higher technology, higher quality, high-end markets, whilst maintaining our spread of markets, we will be able to continue to grow," he said. This development has since come to fruition. Summitglow now has a fully functioning new furnace, something that in the most recent interview Philip expanded on: "It has given us a lot more capacity than we had previously, because before we only had vacuum capacity for small turn around batches, whereas now we can handle much larger requests. We can actually do a lot more than just a greater sized batch with the new equipment, we can also provide for different shapes, and new varieties of components, all of which we couldn't handle before. This is all really positive, it means that we can do more work for our existing customers – that before we were not able to commit to – it also means that it opens doors with new customers that had demands we couldn't meet previously." It is clearly a positive sign that the company has continued to invest in its facilities, which will then in turn make it more attractive to a wider market, and thus ensure that the Summitglow is in an increasingly stronger position in the future.
The business is willing to make investments in order to increase its product range and quality, and this has proven to be a worthwhile tactic – leading to the company growing and appealing to more markets. After the successful launch of the new furnace there are plans to improve another side of Summitglow, something that Philip elaborated on: "We are looking at increasing some of our nitriding facility next year, the plan is that during 2017 we will have another nitriding furnace – smaller units will then be replaced by a more versatile furnace that is slightly larger with a much quicker heat up time and a vacuum tempering furnace, those are the two main things we are looking at for the moment."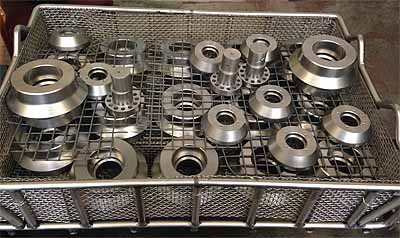 There are many factors that are crucial to any business working within the industrial sector, but two essential ones are safety and the assurance of quality. Both of which Summitglow takes seriously and places as a top priority. It has already achieved previous accreditations, such as the ISO9001:2008, but Philip explained that the company is not sitting idle on these matters: "One of the main projects at the moment is we are working towards is ISO9001:2015 and we plan to have that in place by the middle of next year, we certainly expect for that to be in place by our next audit in July. It is going really well, and we have utilised some external help to achieve it. It is a significant change to the current standard but any improvements to quality is something we welcome and embrace."
The company has high hopes for the coming 12 months due to the combination of improved equipment, expanding markets, and the business growing in general, this ambition was something that Philip expressed: "At the present time I don't think we will pursue rapid expansion, however we do plan to have sustainable and continued growth. We aim to achieve consolidation and growth within existing markets and still continuing to push towards improving our reputation in different markets. There will always be some areas that are declining and others that are improving, so the expansion for us at the moment is definitely within vacuum." Summitglow is taking a very pragmatic and stable approach, it is not overstretching in a market that can fluctuate, and instead it is appealing to a variety of sectors, this will protect the company's success in the future.
It has been a tough period for many companies that provide for the oil industry, however Summitglow is not delivering a message of doom-and-gloom – instead it is quite the opposite, it is building on what it has previously done to provide an even better standard. It is appealing to larger markets, and it is has a realistic plan for the coming years that will see steady growth. It will no doubt be a glowing beacon of success and diversification.
Summitglow Ltd
Services: Salt baths, sealed quench furnaces – hardening, case hardening and carbo-nitriding, belt furnaces – hardening, case hardening and carbo-nitriding, vacuum furnaces, hardening, ageing, gas nitriding furnaces – up to four metres capacity, nitro-carburising furnace, hot chemical blacking, sub-zero (cyrogenic) treatments