Sun Gro Horticulture uses innovation as a key ingredient to its success; here's how
Sun Gro Horticulture (Sun Gro) considers itself reasonably knowledgeable on all things garden cultivation. This family-owned company started from humble beginnings back in 1929 as a peat manufacturing business, and has become one of the most prominent horticultural organizations in North America. "We achieved this both through progressive growth and acquisition over the years. Today, Sun Gro is the leading supplier of soil growing products for North America's professional top 100 greenhouse and nursery growers. We also serve the individual gardener locally through multiple retail chain outlets across Canada and the US," shares Jason Davies, the Vice President of Operations. In our wide-ranging conversation with Jason, we learn about the developments taking place at Sun Gro, and how the company is pushing to remain a leader in the horticultural industry.
Jason expresses that the business offers what they consider to be a superior quality product offering to its customers. Additionally, Sun Gro provides a nationwide service in both Canada and the US; a unique feature for this sector. "We achieved that by investing in our peat manufacturing and harvesting base across multiple Canadian provinces to serve the market, and US locations.
"Furthermore, we also have several hundred tractors, harvesters, loaders, and dozers, all supplied by our preferred vendors. We have a continuous investment policy where we regularly upgrade and modernize our equipment, from the infrastructure to processing equipment. We believe this is important to keep up with the industry progression, and to keep our competitive edge to serve our customers," Jason says.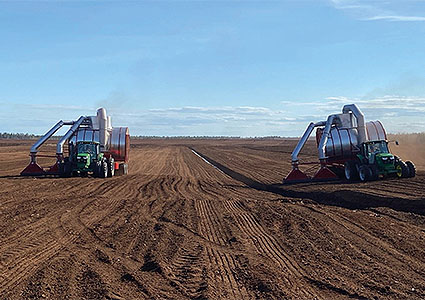 Staying on top of industry innovation is a strategy that Sun Gro follows religiously. For Jason, the business is focused on continuous improvement to keep ahead of customer trends. "We actively upgrade our ERP systems and production reporting systems. All our infrastructure is going through a revamp, and we are increasing our levels of automation so we can enter the world of Industry 4.0, which includes upgrading to co-bots and robots. We're working towards synchronizing the full operation through an upstream supply chain and downstream logistics to merge our operations with our customer service, and continue to meet their expectations."
Progressive projects
With a forward-thinking approach to technology and its benefits, Jason highlights that the business is undertaking a new progressive project. He shares that Sun Gro is testing satellite controlled driverless tractors for harvesting. "Considering how the industry is struggling right now with a labor shortage, I believe that this will be a fantastic development and it demonstrates the progressive nature of our business."
As we head into 2023, Jason takes a moment to reflect on the year gone by. For him, working closely with customers and suppliers to weather the worldwide supply chain challenges has been key to 2022's success. "Freight has been challenging everywhere so it's crucial for us to develop those long-term relationships with our logistic partners. Tying in with that, our dedicated employees have helped us through this period to ensure that we remain as successful as previous years," explains Jason. He adds that the team at Sun Gro are integral to the company's prosperity, and that the reason for this is owed to the values upon which its culture is built.
"We have six key values that make us who we are. We strive for long-term in our thinking. We expect people to show integrity. We drive for performance, and agility. We share our knowledge, and we demonstrate humility. All of that is underpinned by safety. These are how we build our corporate and company culture. For example, when we go to a site, we will always conduct a behavior safety discussion with employees working on the equipment."
Growth plans
Sustainability is also a pivotable part of Sun Gro's business, and Jason is proud to say it is ahead of the curve in this regard. According to him, Sun Gro has been harvesting peat in a sustainable fashion for many decades, and is fully committed to wetland renewal. "What that means is once we finish harvesting, we restore our lands back to a stable ecosystem, ensuring that they remain healthy, with no net loss of wet land function for future generations. The science behind restoration has been tried and tested for many years now through multiple research universities throughout Canada and the US," Jason highlights.
We then move on to discuss the current state of the market, and how Sun Gro is contributing to positive change for the industry. "Demand for peat is huge, because it is the most effective substrate for growing food. We expect that to remain high, especially as the global population continues to increase. In that regard, we expect to see growth in North America, but we also expect it in export sales, which is a key focus area for us going forwards."
Significant organic growth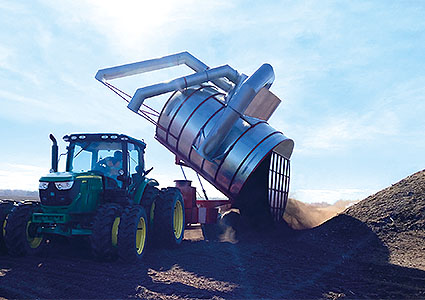 Sun Gro recently announced the acquisition of Pelemix, a growing medium-sized company, which will be made official in January of 2023. This new venture is expected to expand both the company's product offering and its geographical footprint. "This step is the start of our growth plans for the organization. On the operations side, we are preparing for continued plant investment so we can drive efficiencies and push for growth across all the sites in Canada and the US."
In Jason's opinion, Sun Gro intends to maintain its growth strategy over the next five years through significant organic growth in the peat sector to become a more diverse company. This will also include internal product innovation that allows for a wider level of creativity. "A key focus for us is to broaden our product offering through development of innovative products that bring added value to our customers. In that regard, there is a lot of exciting new projects being worked on in the R&D team and we expect to see some of them come to fruition in the next five years."
In summary, exciting developments are taking place at Sun Gro Horticulture, and Jason looks forward to a future of innovation, and increasing his outstanding team. "We're growing, evolving, and heavily investing in our operation. We are always open to attract highly talented individuals to help us along our journey. From my perspective, there is no better time to join. If anyone is interested in joining and wants to help modernize manufacturing in this field of horticulture, we would love to hear from them," he concludes.