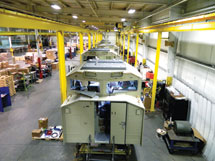 With a history dating back to 1923, Super Steel has had its share of ups and downs.
The Milwaukee-based company started out as a small metal fabrication shop with a handful of employees. Through both growth and downturns, it appears the company is again on the upswing.
In 2008, as the economy waned, Super Steel's sales fell from about $100 million to $25 million. The company then had to file for bankruptcy. "In March 2010, we purchased the company out of receivership," CEO Paul Luber says. "Our new business strategy is built on the foundation of the original organization." He notes that the company will soon celebrate the two-year anniversary of this milestone.
In these two years, Dirk Smith, President and COO, claims, the company has experienced a $50 million increase in sales. He also believes that the company will exceed these historic sales numbers in a mere handful of years by adding breadth to the services it presently provides as well as diversification of its customer base.
"We currently have about 600,000 square feet of space in two facilities," he notes. "We also have more than 400 people working here." In addition, a more efficient plant layout and lean manufacturing principles will enable Super Steel to increase its bottom line and offer more competitive pricing to its clients.
The company is a leading supplier of fabricated and assembled complex structures for freight markets. It also provides complex component-manufacturing services for industrial, agricultural and construction applications. Super Steel works with a variety of metals including carbon steel, stainless steel and aluminum in a range of thicknesses from 18-gauge to 12 inches.
"Our core competency is welding," Smith says.  He adds that the company can use its expertise to design and value-engineer parts. It has also expanded its range of services to include integrating electrical and mechanical assemblies into its metal products.
"We're a unique operation in that we have the facilities to do large projects," Smith notes. "We like to be a one-stop shop for our clients in that they can give us a drawing of what they need and we can deliver the finished product ready for use."
Complete Process
It begins with the client's drawing. Super Steel engineers will employ SolidWorks 3-D modeling to improve the end-product's design. Virtual product development (VPD) is another tool that enables clients to see how the finished product fits together. VPD gives engineers a chance to reduce waste and tighten tolerances, thereby improving the product's quality. The company also utilizes another computer modeling program called finite element analysis.
Super Steel has ample equipment to satisfy its clients' manufacturing needs. Using lasers, CNC punch presses and plasma cutters, metal is transformed to exact customer specifications. More than 300 weld machines assemble parts for final use. In addition, batch cleaning and paint booths accommodate wet spray painting and powder-coating operations give products a protective finish. Super Steel also has a fully automated paint line with e-coat capabilities for large products requiring a superior finish.
The company can also assist with electrical, hydraulic and mechanical assembly. An on-site laboratory inspects and tests both fabrications and coatings including ultrasonic, cross-section macro etch, hardness and magnetic particle features. Super Steel has the capabilities to create fixtures for welding, drilling and forming – for in-house and client uses.
"We try to form integrated partnerships with our clients," Smith says. "We know the metal and steel requirements of their products and [the clients] supply the initial design."
Both Luber and Smith attest that it's the people at Super Steel who have pushed the company toward success. "We have winners working with us," Smith declares. "We support each other's efforts."
Through open communication, management conveys the expectations and goals to the employees. "We are a metrics-driven company and performance is achieved through team collaboration working towards our strategic objectives and goals."
Smith adds that management often solicits suggestions and feedback from the staff.  "We feel that engaged employees are the most productive employees," he asserts. "Our people are a big part of our solution."