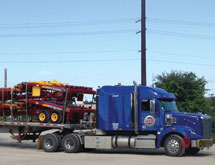 After 90 years in the contract manufacturing business, Super Steel is still learning that it has more to offer. Since 1923, the company has served heavy equipment manufacturers in the transportation, agricultural, construction, mining and other heavy industrial markets through engineering, fabricating and assembling metal components. This year, the company boosted investment in its contract painting line that CEO and President Dirk Smith says has led to impressive growth.
"I've been here for about three years as president and CEO and during that time we've grown from $27 million a year to $60 million this year," Smith says. "We've been on a good growth trajectory and paint is a big part of that. This was an in-place asset that was underutilized. The e-coat wasn't running so we resurrected the e-coat line and invested about half-a-million dollars to get a reliable, consistent and repeatable system."
Dirk says the investment was well worth it. He estimates that ground-floor costs to start a new painting line would cost $8 million to $10 million, but revamping an existing line is a fraction of that cost. The company hired 10 additional people to help run the line, which began operation in 2012 and ramped up additional capabilities in January, including blasting. Smith says orders have come in steadily, but the line still has room to grow.
"We've got a lot of activity and have booked a number of orders," Smith says. "We have incremental revenue coming in that's in line with what we thought it would be, our ramp-up schedule is going accordingly and we are reaching our ROI objectives."
While Super Steel continues to ramp up operations, the company's paint line offers customers reduced lead times when compared to competitors. Competitors may turn around jobs in two weeks but most customers want jobs done in three to five days. Super Steel is able to meet those deadlines and has leveraged that capability to win jobs.
Over the past three years, Super Steel has invested in other technologies, including a laser plasma table, brake equipment and a new ERP system. In this competitive landscape, Smith says anything that differentiates Super Steel from competition is a plus. It is focused on solutions that make customers' jobs easier.
An Added Touch
"Certainly the contract manufacturing division is evolving," Smith says. "It used to be that people wanted to just buy the metal component. They would ask for a fender or an outrigger but now they want more value-added. Now we tell them, 'We can do the metal, we can paint and we can assemble the hydraulic cylinder.' So instead of them getting 15 to 20 parts to assemble, they buy one component from us and we'll do the assembly. We've done assemblies with as many as 3,000 to 4,000 parts on it. It's a great opportunity to win business that not every manufacturer can do, so it differentiates us."
Smith says the trend has been evolving for the past five years and gained speed over the last two-and-a-half years. It gives OEMs the ability to fix their costs and build better relationships with key suppliers. For Super Steel, providing assembly services has spawned even more growth over the past few years.
"We are operating in one 450,000-square-foot plant facility and there's no reason we can't get back to being a $100 million company where we are right now," Smith says. "We are growing, and as a result we feel honored to have been recognized on the Inc. 500/5000 list of the fastest-growing private companies in America, the Future 50's 'Fastest Growing Company' of 2013, the Fab 40 list from The Fabricator magazine and a nominee for 2013 Wisconsin Manufacturer of the Year." In honor of the company's 90th Anniversary, Milwaukee Mayor Tom Barrett declared October 4th, "Super Steel Day," which honors the hard work that has been put into this Milwaukee-based manufacturer over the years.
Smith says all of the company's success is owed to a culture that empowers employees with the information and resources they need to do their jobs well. Smith, who is an Army veteran, operates on the motto that respect and trust are earned, and once earned lead to loyalty. Super Steel has taken steps to earn its employees' respect and trust and has received loyalty in return.
Super Steel provides its employees with the processes and tools they need to efficiently do their jobs, as well as metrics that let employees know where they stand according to company standards. As a result, Smith says Super Steel employees are informed and involved.
"We are selling a service and that's provided by our people," Smith says. "We work hard to cultivate the best and our customers see that. Our employees are empowered and engaged and want to be a part of something great and help make it better."