With a legacy stretching back nearly 90 years, Superior Essex Inc. says it has a reputation of high integrity and for delivering products with excellent customer service. "We are proud not only of what we are accomplishing, but of how we are achieving success," the company says.
"To protect this reputation, we continually strive to serve the best interests of our customers, employees and shareholders, while behaving as a responsible corporate citizen," Superior Essex says. "This commitment requires, among other things, that we act with the highest ethical and legal standards."
Based in Atlanta, the company is a leader in the design, manufacture and supply of wire and cable products. Superior Essex's history goes back to 1930, with the formation of the Essex Wire Corp. in Detroit.
Twenty-four years later, Superior Cable started operations in Hickory, N.C. It later acquired Essex International – formerly known as Essex Wire – and became Superior Essex in 1998. Today, "Our magnet wire and distribution business segment is the world's largest producer of magnet wire, also known as winding wire," it says.
Magnet wire, Superior Essex explains, is an insulated copper or aluminum conductor that major OEMs and distributors use. "Magnet wire is found in industrial motors, transformers and generators, automotive applications, electrical coils and controls, and appliances," it says.
The company also serves the North American telecommunications industry through its Communications Cable business segment. "Superior Essex is the industry leader in outside plant copper communications wire and cable products, which are used for voice and data transmission and are installed outdoors," it says.
Superior Essex also produces fiber optic-cables and copper cables for houses and offices. "These fiber and copper cable products are used in communications applications, such as interconnecting campuses, businesses and communities," it says.
Extensive Offerings
Superior Essex's divisions include Essex Brownell, a distributor of wire and cable, electrical insulation and critical components based in Fort Wayne, Ind. "Our extensive product offerings are used in a variety of different end-markets, including automotive, industrial, commercial/residential, energy, aerospace and medical," it says.
The company's European division, Essex Europe, leads globally in winding wire products. The firm supplies products such as round wire, flat enameled or covered wire, and continuously transposed cable.
"Most of these products can be manufactured with copper or aluminum conductors," Essex Europe says. "Thanks to the integration of our enamel manufacturing processes and a clear focus on R&D, Essex develops continuously, in close collaboration with its customers, new solutions for high-efficiency motors, renewable energy or electrical vehicles.
Superior Essex also has Essex Asia Pacific, which has manufacturing facilities in Suzhou and Changzhou, China. "Building on the strong heritage of Superior Essex, we offer a combined reputation of product quality, innovation, quick response and outstanding customer service," it says.
The company also has Hi-Wire Ltd., the United Kingdom's largest supplier of enameled copper wire, enameled copper flat wire and motor repair related ancillary products. "The continuing and improving satisfaction of our customers is the key to the future of the company and its employees," it says.
Superior Essex also operates through its parent company, LS Cable & System Ltd., based in Korea. The firm provides submarine, extra-high voltage, high-temperature superconducting and communication cables to power authorities, electric equipment manufacturers and common carriers.
"Our products can be seen throughout the Americas, Europe, the Middle East and Asia, so we are now recognized as a leading manufacturer serving global industries both in name and reality," it says.
Wealth of Experience
Superior Essex has an experienced management team includes CEO Brian Kim, who is responsible for its global operations. "[He] brings with him a wealth of experience and knowledge in the manufacturing industry as well as management," the company says.
Kim's previous experience includes serving as the president of LG Hausys America and leading its turnaround initiatives and restructuring projects. "Prior to that, [he] was SVP – corporate management officer for the holding company of LG Group, where he was involved in the strategy and decision-making for future business opportunities," the company says.
The team also includes CFO Augustine Shim, who serves also serves as the president of Cyrpus. In his role as CFO, he manages Superior Essex's financial operations and as president, is an intermediary between Superior Essex and LS.
Previously, he gained 20 years at LG Electronics, where he served 11 years as CFO. "[He] joined LS in February 2014 where he brought with him years of experience in management, finance, M&A and investor relations," the company says.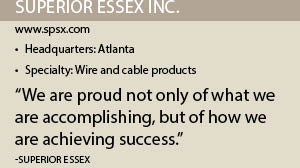 A Broad Portfolio
Superior Essex's product lines include its Premises cable, which it says offers stronger performance and quality than its competitors, and the best overall value. "From our 10Gain XP CAT 6A to our CAT 3 voice and data cables, to our Coaxial cables and our multimode and single mode optical fiber cables, we offer a broad portfolio of products that are essential for high-bandwidth applications," it says.
This line includes its Premises Fiber. "As a global leader in the design, manufacture and supply of a wide range of cable products, Superior Essex has a broad line of multimode and single mode optical fiber cables available for virtually every application," the firm says.
"Our optical fiber cables are manufactured and tested to ensure that all fiber meet Superior Essex optical specifications in a state-of-the-art facility in Brownwood, Texas," it adds.
The line also includes its Premises Cooper. "For more than 50 years, Superior Essex has designed and manufactured one of the broadest portfolios of premises copper cables available on the market," it says. "From Augmented CAT 6 cables to CAT 3 Station Wire to Residential Broadband to Coax cables, our voice and data cables are essential components for high-bandwidth applications at leading enterprises around the world."
The company also has its OSP copper wire and optical fiber communications cables. "[We have] more than 4,000 different designs available, including broadband, composite, fiber and copper wire," Superior Essex says. "This extensive line of products serves virtually every application for direct burial, aerial and high-risk installations."
Powered Up
Superior Essex's recent innovations include its PowerWise product line. "Our environments are smarter, more adaptive and more unified than ever before, requiring cabling that is just as efficient and versatile," it says.
The company developed PowerWise, a power-over-Ethernet cable suite, to allow customers to optimize and unify their enterprise spaces. These products include its PowerWise 1 Gigabit 4-pair Power-over-Ethernet (4PPoE) cable.
The product, the company notes, can transmit 60 watts of power with 97 percent power efficiency while supporting 1-gigabit data transmission. "Manufactured sustainably in a zero waste to landfill facility, PowerWise 1 Gigabit 4PPoE ensures that [our client's] cable network has limited environmental impact over the course of its lifecycle," Superior Essex says.
The company also highlights its PowerWise Fiber. "Designed with two 16 AWG copper conductors and two bend-resistant single mode optical fibers, PowerWise Fiber supports the high power and data transmission speeds [clients] need to extend power-over-Ethernet throughout [their] enterprise space, at lengths beyond 100 meters," Superior Essex says.
"Rugged yet easy to handle, PowerWise Fiber is easy to install and provides optimal performance, over the course of its lifecycle," the company adds.
Fitting the Bill
Superior Essex's recent additions also included its EnduraLite Indoor/Outdoor Loose Tube optical fiber cable. "Robust and flexible, the EnduraLite cable is uniquely designed to handle tough weather conditions in applications that require a transition of optical fiber between indoor and outdoor environments," it says.
The product, it adds, also offers increased environmental protection and dry water-blocking elements along with easier handling and installation. "EnduraLite cables are available in plenum and riser-rated designs, and meet all ICEA 696 requirements," the company says.
"For customers needed small, but extremely durable, weather resistant cables for applications that run through both premises and OSP environments, these new cables fit the bill," commented Paul Neveux, the director of global product management for premises fiber products in a statement. "We built our new EnduraLite Indoor/Outdoor cables to be both easy to deploy and easy to connectorize while still meeting stringent ICEA 696 requirements."
Partners in Innovation
This March, Superior Essex's Essex Magnet Wire division and Furukawa Electronic LTD. announced the formation of a joint venture to supply high-voltage winding (HVW) wire to the European automotive industry. "The new HVW will provide the latest technology advancements to automotive customers demanding lighter weight, thinner wires and higher voltage for electric motors," Superior Essex says.
Based in Bad Arolsen, Germany, the joint venture will be known as Essex Furukawa Magnet Wire Europe GmbH. "The joint venture will capitalize on the Essex leadership and sales force in the European automotive market, global supply chain, local manufacturing capability and Furukawa's HVW technical expertise, which will be licensed to the joint venture," Superior Essex says.
Takahiro Kashiwagi, the corporate vice president of Furukawa's Magnet Wire Division, said that the company developed a new type of winding HVW that contributes to the worldwide spread utilization of electric vehicles. "Our partnership with Essex Magnet Wire will allow HVW to be manufactured, distributed and locally sourced to the European automotive industry," Kashiwagi said. "We are committed to penetrate into automotive markets, by expanding applications of HVW."
"This new HVW will reinforce the leadership position of Essex in the European automotive market," Essex Europe President Frederic Weishaar added. "Especially in the development of new wire solutions for electric vehicles, in close partnership with our customers, auto manufacturers and Tier 1 suppliers.
"This HVW is the first-of-its-kind in the European automotive market and paves the way to a whole new market of innovative magnet wire design," he added.