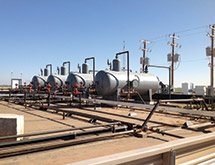 Superior Fabrication Inc.
When oil and gas producers need separators, crude oil treaters and fired heaters, they often turn to Superior Fabrication Inc. (SPI). Based in Elk City, Okla., the company custom fabricates production equipment for its clients.
President and CEO Terry Morse co-founded the company in July 1997 with Mike Fields in the heart of the Anadarko basin oil and gas field. At the time, both men saw a need for a quality provider of pressure vessels and related services.
Morse and Fields initially started SFI in an 11,000-square-foot space in Elk City and worked alongside their staff of seven. Eight years later, the partners established the Superior Fabrication Inc. Employee Stock Ownership Plan and sold their interest to the employees.
"That decision has been a great success story for the employees who are building a substantial retirement that will be in addition to and supplement their Social Security Benefits," SFI says.
Over time, the company also added space and grew through acquisitions, which included the purchase of Cammond Industries Inc., in Ada, Okla., in 2008. "Cammond was using robotic welding and the company also added a robotic welding machine to its operations in Elk City," SFI says.
It also acquired Superior Trucking Service Inc., an Oklahoma corporation, in 2012. "The acquisition [allowed SFI] to bring in-house one of its principal shippers and to capitalize on the mobile crane business," SFI says.
At the end of 2014, the company employed a staff of more than 300 employees, and it has multiple manufacturing locations with more than 184,600 square feet of fabrication and office space.
These include two fabrication plants in Elk City, two more in Ada, and one in Canadian, Texas. The company also has a field office in Bluebell, Utah.
"In 2015, SFI celebrated 10 years as a 100 percent employee-owned company, and looks forward to many more years in which both their customers and employees will benefit from their success story," it says.
Under SFI's Umbrella
SFI has three wholly owned subsidiaries, including Superior Energy Inc., which was acquired in 2006 and searches mineral titles and leasing mineral rights on behalf of oil and gas operating companies.
"They also buy and sell mineral rights and are looking into the drilling and production of oil and gas," SFI says.
Another is CASINJAC INC., which SFI acquired in 2012. It sells and leases hydraulic jacks that are used to raise and lower strings of pipe. "[SFI] manufactures these jacks for CASINJAC as well as the equipment used with the jacks, such as hydraulic power units, intensifiers, valve stands and hinged casing spiders," the company says.
SFI also has Superior Trucking Service Inc., which focuses on intrastate and interstate trucking of oil field equipment and rental of mobile cranes. "Many of the products which it hauls are SFI products and the acquisition allows the company to have a readily available source for the delivery of its products," it says.
In High Demand
SFI's newly manufactured products are in high demand, which it attributes to its quality and the ability to meet the timing needs of customers better than competitors. These include its battery-powered TruLight Igniter, which can be installed on all gas-fired equipment.
SFI also has its Vapor Recovery Unit (VRU) product line, which captures wasted natural gas so that it can be sold or disposed of safely. "The company has developed unique software to run its VRU controller, which differentiates it from its competitors," the company says.
The firm adds that its VRU product is superior to those offered by competitors. "The EVAC, VOC and VRU business is booming due to government regulations that require compliance and the company expanded its Ada plant to accommodate the growth in its emissions systems business," SFI says.
A Top Team
SFI offers its clients a staff blessed with strong expertise, which includes co-founder Morse. Before starting the company, Morse spent more than 17 years with Western Fabricators Inc., where he gained extensive experience with roles such as shop foreman, purchasing agent, quality control manager and vice president of operations.
SFI's COO, Randy Morse, is also a veteran of Western Fabricators who spent more than 17 years with the company. "In July 1997, he left Western Fabricators Inc. to go work for Superior Fabrication Inc. in outside sales where he worked his way up to his current position of COO," it says. "He has direct responsibility for all manufacturing operations of the company."
Chief Financial Officer Robert Lakey also serves as the general counsel and an ESOP trustee for SFI. "[He] practiced law and owned and operated several businesses after his honorable discharge from the U.S. Army in 1974," the company says. Chief Engineer Tim Rickel previously worked for Western Fabricators as a draftsman and grew to engineering and quality control.  In 1997, he joined SFI where he is in charge of engineering, product design and specifications. Additionally, "He manages the engineering department as well as the quality control department," the company says.