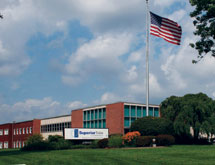 When private investment firms acquire midmarket companies, they have the potential of taking those enterprises to new levels of success. That is exactly what Superior Tube Co. Inc. hopes to reach with its new owner, President and CEO Anthony Jost says.
The Collegeville, Pa.-based Superior Tube manufactures small-diameter tubing for multiple markets, including the aerospace, energy and medical arenas. In fact, the company's tubing supports the lives of many who have implantable cardiac devices.
Superior Tube's history goes back to 1934, and led to many spinoffs. According to Jost, the greater Philadelphia area became a "center of specialty metal tubing" during World War II.
Today, Superior Tube operates from a mill in Collegeville that spans more than 300,000 square feet and has extensive equipment for cold working both light and heavy wall tubing. In addition, the company can make tubing out of more than 250 alloys.
Joining Together
In September 2012, The Watermill Group, a private investment firm, acquired Superior Tube and Fine Tubes Ltd., a tube manufacturer based in Plymouth, United Kingdom. Both firms, Jost says, operated under the umbrella of Superior Group Inc. until last year.
Before the companies were offered for sale,  "Each business was told to get itself ready," Jost recalls. While Superior Tube could have been sold separately, Superior Group  decided to sell it together with Fine Tubes. According to Watermill Managing Partner and founder Steven E. Karol, both have plenty to offer to his firm.
"Watermill was attracted to the unique, high-quality and highly technical capabilities of these companies," Karol said in a statement. "Our vision is to capitalize on the complementary strategic, technical and market strengths at each company to develop a thriving industry leader that can scale its production and grow alongside its customers."
Superior Tube and Fine Tubes are thrilled with the decision to sell to Watermill because of its background, Jost says. Although the investment firm had never owned a tubing company, "They have been in the metals arena and are familiar with the challenges and opportunities that are present," he says.
Its financial history gave it leverage, as well. "Watermill has a track record of successfully working with management teams on developing a strategy that can succeed in a competitive world, particularly with the global metals business," he says.
Fine Tubes Managing Director Ronen Day also expressed his appreciation for Watermill at the time of the purchase. "The Watermill Group brings resources to our company that will be key to the next phase of our growth," he said. "As Superior Tube and Fine Tubes work more closely together, customers can expect to see significant advancement in our service levels, production capacity and international reach."
Synergy in Tubing
Although Superior Tube and Fine Tubes did not regularly work with each other before the acquisition, the firms have easily found areas of synergy due to their differences, Jost says. While Superior Tube focused on the North American markets, Fine Tubes usually served clients in Europe and the Middle East.
Now as partners, the two can cross-sell geographically, Jost says. He notes that the companies can do the same when it comes to specific industries, particularly the medical sector.
While Superior Tube focused on tubing for cardiac devices, Fine Tubes provided products for orthopedic applications. "It gives us the opportunity to approach the markets [we share] in a comprehensive way," Jost says.
The Years Ahead
Jost says he is confident that more good years lie ahead, with both Watermill's ownership and Fine Tubes' partnership. "The combination of Watermill, Fine Tubes and ourselves [is] going to create a global platform that will make us the leader in high-performance metal tubing," he predicts.