Sur-Seal has bolstered its organic growth with a number of key acquisitions
In 1965, Edward Wilz, a professor at Xavier University in Cincinnati, OH, founded Sur-Seal as a family-owned and operated business, which it remained until the late 2010s when it was acquired by a private equity company. Throughout the last almost six decades it has grown and expanded through innovation and acquisitions, and is known today as Sur-Seal Advanced Material Solutions.
Besides growing into a major player within HVAC and LED lighting, at a glance, the company serves the aerospace, alternative energy solutions, industrial and healthcare markets. Within these, it offers a range of services such as CNC and die cutting, laminating, rapid prototyping, laser and optical inspection, precision slitting, water jet cutting, sheeting, molding, and many others.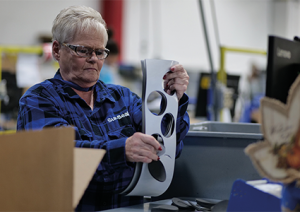 Over the last couple of years, Sur-Seal has acquired two companies within a similar field, Mueller and Spectex, as Pete Futia, Chief Operating Officer, details further: "Mueller Die Cut Solutions is an 80-year-old family business over in Charlotte, NC, whilst Spectex operates out of Dover, NH. The way in which we work together is by all processing similar materials for similar markets, using similar forms of technology. So what we are aiming to collectively offer our clients is the supporting power of three businesses, along with the slight differences in each other's products and services, to ultimately gain a larger share of both the customer base and the industry.
"Whilst this combined larger size allows us to buy better, being three smaller enterprises means that we can offer a certain intimacy and closeness when it comes to customer service. We have been streamlining ourselves from a marketing and operations point of view, but it's all geared towards ensuring the success of our clients by being as easy for them to conduct business with as possible. The acquisitions have improved our accessibility enormously, as we now have more locations, more distribution centers, more sales people and products, and a lot more experience."
A united team
The ownership of multiple sites has meant Sur-Seal can recover from setbacks, saving itself and the best interests of its clients from any unforeseen delays. Another benefit is the greater capacity with which the company is now able to serve its bigger customers. Being a well-capitalized collective, every piece of equipment in Cincinnati is in the process of being upgraded, just as the Charlotte location has continued to evolve with new capabilities.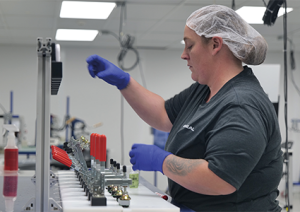 To unify the three businesses, Sur-Seal has developed a new brand. "When we had three separate brands, it was a little confusing for the consumer," Billy Lipari, Marketing Director, explains. "We want people to be immediately aware of who we are and what we do, which is why we dropped the other names and devised new brand guidelines. We have revamped the website to further communicate what our value proposition and experience offerings are. Culture wise, we were already similar, but until everyone's under one name, people are not going to feel part of a united team.
"Communication and transparency have been key in facilitating this change successfully, as well as plenty of travel time to shake hands and introduce ourselves properly to our new colleagues. We have all served similar markets for a long time and have a lot in common, but people respond to in-person interactions the most. If you look someone in the eye and tell them the truth, they can feel your passion and commitment, then you just have to back it up with the necessary action. If we don't know an answer, we tell them that. People are people no matter where they are, they just want to know that they're secure and their future is looking bright."
Indispensable partner
Turning attention to the company's environmental responsibilities, Sur Seal has recently abolished the use of propane across all of its sites. This coincides with its recycling initiatives, which have extended to investing in technology that is capable of compressing four compactor's worth of waste down into a single unit, making it easier to manage. "Sustainability is an important consideration for our customers, so we are constantly striving to find our way," Pete continues. "We learn from our clients and vendors, by working alongside them to produce parts kits that require less material and by better managing our waste. Better yield, better cost, less to land fill, everybody wins. We don't pretend to be perfect, but we're definitely heading in the right direction.
"In five years' time, I'd like to see us with five manufacturing locations, not just three. I hope by then we will have made decent ground within our current emerging markets, such as the medical and electric vehicle industries, and have an even larger network of teammates with yet more ideas and technologies to bring to the table. On account of our stellar reputation, we have so much potential for partnerships within our customer base.
"Some people are all numbers and metrics when it comes to measuring success," he concludes. "We obviously have budgets, KPIs and targets, but my idea of a real triumph will be to figure out, with our customers, what we need to be providing to make ourselves an indispensable household name in the market. Once we've achieved this, and we become a constant for them, then we can all continue to win together."