On board with change
Whether it's turning fish waste into energy or developing the world's most environmentally friendly fibre-based boards, Swanline Group is a leading light in the industry's quest for innovative, sustainable solutions
When Swanline Print's current owners acquired the company from a husband and wife partnership in 2001, the firm was a trade supplier of screen print services, turning over around £350,000 per year. Today, with an annual turnover of £20 million, Swanline Group is the UK's leading trade only supplier of fibre-based materials, print, and conversion services to the packaging and point-of-sale (POS) sectors. As Group CEO Nick Kirby suggests, the firm has come a long way in 20 years.
"The strategy when we bought the business was to build on the trade model," he says. "So, we would be supplying a company before it went to the end user – typically a middle man like a corrugated box plant, a point-of-sale company or a print management firm – and that would be the unique nature of Swanline. It remains that way to this day.
"Over the years, we have expanded the trade services beyond just print, to include constructional design, die cutting and finishing. We've invested in state of the art die cutting machines, gluers, and in more capacity on the print side, and continue to bolt on new services, all allied to the original print business."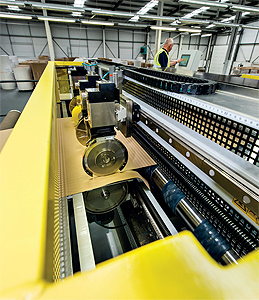 Aware of the sometimes unpredictable nature of the industry, in 2004, Nick and his team set out to find ways to create a steadier stream of activity. "As a business, we were suffering from fairly steep peaks and troughs because the POS demand is quite cyclical. In an attempt to iron this out, we started another company called BoxMart with the aim of selling gift packaging from stock. It worked well," Nick remarks. "BoxMart is now a significant contributor to Swanline's income and sells a lot of ecommerce and gift packaging online through its website www.boxmart.co.uk as well as being an award-winning supplier of tailor-made presentation packaging."
With an eye for technology and an eagerness to expand, in 2013 the group invested in two ground-breaking digital platforms making Swanline one of the first companies in the world to use digital print in corrugated packaging. Adapting to the changing needs of its customers and predicting consumer trend changes, Swanline became more active in ecommerce packaging and the company is still widely viewed as a pioneering organisation in the area of digital technology.
Circular economy
As Swanline approached 15 years in business, the organisation took on its most adventurous project to date, when in 2014, Nick approached a number of the company's customers with the aim of creating a corrugated sheet board business. Back then, it is unlikely that even Nick could have predicted the new organisation's future impact.
"CorrBoard UK was built through a consortium approach with the uniting factor being that all our companies used the same materials," Nick explains. "It was a £15 million project and we originally had nine partners in total, with enough pooled volume to justify the investment. The corrugated sheet board we produced was fed into the consortium, which meant the company was totally independent of the need to buy from external sources. We controlled our own destiny in terms of material supply."
Keen to become the most environmentally efficient sheet feeder in Europe, CorrBoard announced in 2016 that the company had received planning permission to construct a 500-kilowatt anaerobic digester (AD) plant at its site in Scunthorpe, North Lincolnshire. An autonomous joint venture between Swanline and McLaren Packaging, CorrBoard Bioenergy (CB Bio www.corrbio.co.uk) is the world's first sustainable energy generation facility fuelled by organic waste to provide heat and power for the manufacture of corrugated sheet board.
"There isn't another such model on earth," Nick proclaims. "It's the most exciting project we have been involved in. We now have customers buying packaging for food products and supplying food waste into the energy plant that gives CorrBoard the power to produce the material for their packaging. We have created a truly robust, sustainable, circular economy and the ability to link our businesses in this way is a massive USP."
Thanks to CorrBio, in February 2020, Hull-based fish supplier Three Oceans Ltd became the first company in the world to use corrugated board powered by its own fish waste. Nick suggests that the unprecedented achievement is likely to be the first of many for CorrBoard.
"Three Oceans was the first company to take advantage of this unique sustainability initiative," Nick states, "but there will certainly be more. We are involved in contracts with food waste and just this morning I talked to a CorrBoard customer who wants to backload waste from one of their clients. The client is almost next door to them in Essex, so with back loads for waste, the carbon footprint is good too. Businesses are under constant pressure to improve their sustainability and by offering to process their waste to feed the bioenergy plant that will make their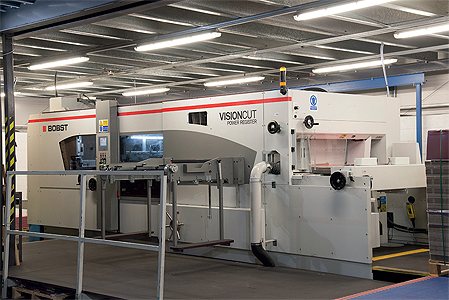 next batch of packaging, CorrBio is giving them a solution."
Building on the success of the company's work with Three Oceans, Nick says CorrBio currently has six prospective deals awaiting approval. "Some of them are massive projects and I think we will be in a position to choose the best feedstock for the energy plant," he adds. "It's an enviable position to be in for an anaerobic digestion plant as you usually have to take what you are given, but we will be able to choose good waste for maximum energy. The majority of that energy will be directed to CorrBoard UK next door, but the residual energy generated goes into the National Grid for the benefit of the nation's public."
Appetite for sustainability
CorrBoard's accomplishments have had a widely positive impact on the Swanline Group and, in many ways, helped to facilitate the success of Swanline Paper and Board. Established in 2015, a year after CorrBoard was founded, Swanline Paper and Board is a converter and distributor of fibre-based materials, committed to creating innovative, sustainable, high-performance packaging and point-of-sale solutions.
An early milestone for the business was a £3 million investment in a bespoke Fosber/Stock sheeter, complete with Emmepi materials handling equipment, allowing Swanline Paper and Board to switch between paper and corrugated substrates. A truly state-of-the-art piece of equipment, the machine can run at 220 lineal metres per minute for reels of paper and single faced corrugated up to a sheet size of 2050 x 1640 millimetres. The technology flung wide many doors that had previously been closed to the company. Swanline Paper and Board's Managing Director Ross Griffin was an active part of the evolution.
"Building on our regular production lines, which included the conversion of single faced corrugated, box boards, top liners, and litho laminating processes, we began to develop the ground-breaking Cygnus Eco Board," Ross reveals. "Cygnus Eco is a display board with all the environmental credentials a customer could want – FSC, compostable, biodegradable, water resistant, and most importantly, it can replace so many single-use plastic items.
"Four years on and we've developed around 40 different applications for the Cygnus Eco Board across the range. It can be used for any number of things, including external signage, ice buckets, ecommerce boxes, tree guards, the list is huge. It all works in conjunction with a pledge we made last year to become plastic free across our portfolio."
In order to stay at the forefront of innovation and ensure that the company continues to develop products like Cygnus, Swanline invests heavily in Research and Development. For Ross, R&D will always be at the core of everything Swanline does.
"We have eight structural designers in-house who are constantly developing new ideas for the use of our boards. We throw a lot of challenges at them," he asserts. "Not only do we have an internal design lab where we work in partnership with our customers, but we also have an outdoor lab – 'Nature's Lab' as we call it – where we have tree sapling protectors, bird boxes and festival tents on trial to see how they weather. In some instances, I have had materials out there for 18 months and they are still in very good condition, which shows the longevity of the design. It's great for trialling products and building on failures because we can ask ourselves, why did that not work? We can then add a biodegradable coating, tuck, or a fold, or some structural support to ensure that Mark Two of that project will be a success."
As well as developing new products such as the Cygnus Excellent Board, a phenomenally strong, display board for indoor signage and POS application, Swanline Paper and Board has recently been producing personal protective equipment (PPE) such as face shields, cough screens, and corridor dividers for schools to help support the national effort during the Covid-19 pandemic. Ross explains that the manufacture of PPE face shields was triggered by an unexpected phone call.
"I had a call from my brother who is CEO of a cyber security company," Ross recalls. "One of his friends is a surgeon who was working 12 to 14-hour shifts and was concerned about the lack of PPE available to nurses, ambulance drivers, and his other colleagues. We knew we had to help and so the next day, working with Linsey Brookes, our Director of Design and Graphics, we came up with a working solution. After feedback from our contact and a couple of adjustments, we developed the final product that is in use today. I think it shows how quickly we can adapt and work in collaboration with clients to come up with solutions. We have the experience, the resources, the understanding, and the flexibility to do that.
"We have always aimed to be a bit of a disruptor," Ross claims. "That's part of our culture and our ethos. If something is done in a certain way today, it doesn't have to stay like that. An example of this is in the way we approach plastics. We were the first merchants in our industry to be plastic free. Now, that doesn't mean plastics don't have a use in the right place at the right time, but single-use plastics that clog up landfill and oceans for generations can be replaced. We have developed, and are still developing, solutions that are truly sustainable and cost-effective. We challenge convention and are designing products that are ahead of their time and in line with consumers' greater appetite for sustainability."
Swanline
Products: Converter of fibre-based sustainable materials