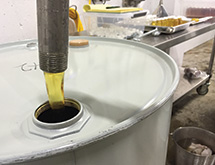 Many maple product companies focus solely on syrup, but not Sweet Tree Holdings. "We have no intention of selling [just] syrup on the marketplace," CFO Michael Argyelan says.
Based in Island Pond, Vt., Sweet Tree Holdings plans to develop a broad maple product line, ranging from syrups to beverages. The company, which is part of the portfolio of Wood Creek Capital Management LLC, has a history going back to 2013.
That year, Wood Creek's managing director, Bob Saul, purchased the startup company's first property. "The idea back then was to establish a maple producing company that could compete in the world marketplace against other world conglomerates," Argyelan recalls, noting that the company purchased another 3,500 acres and a former Ethan Allen plant in Island Pond.
Product Platforms
By the end of 2014, Sweet Tree Holdings installed 93,000 taps and installed four reverse osmosis machines on its first property. "We produced our first crop of about 36,000 gallons under those taps," Argyelan says, noting that the firm has three primary categories for its maple products.
"One is obviously maple syrup, maple sugar derivatives and a host of things of that nature," he says, noting that these include candy and creams. "[They] will be branded under the name 'Sugar Moon.'"
The second category is its Sweet Tree Beverages line, which consists of maple water and ready-to-drink ice teas that are sweetened with maple. "A 16-ounce bottle has only between 50 and 80 calories with a natural Maple sweetener," he says.
Although Sweet Tree Holdings has several competitors in the maple water market, "No one else owns their own trees," Argyelan says. "They usually buy from people like us."
The third category will consist of distilled beverages that will be sold under the Ring 50 brand name. "It takes 50 years approximately for a maple tree to grow in maturity developing 50 growth rings," Argyelan says.
So far, "We have test made our first batch of vodka," he says. "We're in the process of testing batches of a bourbon-style type of offering. We could also make a maple liqueur."
Sweet Tree Holdings is pursuing other derivatives of maple products, including a smoked maple syrup and a syrup aged in bourbon barrels. Additionally, "We [manufactured] a maple vinegar to make balsamic-type products," he says.
Revolutionary Work
Sweet Tree Holdings continues to grow the scope of its operation. "We just signed a multi-decade lease [for] another 9,000 acres in Vermont," Argyelan says, noting that the company will have 750,000 taps when finished.
The company also invested in equipment that will "revolutionize" maple manufacturing, including its evaporators and reverse osmosis systems designed by CDL Inc. "Both are different from what anyone is using and is cutting edge technology," he states.
Sweet Tree Holdings also plans to install a three-mile pipeline that will be attached to vacuum pumps bringing the syrup to its facility. "That will save a lot of trucks from being on the road reducing our carbon footprint," Argyelan says. "The sap will gravity feed from the trees on the mountain to tanks and then enter the vacuum system."
Ready to Adapt
Argyelan is proud of how quickly Sweet Tree Holdings has come together, from start to production. "It's absolutely amazing that we pulled it off," he says. "People are working with our employees to put it together and tap all those woods."
This required extensive internal training for its staff, which consists mainly of locals. "It's good that we can bring employment to that area," he says, noting that the region has been economically depressed.
"The majority of the men and women who work with us are very skilled," he says. "We trained them on what they need to be doing and they adapted very quickly."
This includes working during harsh weather. "Because of where we are, these guys work in pretty much all conditions, including snow, sleet and rain," he says.
A Maple Legacy
Argyelan sees a strong future for Sweet Tree Holdings, which plans to have its teas and maple syrup in stores by the end of this year. "The beauty of this is our investors are fully committed to the project, [which will] make a long-term business viable," he says.
Unlike other startup companies, "We don't have to worry about what we're doing next week," Argyelan says. "[We're focused on] what we're creating for the long term to make a maple legacy."