Investing in the future
Innovation, value for money and customer engagement all define Swift's current success and with momentum growing the future looks bright for the UK's leading caravan manufacturer
Now employing over 1000 staff and turning over more than £200 million annually, Swift Group has grown to become the UK's largest leisure vehicle manufacturer since it was first established back in 1964. With a range of products designed to suit all budgets and requirements, Swift is the leader in the tourer caravan and motorhome markets with shares of 40 per cent and 22 per cent, respectively. Possessing a 20 per cent share it is also
amongst the leading producers of holiday homes.
When Manufacturing Today Europe featured Swift back in May 2015, Group Commercial Director, Nick Page, spoke of the company's approach to innovation and the unprecedented growth it was experiencing, achieving record sales and having already sold out of its 2016 season motorhome production capacity. Today, the success story continues with improved sales performance and a number of awards under its belt. "All our products have been greatly in demand over the last few years," Nick begins. "Last season we sold out a little too early and this season is looking similar."
Whist the domestic UK market remains a key stage for Swift, over the past few years its export activities have seen considerable growth, notably increasing 34 per cent over the past two years. Putting this into context, in 2015 the company placed 95th in the Sunday Times Top Track 200 for Britain's  Private Companies with the Fastest Growth in International Sales. Markets for the group now extend across the globe from Europe and Iceland to Sri Lanka, South Korea and Australasia.
"Behind this success we have a very sound business and a management team with over a hundred years worth of combined experience and a fantastic team of people that are aligned to the company vision of delivering the very best market-leading products," Nick explains. "In terms of our products we deliver an outstanding array of features including SMART HT – the world's most advanced caravan construction system – innovative styles and designs, and great value products, all supplemented by an ability to react quickly to market demands."
The latest addition to Swift's innovative range of product features is Swift Command, which features across the top end of both its caravan and motorhome ranges giving customers the ability to monitor and control certain features like lighting and heating remotely via the internet or through an app.
Such commitment to delivering high quality product offerings to the market has resulted in a number of prestigious awards over the years. Most recently Swift was awarded the Best Family Caravan under £15,500 at the National Caravan Awards 2016 for the Sprite Freedom 6TD package it offers.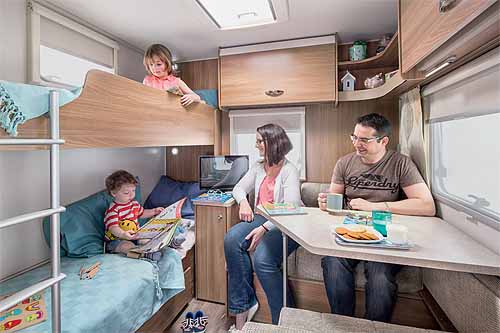 Providing exceptional affordable value for families, the caravan utilises the innovative SMART Plus construction process that is normally reserved for the more expensive models. "We were also recently awarded the Luxury Tourer of the Year 2016 for the Elegance/Continental range from Caravan Times," highlights Nick. "Importantly this was voted for by actual customers, rather than journalists, and is testament to the high quality product offering and superb user experience our customers have had with this exceptional range of caravans."
Also helping to solidify its position as a leading player in this consumer market is an exemplary approach to marketing. "We have run a number of different initiatives that have worked for us over the last 12 months such as 'First Time Buyer' and 'Swift Experience'," Nick continues. "These are designed with the aim of attracting new customers to the industry, to visit shows and to hopefully help them on their way to leisure vehicle ownership. The 'Swift Experience' follows several existing Swift owners via social media and PR activity showcasing how appealing ownership is and the myriad of opportunities it opens up. We believe that this has definitely encouraged new customers into the industry."
To cope with such popular success and the ensuing growth, Swift undergoes a continuous programme of investment to improve manufacturing capabilities and increase production capacity. Back in May 2015 Nick mentioned the £1.5 million investment into a state-of-the-art CNC router, and it is currently in the middle of a further £1.75 million programme to install a new laminating facility. The new facility will allow the company to produce panels to a high quality standard as well as enabling it to change the technical specification of its entire touring caravan and motorhome product line up bringing noticeable customer benefits.
"In addition to this a new assembly hall will be built adjacent to the current production facility here in Cottingham allowing us to consolidate our holiday home business onto one site," says Nick. "The new facility will also incorporate a large covered storage area for just-in-time component delivery.
Preparatory works have already started with the main element due for completion before April 2018 giving us the additional production flexibility with an enhanced ability to respond appropriately to the market. Ultimately, it clearly signals the business' intent over the coming years to increase its production capacity."
Over the next year Swift plans to continue its trailblazing progress in the industry with further innovative product, service and initiative launches further anchoring the company at the forefront of the industry across its entire range. On a concluding note Nick sums up the company's positivity as it looks towards the future: "We will be continuing our sponsorship of Team Wiggins in partnership with Sir Bradley Wiggins and are providing two new 2016 motorhomes for the team to use during the Olympic build up. Overall we have a very exciting year ahead and are looking forward to the new 2017 season where we have some exciting product launches including a new highly appealing leisure vehicle targeted at attracting new customers to the industry."
Swift Group
Products: UK's leading manufacturer of motorhomes, caravans and holiday homes