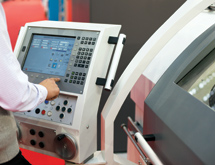 As a leader in precision machining, Swiss Automation Inc. knows exactly how to best serve its hydraulic, telecommunications, electronic, medical, dental, automotive and instrumentation industry customers. Quality has ruled its operation for its nearly 50 years in business, resulting in a successful company that customers come to for its advanced technology as well as its staff of skilled craftsmen.
"We utilize the latest technology in multiaxis CNC Swiss screw machines, enabling us to service our customers with speed, quality and precision," the company says. "Swiss Automation is one of the country's largest holders of Tornos-Bechler DECO CNC Swiss screw machines – the only Swiss-made, Swiss-type screw machines. This technology allows our customers to design complexity into their product features because we have the technology to support their specifications."
Based in Barrington, Ill., Swiss Automation is ISO 9001:2008 certified. Its Barrington facility is 44,000 square feet and its nearby facility in Cary, Ill., is 34,000 square feet. The company notes its state-of-the-art equipment allows it to produce complex parts in one operation, saving time and money; produce components with tolerances to .0002-inches; machine parts up to 2 inches in diameter; reduce set-up time and quickly change the machines for new jobs; and serve customers with accuracy, precision and short lead times.
"Our quality assurance and customer service programs are comprehensive," the company says. "Customer needs are handled with care and efficiency, from quoting through final inspection."
Advanced Capabilities
Swiss Automation got its start producing simple screw machine parts made on CAM-operated screw machines. The company added CNC machines in 1984, and by 1998 it phased out all of its mechanical equipment and was using CNC tools exclusively.
The company has found that the products it needs to manufacture are now more complex, creating a need for more advanced machinery. Swiss Automation explains the items it produces today feature cross-hole drilling and tapping, slot milling, polygon milling, C-axis milling, miniature hole drilling, pickoff with complex and extensive backworking, milling of non-conventional forms, and eccentric and off-center work. Additionally, its capabilities allow customers to design complexity into their product features because it has the technology to meet their specifications.
"Swiss Automation is committed to having the latest technology in Swiss-type machine tools," the company says. "We have averaged capital equipment purchases of $2 million per year since 1998. This investment reflects our commitment to serving our customers with the ability to produce complex parts at high speed and efficiently. Swiss Automation has a reputation for high-quality machining."
'Commitment to Growth'
To ensure an ongoing dedication to quality machining, Swiss Automation offers an apprentice program. Its CNC machinist apprentice program, for example, starts in Swiss Automation's inspection department and participants learn to read blueprints and use measuring devices. After succeeding there, the apprentice goes to the shop floor for training on the equipment, learning how to load the machines, check parts, sharpen tools and make offsets on the controls. Eventually, the apprentice learns how to set up and program the machines. So far, Swiss Automation has graduated more than 140 people from its apprentice program.
"Our apprentice program is recognized as the best training method within the industry," the company says. "New hires are trained in all facets of inspection, tool room procedures, machine maintenance, machine operation, tool making and programming. Instruction is provided by our experienced machinists as well as the equipment builders themselves."
This apprenticeship program helps Swiss Automation ensure it has a quality workforce, but it also has an extensive quality program to help it maintain high standards for customers. The company explains its quality assurance department is fully equipped with the latest technology in optical comparators, surface roughness gauges, Sunnen bore gauges and high-powered microscopes. Swiss Automation also has hundreds of micrometers, dial micrometers, pin gauges and thread gauges, as well as a comprehensive calibration program to keep its gauge accuracy up to date.
"Swiss Automation's commitment to growth and technology means our customers will continue to be served with the highest-quality components produced with the latest technology and efficiency," the company says.