For many manufacturing companies, buying their first 3-D printing machine is a way to offer prototyping to customers. Swiss Automation saw it as a way to improve safety. Cutting tool injuries accounted for 30 percent of injuries annually at the Illinois-based machining company.
Each injury represented lost time for the employee and impacted production. Swiss Automation needed a way to reduce those bruises and lacerations. "There was nothing you could buy on the market for these cutting tools," Vice President Vanessa Malo says of add-ons to make the machines safer.
Using a $2,200 3-D printer, the company made tool covers in-house that better protected its workers, saving the company money due to medical care and lost time. Since then, Swiss Automation has upgraded to a more expensive model and found additional uses for its 3-D printer, such as fabricating fixtures and replacement parts. "It pays for itself just for our own in-house applications," Malo explains. Thus far, 3-D printing has saved the company more than $30,000 through replacement parts, fabrications that protect parts during production and inspection, medical care and lost time costs.
Swiss Automation has also begun using the 3-D printer to prototype components for customers. "It's definitely becoming popular and in-demand," Malo says of the technology. "At the very least, we need to stay open minded about it. It's a problem solver, a solution maker."
For 50 years, Swiss Automation has been a problem solver and solution maker for its own customers. Ken Malo, Vanessa Malo's father, founded the company in downtown Chicago in 1966 as a one-man operation using Swiss made Tornos cam-driven machines purchased from the Elgin National Watch Co. Ken Malo's vision was to turn his small metal components manufacturing business into a high-quality company known for working in a high-quality environment.
He moved Swiss Automation out of downtown Chicago and into the affluent northwest suburb of Barrington, Ill. At the beginning, Ken Malo lived out of an apartment in his shop. He did his own invoicing and quoting, purchased material and brought it to the shop by strapping it to the sides of his car.
Eventually, Ken Malo hired Gerry Saucy, a third-generation Swiss watchmaker who stayed with the company for 33 years. His third employee, Jose Trujillo, is still with the company today and has brought several family members into the business. The company that was once a one-man operation now boasts 210 employees. Vanessa Malo says the turning point occurred in 1984 when Swiss Automation added its first computer numerical control machine, enabling the company to produce parts quicker and with more accuracy. With better capabilities, Swiss Automation diversified what it could make and reached new customers.
Customer Connections
Everything Swiss Automation produces is custom made for its customers. Some parts run for a day to fill an immediate order, while other machines have fabricated the same components for years to accommodate longstanding clients. The company is capable of producing parts within 0.0001 inches of accuracy up to 2.75 inches in diameter.
The advantage of Swiss machines, Malo explains, is that anything with a sliding headstock is able to get the cutting tool as close to the material guide bushing as possible, resulting in less vibration in the metal. She says the company also has a great inspection department that can issue gaging of tolerance and measure whether a part is within the acceptable range. Its machinists are equally skilled. "The machines are only as good as the people running them," she adds.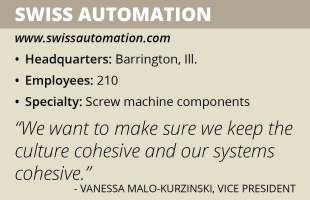 Medical and hydraulics customers are Swiss Automation's largest markets but the company also serves the defense, aerospace and electronics industries. Most of its customers are located in the United States but Malo says a few are based internationally.
Swiss Automation's lineup of 140 machines includes equipment from Tornos, Citizen and Eurotech. Malo says Tornos supplies Swiss made, Swiss-style CNC screw machines that are great for the smallest parts. Japanese-made Citizen Swiss-style CNC screw machines make up the bulk of Swiss Automation's equipment and can accommodate parts up to 1.25 inches in diameter. The Eurotech machines, from Italy, can accommodate larger diameters.
The company's workforce is spread between two nearby facilities, one in Barrington and another in Cary, Ill. The Barrington facility, which opened in 1998, is 50,000 square feet and the Cary one, which opened in 2010, is 52,000 square feet. Both facilities went through an expansion in the summer of 2015. Swiss Automation added 6,000 square feet for more shipping space in Barrington while 15,000 square feet was added to the Cary building to accommodate up to 70 new CNC machines.
The opening of the Cary facility effectively doubled the company in a short time period. Malo admits there were growing pains as Swiss Automation tried to reproduce its manufacturing capabilities and culture. To aid that process, the company put a 15-year veteran employee in charge of managing the Cary operation. "We want to make sure we keep the culture cohesive and our systems cohesive," she says.
Swiss Automation engages its customers throughout the manufacturing process. An order starts when a customer sends the company a blueprint and requests a quote. Swiss Automation's head foreman and engineers review the design, determine feasibility and estimate how long manufacturing will take.
If the customer choses Swiss Automation, the part goes through quality control first to ensure there are no flaws in the blueprint. A programmer develops a program with state of the art software for each part and machine. A machinist then sets up the CNC machine with tools. The part is then fabricated and must pass a final inspection before being sent to the customer.
Investing in People
Although the company has extensive capabilities, Malo says people make the difference at Swiss Automation. "We train from within," she explains. "We have several people who have been here for 10, 15 and 20 years who really help promote our culture and training."
The company is constantly investing in new technology to aid those employees. Since 1998, Swiss Automation has averaged $2 million annually in capital equipment spending, including more than $5 million in 2015. Malo says those frequent equipment refreshes result in faster production systems and more precise results. The investments also make employees feel more valued. "They are very flattered when they get a new machine in their area that the owner trusts them with," Malo adds.
She describes Swiss Automation as a tightly-knit group with a family atmosphere. Malo herself began working for her father's business when she was 16 and many shop employees hail from the same 24 families. Swiss Automation strives to cultivate that family atmosphere by relying on referrals to find applicants. Malo previously worked in human resources and says it was difficult to secure the volume of qualified applicants she needed to fill openings.
Swiss Automation wanted employees with a mechanical aptitude, the kinds of people who worked on cars or took apart toasters in their spare time. But traditional advertising wasn't uncovering those types of job seekers.
Malo says she looked to the company's past and discovered that nine out of 10 machinists hired were through referrals. Armed with a better understanding of where it was finding employees, Swiss Automation scrapped its job advertising budget and put it all toward referral bonuses. "The quality of candidates certainly is better," Malo says.
Swiss Automation grows by following its customers' demands. "That's what prompted us to build the addition," Malo explains. "But we always over-expand." If the company anticipates there will be enough demand for 10 more CNC machines then it creates space for 70. "Build it and they will come is sort of our thing around here." Following the 2015 expansion, Swiss Automation's Barrington facility still has six acres free where the company could add another 50,000 square feet. The Cary facility also has space for 70 more CNC machines. "We anticipate that will carry us through the next nine or 10 years," Malo says.
Expanded capacity will give Swiss Automation more leeway to diversify its output. "New customers help us to be better machinists, too," Malo says. The company is ISO 9001 certified and is working toward ISO 13485 certification for medical devices.
Malo says she is proud of how the company is willing to take on those new challenges. "I'm just so impressed with my father's vision and the ability to fulfill that vision," she explains, adding that employees share in that vision and take it as their own. "People don't just treat it as a job. They treat it as a career and they have a lot of pride in it."