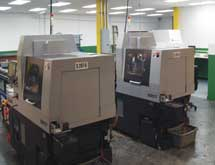 Swissline Precision Manufacturing
Any manufacturer worth its salt has to deliver on customer expectations. Founded in 1985, Swissline Precision Manufacturing's reputation has been forged by doing whatever it takes to meet and exceed all expectations. Based in Cumberland, R.I., Swissline has a 36,000-square-foot manufacturing facility and employs 59 people on a full-time basis. It serves several markets, including aerospace components; microwave, computer and electronic equipment; valves and fluid-handling equipment; biotechnology instrumentation; analytical Instrumentation and medical Instrumentation.
Quality and Speed
One of Swissline's defining characteristics is its ability to complete quick turnarounds for customers. This proved to be beneficial when the economic troubles began, because the company was able to readily adjust to an environment where clients weren't ordering as much as they used to.
"Our people are trained to manage production so we can turn things around quickly," President David Chenevert says. "Our forte has always been short to medium production runs, and we made additional adjustments to handle the changes caused by the economy. Now, we're starting to see business pick up. We've seen an increase in sales of 20 percent over last year, so we're heading back in the right direction."
Swissline's machining capabilities extend to a variety of materials, which include conventional and various types of stainless steel as well as exotic aerospace alloys, including titanium. Thanks to its more than 25 computer stations, the company's MRP system integrates the entire facility, controlling inventory, order entry, vendor purchase orders and scheduling. It also has a fully computerized estimating and quoting system. All computer numerical control (CNC) machines are programmed through a computer-generated linking system.
Speed of delivery and quality are perhaps the two most important facets of Swissline's operations. To provide on-time delivery, the company developed a customer service/expediting program, putting a team of employees in place to represent each customer all the way from order placement to completion. This team communicates with customers on the status of each job until orders are finished.
In addition, the company knows its work must meet the strictest quality standards because it serves industries where failure is not an option. Therefore, it utilizes the latest electronic inspection technology, computer-supported process data collection and charting and piece part serialization. The company's system is registered to ISO9001-2008 and medical management system ISO-13485-2003, and it is certified for an array of ship-to-stock and zero-defect programs by various customers.
"We exceed the standards that our customers require," Chenevert says. "The whole company is aware of the quality level required to successfully serve the aerospace and medical industries. That awareness trickles down into our commercial accounts, and we maintain that same philosophy with them."
Although the company did take a step back during the worst of the recession, it continues to invest in the latest cutting tools and CNC equipment. Chenevert says it averages a purchase of one to two new CNC machines per year. The company takes an assertive approach to managing the use and purchase of cutting tools and has a stable of external suppliers that helps it meet internal needs. The company also tries to keep well supplied with common cutting tools so it can reduce downtime and lessen investment in inactive tooling.
"The combination of the ability, knowledge, and expertise of our motivated team and continuous investment in state-of-the-art equipment is the differentiating factor for us," Chenevert says. "This year, we brought in three new multi axis CNC swiss machines that continue to set us apart from other companies because we're the only company in the Northeast that has this type of machinery right now. The technological capabilities of the machines we purchase and the expertise of our team members have kept us on the cutting-edge, and we support that with continuous investment in state-of-the-art inspection equipment. That's a big edge for us."
A people business
The company may rely on its technological capacity, but it also recognizes the importance of relationship building. Chenevert says the company has strong sales reps who personify the culture of the company and its "Whatever it Takes" motto. The company regularly attends external events such as trade shows and conventions to bolster existing partnerships and establish new relationships. In the past year, its people have attended shows in Phoenixville, Pa., Marlborough, Mass., and New York City.
"We've been discussing attending some shows out in the Midwest," Chenevert says. "We haven't done it yet because of the recession and time restraints. We have to maintain our presence at shows where we've always had a presence, but we will expand our presence more in the Midwest and West coast."
In the long run, Swissline sees a lot of room for growth in the medical industry. In fact, it created an offshoot company called Swiss-Med Technologies to help expand its medical business.
The company is also looking at its long-term leadership succession plans to ensure the company has another quarter-century in business and beyond. Chenevert is the majority owner, owning 82 percent of the company. The minority owner is Raymond Barsalou. Both men's adult children work in the company and have diverse backgrounds that Chenevert believes will help them carry forward the philosophy that built Swissline in the first place.
Some of the challenges ahead are out of Swissline's control. For example, Chenevert feels that the federal, state and local governments must do a better job of understanding the educational needs of manufacturing companies like Swissline to fuel their growth into the 21st century. He says there are great careers in the industry that can provide people with a solid living. Fortunately, Swissline has built a stable of talent that Chenevert believes will lead the company forward.
"We have young, motivated individuals here that can sustain us for the next 20 to 25 years," Chenevert says. "They have the drive and ambition required to bring the company into the future."