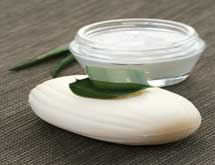 Through its network of manu-facturers, formulators and chemists, San Francisco-based Syndero develops a variety of products that it markets direct to consumers through online ads and TV infomercials. The San Francisco company primarily offers health and beauty products such as anti-aging, skincare and hair-care products. "We work with some of the best formulators and chemists to develop these formulas, then we partner with key contract manufacturers in the industry," says Pat Donohoe, vice president of operations and finance.
"We make sure they have the necessary quality control procedures in place and are able to produce sufficient quantities for us."
Donohoe says that Syndero partners with five contract manufacturers, one on the East Coast and the others in California. "Our products are sold across the country, and we are exploring international distribution opportunities," he explains.
Syndero is exploring the diet product category, and Donohoe says it's in the development stages of those products. The company offers a variety of products, including:
Beverly Hills Beauty;
Dermitage – anti-aging serum;
Kumaara – anti-aging;
Rx for Brown – Donohoe says this helps even out skin tones and is one of the top beauty products for women of color; and
Green Millionaire – an information-based product that helps people save or make money by making environmentally friendly decisions.
One of Syndero's most popular products is its OOKISA hair-thickening system, which includes shampoo, conditioner and serum. Donohoe describes the line as a thickening "soufflé" for hair.
"OOKISA™ is inspired by haircare and styling secrets that have long been integral to high fashion in Asia and the Far East," Syndero explains. "While many people credit Paris, London and Los Angeles for defining the art of luxurious hair, few realize that today's best methods of adding volume, thickness and luster begin in Tokyo, Hong Kong and Seoul."
Formulating Success
Syndero makes quality products and customer service its top priorities. That attention to detail – along with consumers' growing ease with Internet shopping – has resulted in an annual growth rate of 50 percent.
"We're finding that as people get more and more comfortable with the Internet and shopping online, we're growing," Donohoe says, adding that skincare products in the retail sector is a difficult area to succeed in.
In fact, in 2009, Syndero was among Inc.'s 500 fastest-growing companies. The company's 2008 revenue was $42.5 million, up from $3.2 million in 2005 – which marks a huge growth spurt of more than 1,222 percent.
"By marketing directly to customers, we're able to manage that relationship with them and provide them with the convenience of shopping at home and products that truly meet their needs," Donohoe says of Syndero's business model. "With the flood of people going to the Internet, it's given us tremendous growth."
Syndero also works to keep that flux of customers happy, with good service and on-time deliveries, most of which ship within 24 hours of an order being placed. "We have the back-end processes to manage customer relationships," Donohoe says. "We have the ability to ship and get products in peoples' hands in a timely manner."
But the company knows that it also has to provide quality products to keep customers happy and coming back for more, so it works with industry experts to make effective products. "The quality of the formulations sets us apart from competitors," Donohoe says. "We're always looking to use the most cutting-edge ingredients in the formulas.
"Our raw ingredients must have clinically proven levels to have the desired impact on the skin or hair," he continues, "so we invest in the product development to make sure we get products that truly meet the promise we deliver to people."
Meeting Demand
Syndero was founded by "three guys in an apartment in northern California" approximately five years ago, Donohoe explains.
The company originally began with a focus on language learning software, but it shifted to direct-marketed skincare products when the founders saw the level of success being achieved by other companies.
"That vaulted us to the next level, and now we focus our energies on that aspect of the business," he says. "And now we have offices in southern and northern California with call centers in four different states."