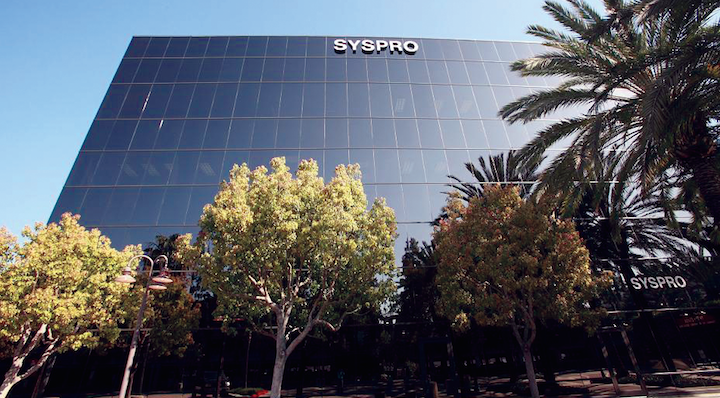 SYSPRO is a global ERP solutions provider with software in over 60 countries worldwide. With USA operations based in Southern California, the company addresses all areas of ERP and the supply chain with an emphasis in manufacturing and distribution.
"The product evolved to provide a full-featured, end-to-end solution that addresses all areas of the supply chain," President Joey Benadretti says. "The comprehensiveness and simplicity of the software's functionality makes SYSPRO an excellent fit for many industries, including food and beverage, machinery and equipment, medical device, pharmaceuticals, electronics, aerospace, chemicals, automotive and more."
Meeting Needs
SYSPRO's software addresses the needs of local, national and international organizations. Its leading-edge technology is available in the cloud, on premise and via mobile devices.
"We address large, medium and smaller size companies whether they are single or multi-location sites, both domestically and internationally," Benadretti says. "SYSPRO puts great emphasis on being scalable to meeting both simple and complex business requirements."
SYSPRO's product offering addresses everything that both a manufacturer and distributor would need in a comprehensive ERP system. All areas of inventory management, purchasing, sales, financials, e-commerce, customer relationship management (CRM), reporting services, shop floor control, scheduling and barcode data collection are available. SYSPRO offers an array of applications that are highly flexible and tailored to individual customer needs. The product's capabilities are extended through SYSPRO's device-agnostic mobile platform, SYSPRO Espresso, enabling flexibility for today's modern worker.
SYSPRO's solutions allow customers to manage all facets of their business to plan, execute and control production more effectively. This includes managing inventory levels to optimize the competing demands of availability versus cost, defining bills of materials, calculating lead and elapsed times as well as order quantities, planning and scheduling of production, material requirements and capacity planning, managing work-in-progress, integrating with CAD and shop-floor data collection systems and quality management, cost control and tracking.
Over the years, SYSPRO has gained significant experience in addressing many of the unique needs of specific industries. Many challenges face today's manufacturing and distribution businesses, including stringent regulatory requirements that demand tight control of manufacturing process and traceability, along with tight business practices. Recording and tracking of raw materials, components and finished goods is critical for many industries.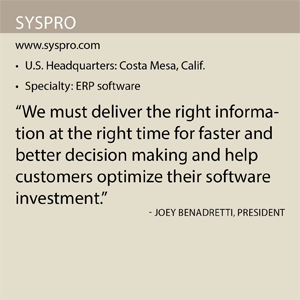 Supporting the Customer
SYSPRO's focus on meeting the needs of manufacturers and distributors has not changed since its inception in 1978, which enables its customers to leverage off the software for their own growth and profitability. Year after year, SYSPRO is committed to applying its resources to the advancements of its customer base by also incorporating the latest technologies into the software. In addition, SYSPRO and its channel partners offer services that include classroom training, on-site implementation services, telephone technical support, specific consulting services and 24/7 access to the SYSPRO Learning Channel.
To ensure the best return for the customer, SYSPRO prides itself on having a fully documented implementation methodology that safeguards the customer and speeds up the implementation process.
"Our key differentiating factor is an award-winning documented implementation methodology, and a core focus on providing outstanding customer service with the intent of developing a long-term relationship with our customers," Benadretti says. "We know the challenge companies face in implementing an ERP solution. We are committed to ensuring that SYSPRO is the lowest risk choice in the ERP market and therefore helping customers protect their software investment."
Ongoing Development
From a product point of view, development is never at a standstill. Focus on future functionality and capability will not only be on core applications but also on all the areas of specialization that are continually required by customers. SYSPRO will continue to put emphasis on methodologies to shorten implementation cycles to give greater bottom-line advantages to its customers.
"A comprehensive list of functional recommendations from our base to meet specific customer requirements is continually being addressed," Benadretti says. "In addition, a combination of new product development and technological advancements will take advantage of both current and future market innovations."
SYSPRO will continue to maintain its presence as a leader and innovator in the ERP market space as they hire additional people with significant manufacturing and distribution experience in specific verticals to address the needs of customers and channel.
"For many businesses, every bit of information can be critical for ensuring a competitive edge in the production and delivery of product," Benadretti says. "Market demand will continue to get more sophisticated and customer expectation will force greater insight into operations."
SYSPRO's goal is to provide customers with the ability to stay ahead of the game by providing all the functionality and technology required to leverage their business activities. This includes the areas of machine learning, IoT and mobility as more customers use small hand-held devices.
"We must deliver the right information at the right time for faster and better decision making and help customers optimize their software investment," Benadretti says.
Ultimately, SYSPRO is all about creating a culture of innovation, helping its people think and make the impossible possible. This means extending thought processes that will enable operational capabilities to happen through cloud, mobile device or even big data applications. For SYSPRO, innovation is all about taking ideas, discussing them, extending the thought processes and finding practical execution for future deployment and delivery.
"Often it is taking the advancement of what happens in the industry, following trends, outweighing competitors in innovations and addressing the SYSPRO customer," Benadretti says. "SYSPRO encourages a culture of collaboration and teamwork internally and externally."