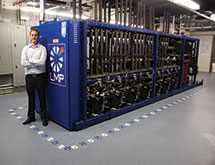 In 1987, the United Nations ratified the Montreal Protocol on Substances that Deplete the Ozone Layer as an effort to reduce the production and use of chlorofluorocarbons (CFCs) and hydrochlorofluorocarbons (HCFCs). The protocol establishes a timeline to gradually phase out CFCs except for very limited uses, and sets a date for the reducing the consumption and production of HCFCs.
At the time of the protocol's ratification, the timeline for both actions seemed very distant. Now that 28 years have passed, those dates are closer at hand and in the case of the 2015 date set for the reduction of HCFCs, already here.
For more than 15 years, Systemes LMP has prepared for the phase-out of CFCs and HCFCs by developing alternative technologies. The company also seeks to reduce the use of hydrofluorocarbons (HFCs), or "super greenhouse gases," which were introduced as a replacement for CFCs but have since been linked to the phenomenon of global warming.
The Laval, Quebec-based manufacturer develops, builds, markets and installs refrigeration systems used in supermarkets, warehouses and most recently, an ice rink. The company specializes in manufacturing systems that use carbon dioxide (CO2) as the main source of cooling instead of CFCs or HFCs. "Our goal from the beginning was to reduce the amount of HFCs and CFCs used in refrigeration," Vice President of Sales Jeff Gingras says. "We have probably the best technology on the market today for supermarkets."
Systemes LMP was established in 1998 as an affiliate of Lesage Refrigeration Inc., a maintenance and installation company founded in 1953. Lesage's owners founded Systemes LMP in response to the growing need for new refrigeration technology brought on by the Montreal Protocol, Gingras adds.
Innovation First
Systemes LMP's systems offer benefits to clients beyond their environmental advantages. Systemes LMP's refrigeration units are designed to be energy efficient and easy to operate. "We try to have our systems resemble traditional HSC/CFC systems," Gingras says.
The most significant difference between a CO2-based system and a traditional system is the pressure they operate under. While a non-CO2 system typically uses 250 to 350 psi of pressure, a typical two-stage booster system using R744 as a refrigerant could reach pressures of 1300psi.
Systemes LMP eases the transition to CO2 for its customers by supplying documents and schematics as well as offering courses in the equipment's use prior to installation. "We want to reassure our customers and make sure their projects happen without any issues whatsoever," he adds. "We take every project very seriously."
One recent technology developed by the company is a chilled water ice slurry that can be used as a secondary fluid in refrigeration systems in place of R-22 refrigerant. Systemes LMP is in the process of installing a combination ice slurry/CO2 system in a warehouse in Quebec. The province  – which will phase out the use of R-22 by 2020 – awarded the warehouse a large grant to replace its system, Gingras notes.
Systemes LMP is switching the warehouse system's evaporators over to the ice slurry system at night to avoid interrupting activities there, he adds.
The company also holds patents on energy-efficient heat reclamation, air circulation, defrosting and dehumidification technologies. "Our systems enable our customers to achieve the lowest operating costs on the market and get the quickest return on their investment," according to Systemes LMP. "Our outstanding reliability equates to less maintenance and fewer repairs than on any other systems. We offer a range of modular solutions to replace synthetic refrigerants that are harmful to the environment with natural secondary fluids."
Systemes LMP continues to develop new technologies to save its customers energy. "About 60 percent of a supermarket's costs are related to energy, so any way we can help them reduce their consumption will allow them to be more profitable," Gingras says.
Expanding Capabilities
The use of CO2 in refrigeration systems continues to grow in Canada as well as in other parts of the world including Europe, Australia and New Zealand. To address this demand, the company recently expanded its reach across Canada and also took steps to grow across North America.
Systemes LMP in 2014 entered into an agreement with Hussmann, one of the world's leading manufacturers of display cases and refrigeration systems, to license its CO2 refrigeration technology for products sold overseas and in the United States. "Hussmann is the main catalyst for the sale of our products in the United States," Gingras says.
When the demand for transcritical systems exceeds Systemes LMP's capacity, Hussmann will build transcritical refrigeration systems developed by Systemes LMP in its manufacturing facility in Swanee, Ga. Systemes LMP manufactures systems for the Canadian market in its facility in Laval.
The company builds roughly 45 refrigeration systems for customers per year. Every system is designed to meet a client's specific needs. "Our shop is 100 percent custom," Gingras says, noting that system sizes and capacities vary by location, but the main technology used is the same for all systems.
Systemes LMP's manufacturing functions include welding, cutting and assembly. The company also has plumbing and electrical capabilities. The company keeps some components such as valves in inventory, but orders compressors on a just-in-time basis. "We have a number of suppliers who help us," Gingras says. "We try to use suppliers who offer us the best products at a competitive price."
All of the company's refrigeration systems undergo strict testing. This includes pressure testing to prevent leaks, as well as "dry runs" that ensure electrical components work properly. Systemes LMP operates an in-house lab and testing facility. All the technologies and components used on our systems have been tested before going to market. "We don't use our clients as Guinea Pigs," he adds.
Systemes LMP's installers and employees are all highly knowledgeable about the company's technology. "All our employees and certified installers are up-to-date with the technologies on the market today," the company says. "We make sure that all our installers are taught the right way to work with CO2, and ensure they are aware of the dangers and safety requirements that must be followed."